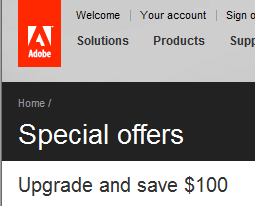 Were you aware there's a place you can go anytime 24×7 that will always show you (most of) the latest and up-to-date specials running for Adobe products?
There is. Here is the current special offers page for North America and here it is for the United Kingdom. There's also pages for Germany and France. More may be coming in the future.
Typical deals are like 10-20-30% off, or anywhere from a $25-$200 discount, or maybe a free book with purchase, depending on what's running… In recent months there have been coupon savings on the different suite editions, Photoshop, Acrobat, Dreamweaver, Lightroom, Illustrator, InDesign, Flash Pro, and Elements. The promos are always changing, so feel free to check back for updates.