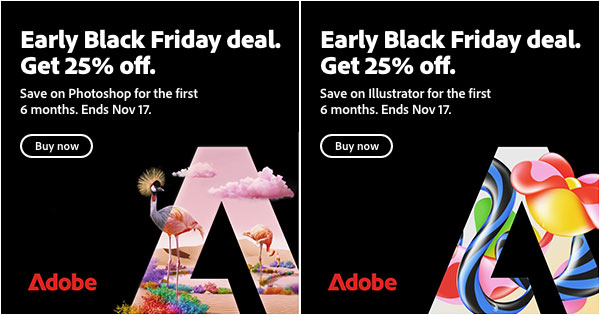 For "early" Black Friday, Adobe is offering a new promotion they've never done before. This week only, you can save 25% on popular Creative Cloud apps – namely Photoshop, Illustrator, Acrobat and Premiere Pro – for the first six months of your subscription. So no matter what you want to make, you'll have everything you need with these industry-leading tools:
Save 25% for the first six months when you buy Adobe Photoshop, Illustrator, Premiere Pro, or Acrobat Pro. Bring your ideas to life in amazing images, graphics, videos, or documents. Plus, create in all-new ways with Adobe Firefly generative AI features, now available in multiple Creative Cloud apps.
You can get any single app or all four – although if you were to get all four, then signing up for an All Apps membership (which gives you everything in Creative Cloud) would be cheaper over the longer term.
Also, while buying Photoshop by itself has some advantages, going with the Creative Cloud Photography plan instead could work out to less, depending on which tools you want to use… See the comparison of Photoshop plans here.
Adobe's single-app plans usually run $22.99/month in the US and Canada, as compared to the All Apps plan, which is $59.99/month. Both are based on a one-year (Annual or Yearly) commitment. So with this deal, you're getting the reduced price of $17.23/month for the first six months for a single tool (and even less for Acrobat Pro):
Free Stock! Download 1,000,000+ premium assets from the new Adobe Stock Free Collection
Alternatively, you can go with a Monthly (month-to-month) option with more flexibility to cancel, but it also comes with a higher price. Which is best to choose depends on how long you'll need the tools. We've done the math and the breakeven point is detailed here.
Included in all single-app plans you get complementary mobile apps plus 100 GB of online cloud storage with the ability to sync and share your work on any device. All single-app subscribers also receive Adobe Portfolio to publish and host your own custom work portfolio website. You also get full access to Adobe Fonts – a.k.a. the entire Typekit library of 22,000+ fonts – for use in desktop applications and websites (an over $25,000 value if purchased normally).
The premium versions of Creative Cloud Express, Premiere Rush, and Photoshop Express are also included with these single-app plans. These three apps together normally cost $9.99/month by themselves.

The current 25%-off promotion for the first six months of membership applies only to the Annual (12-month) Photoshop for individuals plan, Premiere Pro for individuals plan, Acrobat Pro for Individuals plan, or Illustrator for individuals plan, and is available only to first-time subscribers who purchase directly from Adobe. The offer expires November 17, 2023.
While the Photoshop, Illustrator and Premiere discounts are widely available worldwide, the Acrobat discount is limited to the following countries: Austria, Belgium, Denmark, Finland, France, Germany, Hungary, Ireland, Netherlands, Norway, Poland, Portugal, Romania, Saudi Arabia, South Africa, Spain, Sweden, Switzerland, Turkey, UK, and Ukraine.
Please read Adobe's complete terms of the promotion here.
Special: Legally download dozens of free Adobe books for a limited time!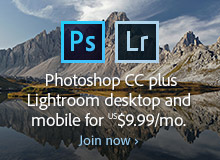 Other currently-available Adobe deals can be found on our Coupons page, including the opportunity to instantly download thousands of free images from Adobe Stock's large pro­fessional asset collection. And one of the nice things about Adobe software is you can always try it out before you buy… So if you want, you can instantly download any application(s) you like for a fully-functional free trial – then just be sure to purchase & activate the software within the savings period to benefit from the discount:
Please spread the word to share Adobe's one-time offers with others who might be inter­ested… And to receive notifi­cation on future discounts and promotions, subscribe to our RSS feed or like us on Facebook or Twitter… Or just enter your email and have new articles sent directly to your Inbox. We are reader-supported; when you buy through links on our site, we may earn an affiliate commission.
See Also