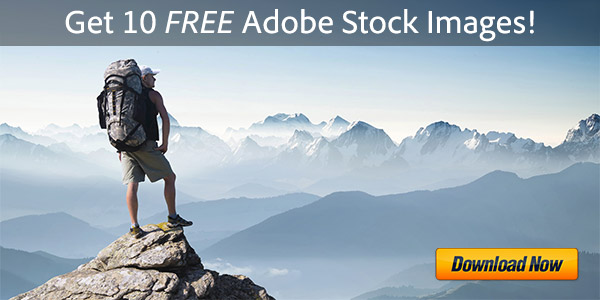 Download Free eBooks: Acrobat X + XI Pro How-to Tutorial Guides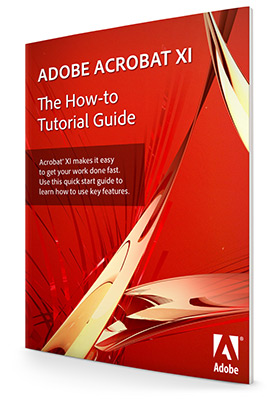 Next to Photoshop, Acrobat Pro & Standard is Adobe's top-selling product line of all time: it's offered standalone plus included in all the Creative Suites as well as the newer Creative Cloud – so clearly there are a lot of people using it worldwide. The two free books below will help you learn how to use it better and more effectively…
The first book is all about the Acrobat XI release, and the second is for the older Acrobat X from 2010. Both these guides contain dozens of helpful tutorials that will help you discover the advantages of using Acrobat and how to get the most out of it… Following the easy walkthroughs will quickly introduce you to new ways to save time and simplify complex projects.
Each chapter includes step-by-step instructions for performing common tasks efficiently. Keep a copy of either ebook access­ible on your computer as an easy–to–use resource for learning new techniques.
Tutorials are grouped in the following categories:
PDF Documents – How to convert almost any kind of content into easy-to-share PDF files.
PDF Portfolios – How to assemble multiple files into an organized PDF Portfolio.
Collaboration – How to streamline document review and approval processes.
Security – How to protect or hide sensitive information.
Forms – How to create, distribute, and track PDF fillable forms.
Export – How to export content from a PDF file into Microsoft Word and Excel.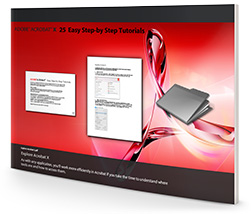 To get the first (newer Acrobat XI) book, click on the book image at the upper right above – or you can download it here.
To get the second (Acrobat X) book, click on the smaller book image directly to the right – or you can download it here.
Note that web browsers such as Chrome have limited built-in PDF reading ability and may not properly display the 'Portfolio' format that these two Acrobat books are produced in… So in both cases, you'll want to download the book PDF files to your computer where you can open them with the free Adobe Reader, read them on your iPad or tablet device, etc.
If you don't have the actual Acrobat Pro software yet, just download a free working trial for Windows or Mac OS (or try the whole Creative Cloud) – then install, run, and start your training…
Here's a full breakout of the 30 different topics covered in these books:
PDF Documents
Explore Acrobat
Creating a PDF Document from Any File
Converting Web Content to a PDF Document
Scanning Documents into PDF Files with OCR
Creating PDF with PDFMaker
Merging Multiple Documents into One PDF File
Editing or Touching Up Content in a PDF File
Using Actions and the Action Wizard
Making Accessible PDF Files
PDF Portfolios
Creating a PDF Portfolio
Securing Your PDF Portfolio
Combining Files into a PDF Portfolio
Collaboration
Adding Comments to a PDF Document
Initiating a Shared Review
Tracking Shared Reviews
Merging and Managing Comments
Comparing PDF Documents
Exporting Comments to a Word Document
Creating a Custom Approval Stamp
Work with SharePoint and Office 365 Hosted PDF Files
Keep Files Secure
Redacting Content in a PDF File
Signing a Document Electronically
Restricting Access and Permissions
Sanitization – Removing Hidden Data from PDF Files
Work with Forms
Creating an Interactive Form
Distributing a Form
Tracking Forms
Analyzing Responses with the FormsCentral Desktop App
Export Content from a PDF File
Extract tables as Excel spreadsheets
Save PDF files as Word documents
If you like video courses as well, check out over 3 hours of free Acrobat video tutorials.
And to continue learning, don't miss dozens more free books for many Adobe products, covering recent versions of all major applications.
---
See Also

Do you have any questions about Acrobat? Just ask them below and we'll get you answers fast!
Keep up with the latest on Adobe software — follow us on Facebook or Twitter, or subscribe to our RSS feed… You can also enter your email and have new articles sent directly to your inbox.
Share This
GET FREE ADOBE BOOKS
Sign up for our popular newsletter and we'll send you 30 great ebooks to learn all major Adobe tools at no cost!