[UPDATE – Download the newer free Acrobat XI and X books!]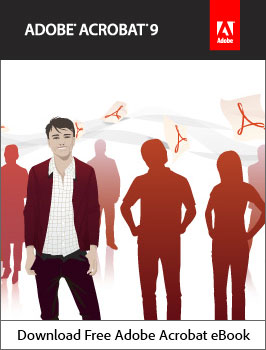 While we're waiting for the release of Adobe Acrobat 10, you can save countless hours in minutes by getting more out of Acrobat 9… Increase your productivity with a free download of 21 Key Ways to Save Time with Acrobat 9, featuring simple, step-by-step tutorials designed for both basic and advanced users. Easily get up to speed in no time with this resource guide featuring one-page, printable "cheat sheets" on creating PDF documents, assembling PDF Portfo­lios, working with forms, Acrobat collaboration, keeping files secure, and more. The easy-to-use instructions introduce you to new ways to save time and simplify complex projects.
The eBook has five categories with step-by-step instructions for performing common tasks effi­ciently. Keep a copy of this PDF portfolio on your computer as a quick resource for learning new techniques. Here's what the collection includes to help you unlock the power of Adobe Acrobat:
Create PDF Documents
How to convert almost any kind of content into easy-to-share PDF files.
1. How to create a PDF document from any file – Adobe Acrobat simplifies the process of creating a PDF file from just about any kind of document.
2. How to convert web content to a PDF document from a web browser – If you need to share, review, archive, or download web pages, turn to Acrobat 9. It's easy to convert an entire web page or part of a web page to a PDF document from Internet Explorer.
3. How to scan documents into PDF files – If you have a scanner, you can easily convert paper documents to searchable PDF files for distribution, review, archival, or use as interactive forms.
4. How to create PDF files using Acrobat PDFMaker – Convert your business documents to Adobe PDF with a single click.
5. How to combine multiple documents into one PDF file – You can quickly merge several documents into a single PDF file, with the documents appearing in the order you choose.
6. How to touch-up content in a PDF file – Need to tweak the text or reposition an image in a PDF file? You can probably make the change in Adobe Acrobat, without having to return to the authoring document.
Assemble PDF Portfolios
How to organize and deliver professional, high-impact content.
7. How to create a PDF Portfolio – Quickly pull together all the files for a project – text docu­ments, email messages, spreadsheets, CAD drawings, PowerPoint presentations, videos, PDF files, and more – into a single, coherent PDF Portfolio in Acrobat 9 Pro.
8. How to secure a PDF Portfolio – You can control who has access to your PDF Portfolio, restricting who can open it, print it, edit it, or make other changes to it.
Collaborate
How to more easily comment on files and track and aggregate team feedback.
9. How to add comments to a PDF document – Instead of scribbling comments or highlighting areas on a printed draft, add your comments directly to the document, so they're all in one place.
10. How to initiate a shared review – A shared review speeds up the review process, as participants can view and respond to each other's comments.
11. How to track shared reviews – Cut down on the hassle of herding reviewers and gather­ing feedback. If you sent a document for shared review, you can keep track of reviewers' comments, email stragglers, and manage the review using Tracker within Acrobat.
12. How to merge and manage comments – When you've collected comments from multiple reviewers, Adobe Acrobat helps you organize them. With Acrobat, you can pull all the com­ments you receive into a single PDF document.
13. How to compare PDF documents – See how text, images, or the organization of a docu­ment has changed from one revision to another. Acrobat 9 Pro lists the differences between two documents and makes it easy for you to see those differences in context.
14. How to export comments to a Word document – If you created your document in Micro­soft Word, you can save time by exporting PDF comments back to the original Word document.
15. How to create a custom approval stamp – Remember inkpads and rubber stamps? You can get the same effect in Adobe Acrobat, with stamps that declare a document approved, revised, received, reviewed, or anything else you need to say.
Keeping Files Secure
How to protect sensitive information.
16. How to restrict access and document permissions – You can control who can open, edit, print, or copy information from your PDF document.
17. How to sign a document electronically – You don't need to print out and sign a docu­ment. Adobe Acrobat makes it easy to sign electronically. Like a handwritten signature, a digital signature is uniquely yours.
18. How to redact content in a PDF document – You can easily redact confidential or privi­leged information in a PDF file to protect it from public view.
Working with Forms
How to convert almost any kind of content into searchable PDF files.
19. How to create an Interactive Form – You can convert any form into an interactive form that users can fill out and send back electronically.
20. How to distribute a Form – After you have created your form, you want to collect the data quickly and easily. Adobe Acrobat helps you distribute your form.
21. How to track Forms – Cut down on the hassle of collecting feedback. If you sent forms to recipients using the Distribute Form wizard in Acrobat, you can track who's responded, add more recipients, email recipients, and view the form responses in Tracker.
Learn how to use Acrobat in new ways and download the free eBook, Adobe Acrobat 9 Easy Step-by-Step Tutorials.