One of the most frequent upgrade questions we're seeing out there is what's new, what's different, what's changed between Adobe Acrobat X (Acrobat 10) and previous versions? Or more simply put, what are the major new features in Acrobat X (Pro or Standard), versus Acrobat 9, 8, or even 7? Adobe calls it "the most compelling release yet" and these kinds of answers can help decide about upgrading…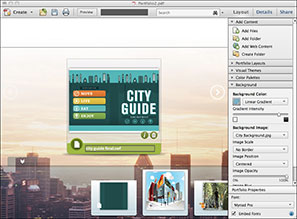 Acrobat X was only announced this week, but thus far the early reviews have been very positive… PC Magazine calls it "mas­sively improved" and "faster and more powerful than ever," with "finally a lucid, up-to-date interface" and "terrific corporate and automation features, including high-quality exports to Word and Excel documents." Their review concludes that Acrobat X is "the most powerful, flexible, and best-designed PDF software ever written," and "a giant step forward, and an essential upgrade for anyone who creates or manages PDFs."
[ What's the difference between Acrobat X Standard, Pro and Suite? ]
As to the specifics of what's new, see our earlier release highlights overview, or a longer list (with details) at our product page here. For an itemized version-by-version feature compar­ison vs. previous releases, click to see either of the two full charts below… The top one is for Adobe Acrobat X Pro, and the bottom is for Acrobat X Standard: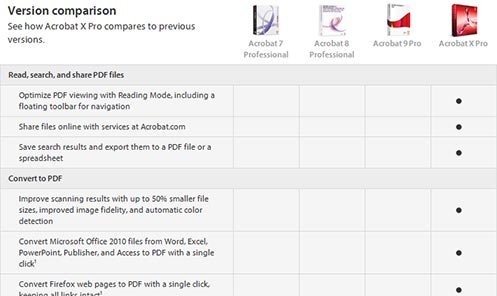 ---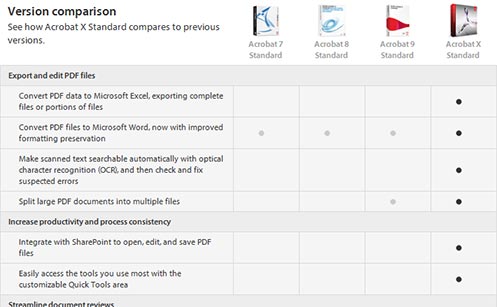 [UPDATE (Oct. 2012) — Learn about the differences between the new Acrobat XI vs. earlier.]
See also the excellent FAQ, the video demos, or download a free trial of Acrobat X Pro!