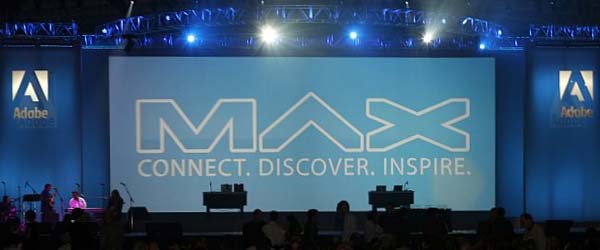 [UPDATE (Oct. 2022) – Watch over 200 new courses & tutorials from MAX 2022 – free!]
Adobe MAX 2010 – the worldwide user conference – runs this week and if you aren't in Los Angeles, the two major keynotes will be broadcast live plus all of the conference sessions will be available on demand for free… A full attendance pass with these informative technical sessions normally goes for $1,500, so this is a great deal (see a full listing of the hundreds of programs offered below).
Adobe InDesign tweets, "don't be the last to know… if you can't be at Adobe MAX, you can still watch the keynotes LIVE for some exciting announcements!"
One of these announcements is sure to be the arrival of the long-awaited preview release of the new Digital Publishing Suite on Adobe Labs, just out… Read all about it in the press release here.
Per Adobe:
Stay tuned to watch Adobe MAX 2010 keynotes live
While there's nothing that compares to being there in person, you can still experience some of the excitement of MAX 2010. Join Adobe executives, Adobe product experts, and special guests to be immersed in technologies, techniques, and inspiring work – watch the keynotes live.

1. Welcome to the Revolution
Monday, October 25, 9:30 am-11:30 am PDT (convert time zone)
We are in the midst of a revolution across a variety of screens, new input methods, new formats, and new distribution models. Join Adobe CTO Kevin Lynch as he shares insights, future perspectives, and plenty of demos.

Join us 10 minutes early to get a glimpse of the behind the scenes action.

2. User Experience: The Next Generation
Tuesday, October 26, 10:00 am-12:00 pm PDT (convert time zone)
User expectations and experiences are evolving rapidly, and Adobe has long taken the lead in creating the tools and services to design for the future. Join us to be inspired (and, yes, entertained) as we show you the future of building interactive and engaging experiences in ways you've yet to imagine.

Watch keynotes and sessions on demand
If you can't watch the keynotes live, you can view them immediately on demand. You will also be able to view the top session from each track at the end of each day on demand – with the balance of the sessions being posted shortly after the conference has ended. Bookmark this page and check back often for updates.
The number of sessions at MAX is vast and covers virtually every Adobe product out there… Here below is a complete list of all 196 sessions available, with something for everyone. What's more, you can already preregister at no cost to get a $500 discount savings on the next MAX conference, plus see how you can fly there for free!
Adobe Acrobat for the Web Designer
Adobe TV: The Business and Technology Behind a Global Enterprise Video Platform
Adobe's New CMS for Business: Real-World Case Studies in Business Catalyst
Advanced ActionScript with Apparat
Advanced Audio Restoration and Editing
Advanced Data-Centric Application Development with Flash Builder
After Effects + Flash = Killer Rich Media
Animation with Chris Georgenes
As the Logo Turns: Introducing CSS3 Transitions and Animations
Authoring Rich Experiences for Every Room in the Home
Best Practices of the Modern ColdFusion Developer
Book Design: Pushing the Frontiers in Digital Reading
Building "Plants vs. Zombies" in Flash
Building a PHP Remote End Point with Flash Builder and Zend
Building Android Data-Driven Applications with Flex
Building Enterprise Adobe AIR Applications for Android
Building Flex Applications with Advanced Real Time Messaging
Building Language Learning Tools w/ Flash Catalyst, Flash Builder, and Flash Media Server
Building Mobile Learning with Your Existing eLearning Toolkit
Building P2P Multiplayer Games
Building Rich Multi-User Applications with LiveCycle Collaboration Service
Camera, GPS, and Accelerometer: Tapping into Device Features with Adobe AIR
ColdFusion Skunkworks
ColdFusion Undocumented
Configuring and Maintaining Healthy ColdFusion Servers
Create Interactive Content without Writing Code with Creative Suite 5
Creating Accessible Content with Flash Professional
Creating Compelling Mobile User Experiences: What You Need to Know
Creating Engaging, Viral Apps by Adding Social Interaction
Creating Industry-Standard eBooks for Distribution on Sony Reader, Amazon Kindle, and Apple iPad
Creating Interactive Rich Media Advertising Campaigns with Video
Creating Open@Adobe: Source Made Simple through SourceForge and Adobe
Creating Secure ActionScript Applications
Creating Testable Flex Applications
Creating Video Solutions for the Enterprise
Creating Web Apps for Google TV
Data-Driven Design: Measuring Impact and Consumption of Video for Flash
Debugging, Profiling, and Testing Applications in Flash Builder
Deconstructing the HTML5 Mobile Development Workflow
Deep Dive into Flash Player Rendering
Deep Dive into Mobile Development with the Flex SDK
Deep Dive into the Spark DataGrid Component and Item Renderers
Delivering Repeatable Solutions with Deloitte Consulting and Adobe Enterprise Solutions
Delivery of Interactive PDF or Interactive SWF?
Designer-Developer Workflow Panel
Designing and Developing for Touch-Based Devices
Designing Documents for Tablet Devices using InDesign CS5
Designing PDF Portfolio Layouts with Flash Builder 4
Designing with CSS3 Effectively and Efficiently
Developer Tips for Building Great Games using AIR for Android
Developing Adobe AIR apps for the BlackBerry® Tablet OS
Developing Well-Behaved Mobile Applications For Adobe AIR
Developing World-Ready Applications
Development of Mission-Critical Rich Internet Applications in Support of Government Operations
Distributing Apps via the Intel AppUp? Developer Program
Dreamweaver and HTML5 & Javascript Based Widgets
Dreamweaver CS5 Deep Dive: Next-Generation Workflows
DROID and Adobe AIR: Creating Stunning Applications for DROID Devices
Dynamic, Targeted, Relevant: Super-Charge Your Ads and Your Sites
Editing video with HDSLR cameras in CS5 Production Premium
Enterprise Live Video with Multicast and P2P
Essential Eclipse Plug-ins and Tools for Flash Builder Developers
Flash Builder Advanced Tips and Techniques
Flash Catalyst CS5 Up Close with Rain, a Digital Agency
Flash Catalyst: What's Next with "Panini"
Flash Platform for TV: A New Ecosystem
Flash Player 3D Future
Flash Player in Acrobat: Building Interactive PDF Documents
Flash Sneak Peek: A Glimpse at the Future
Flash, Flex, HTML5: Ouch, My Head Hurts!
Flex and LiveCycle Data Services Best Practices from the Trenches
Flex and PHP: Beyond the Basics
Flex Component Development
Flex Roadmap
Flex/ActionScript 3.0 Architecture and Dependency Injection Frameworks Overview
Flex: The New Standard for VMware Management Consoles
FlexPMD: Your Canary in a Coal Mine
Free the Television: The New Opportunity in TV Applications
From Design to CSS and HTML with Fireworks and Dreamweaver
Fusing Art and Technology with Flash Professional CS5
Future of Mobile Content: Content Owners Talk about HTML5, Flash, and Apps
FutuRIA: The Convergence of Rich Internet and Enterprise Applications
Game Theory and Design for the Flash Platform
Get hands on Adobe BrowserLab to check your websites for cross-browser compatibility
Getting Paid: Leveraging Payments to Monetize Your Content
Getting Started with Flare3D: The New Generation of Flash 3D
Getting Started with jQuery Mobile
Google + Flash Platform = Awesome
H.264 Encoding Strategies for All Screens
Having Fun with Layouts in Flex 4
HD Streaming with HTTP Dynamic Streaming
HD Video Production for the Web
Hidden Gems and Technologies in Photoshop CS5 and Photoshop CS5 Extended
Hidden Gems for the LiveCycle Community
Hot Tips and Cool Tools in Illustrator CS5
How I Learned to Stop Worrying and Love the Bomb (with Threadless)
How the com.bigspaceship ActionScript Package Brings Designers and Developers Closer
How to Build Adobe AIR Apps for the iPhone and Android
How to Develop AIR for TV Applications
How to Monetize Your Apps on the BlackBerry PlayBook
How to Work Creatively and Quickly with 3D in Photoshop CS5 Extended
HP and Adobe Innovation: Reinventing How Creative Pros Work with Creative Suite 5
HTML Accessibility with Dreamweaver
HTML5: Half-baked, Baked, or Ready for the Table?
Illustrator CS5: Creating Killer Graphics
Improving the User Experience: Contract Servicing improve­ments at Northwestern Mutual
Innovation and Inspiration: Top Creative Shops Share Their Passion and Vision
Internationalization Techniques for the Flash Platform
Introduction to Adobe AIR for Mobile
Introduction to BlazeDS and LiveCycle Data Services
Introduction to Perspective Drawing in Illustrator CS5
JibJab Case Study: Using Adobe Tools to Create and Monetize Online Content
jQuery: A Web Designer's Secret Sauce
Learn about the Samsung SDK to Distribute Your AIR Apps to Samsung Smart TVs
Learning Integration Tips among Tools in CS5 Master Collection
Magazine Design in the Brave New World of Digital Devices
Make Your Flex Application Collaborative with Adobe Connect
Making Money with Your AIR Applications
Making Video Pay with Advertising and Analytics
Making Your Flash Application Extendable by Others
Mastering Flash Catalyst
MAX UnAwards widget uncovered: developing personalized video apps on the web
Measuring and Optimizing the User Experience for Flash Apps with Solutions Powered by Omniture
Mobile Devices as Application Controllers
Move It! Shake It! All in Sync: It's the 2010 Rich Media Ad Shootout
Multiple Screens, One Server
Multiscreen Development Techniques with Flex and Adobe AIR
Multitouch and Immersive Experience
New 3D Features for Flash
New Experiences in Digital Magazines
New LiveCycle Data Services Support for HTML5/JavaScript, Android, Apple iOS, Java, and .NET
Open Screen Project: Today and Beyond
Open Source Game Development with Flash and PushButton Engine
Optimizing Flash Player Compatible Content for Mobile Devices
Optimizing for GPU-accelerated Flash Player 10.1 on Android
Painting in Photoshop CS5 with the Master Painter
Panel Discussion: Reach Millions, Make Money
Performance Tips and Tricks for Flex and Flash Development
Photoshop CS5 and Lightroom 3: The Ultimate Photography Workflow
Photoshop CS5 Extended 3D tools and the iPad: Digital Publishing for Real-World Work
Photoshop CS5 Instant Effects: One-Click Techniques for Designers and Photographers
Pixel Bender: Now with 50% More "D"
Pixel-Perfect: Photoshop CS5 Power Shortcuts for Web and Interactive Designers
Planning and Tracking Successful Projects with WorkflowLab
Plugging Creative Suite into the Cloud using ActionScript
PointRoll in Your Pocket: The How and Why of Mobile Advertising with Flash Player 10.1
Practical ActionScript 3.0 for Flash Professional
Principles of Interaction Design for Graphic Designers
Print Your Digital Design Without Losing Your Mind
Programming HTML5 Canvas
Progressing beyond the Desktop at Universities with Adobe AIR
Quick as a Flash
Rapid Development using LiveCycle in the Cloud
Rapidly Building Flex RIAs with Spring BlazeDS Integration and Spring Roo
Realizing Great Customer Experiences with LiveCycle ES Next
RIA Design and Development Workflow Examined
Roadmap: Flash Platform Runtimes
Roadmap: Flash Platform Servers and Services
Roadmap: Flash Platform Services and App Monetization
Roadmap: Flash Platform Tooling and Framework
Sandboxing Adobe Reader: Protected Mode
Screens of Possibility: Pushing Multiscreen Experiences with Spark and Flex
Secure Enterprise Video Streaming with Flash Media Server and P2P
Securing ColdFusion Applications
See. Say. Do. How Africa Changed Everything
Shooting and Editing Interviews with CS5 Production Premium
Shooting Movies with a RED One Camera Through a Microscope
Simplifying Cross-Browser Testing with BrowserLab
Streamlining Development Processes with Powerful Tools from the Flex Ecosystem
Strengthening Adobe's Enterprise Platform with Day Software and Open Development
Tablets: Yesterday, Today, and Tomorrow
Technical Tips and Best Practices for Getting Content on the Akamai HD Network
The Convergence of Flash and PDF: Interactive Statements
The Future of Acrobat
The Future of Advertising
The Mobile Enterprise
The Power of BlackBerry WebWorks
Thinking in ActionScript
Tips & Techniques for Creating Jaw-Dropping Effects with Photoshop CS5 Extended
Top Secret Technology Preview for Graphic Designers
Transforming the Value of IT for Government through Modernization at South African Revenue Service
Transitioning from Print to Web Design
Turning the tokidoki Vision into a Global Brand
Using Flash Catalyst CS5 to Design Rich User Experiences
Using FlexUnit 4 in Flash Professional CS5
Using Web Fonts Now
Using What You Know: Transitioning from Print to Web
Video Delivery Roadmap for the Flash Platform
Video on Flash Player 10.1 Mobile Devices
What's Coming in Adobe AIR
What's New in Flash Builder "Burrito"?
What's New in Flash Professional CS5
What's New in InDesign CS5
What's New in Photoshop CS5 & Photoshop CS5 Extended
Why Teach Flash? Education's Role in Teaching Flash and RIAs
Writing Apps for Netbooks and Reaching Consumers through the Intel AppUp Center
See more details or watch these keynotes live and sessions on-demand
here
.