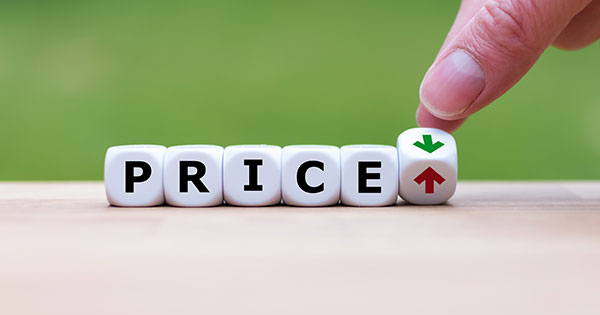 A reader asked about a message he received from Adobe about a change in Creative Cloud subscrip­tion pricing. Per the company's email, some member­ship costs will be rising 3-4% for individuals in three dozen countries – including the United States, Canada, United Kingdom, Germany, Japan and Australia. In the U.S., it's just the second increase since Creative Cloud came out in 2012, the first being in 2017. Here is an excerpt from the notice Adobe sent about the pricing adjustment in these countries:
Your Creative Cloud price is changing.

The price of Creative Cloud will increase on April 27, 2022. However, your price will not change until your next renewal date on MM/DD/YYYY. Please note that this is the first time in five years that we've raised the base price of Creative Cloud.
Which plans are affected?
The All Apps Creative Cloud plans only (either annual or month-to-month), for Individuals and for Teams. For example, individuals in the U.S. will see a $2.00 increase for a billed-monthly Annual plan, from $52.99 to $54.99 per month.
Single-App plans for Teams (businesses) will also see a modest increase, though not for Individuals.
The pricing for the Photography Plan and the Student/Teacher Editions are NOT changing. Mobile and Acrobat DC plans will also see no pricing adjust­ment.
Why is the price changing?
Adobe writes:
We're continuously releasing new innovations and expanding our offerings to enable you to unleash your full creative potential. Over the last few years, we've significantly expanded our Creative Cloud offering including the introduction of six new apps; thousands of new features in existing tools; the extension of our apps to the web, mobile phones and the iPad; enhanced collaboration capabilities; and the addition of millions of free Adobe Stock assets and thousands of new fonts.

To reflect the increased value we continue to deliver, today we're announcing these price updates for "All Apps" and business plans. Most Creative Cloud customers won't see any price changes.
Adobe says what's not changing is their commitment to continue delivering the industry-leading tools and innovation you need to take your creativity further and do your best work. And it turns out that when you work out the math, a 3-4% price increase in five years is way below the overall rate of inflation.
When does any adjustment go into effect?
There are two possibilities: The first is for Annual memberships. All Annual subscribers are guaranteed their current CC pricing for the full duration of their 12-month contracts. So any change in the core subscription rate wouldn't happen until your once-per-year renewal date. Per Adobe's Subscription Terms, "You'll be charged the rate stated at the time of purchase… [and] your contract will renew automatically, on your annual renewal date, until you cancel. Renewal rates are subject to change, but you will be notified of any change."
Month-to-month subscribers are different. You can cancel a Monthly subscrip­tion plan at any time with no termination fee – but because the rate is not locked in, it can be changed at any month's renewal. Per the Subscription Terms, "Because there's no annual contract, your monthly rate is subject to change, but you will be notified of any change… with the option to cancel." So the new rate will go into effect for your next month.
Learn more here: Annual vs. Monthly Plans – Which Should You Choose?
But my increase is more than 3-4%?
It may be that you received an initial (one-off) promotional price reduction that is coming to a close on your next annual renewal date. In this case, the price quoted in the email you received includes any changes that would be made when you reach the end of your limited-time promo­tional pricing period, and shift to standard pricing like everyone else.
The other possibility is for Creative Cloud for Teams customers… For Teams plans, the normal price is going up a bit more, by 5-6% instead.
Is there any way I can avoid the price increase, and keep my current CC rate?
Yes, in fact, there is. In Adobe's blog about the change, it says: "NO price change for anyone on a prepaid Annual plan." Similarly, the email sent out to all customers says at the bottom:
You have the option of switching to a prepaid annual payment plan to get the best savings. Learn how to switch your plan here.
This suggests that if you pay for your annual membership upfront (rather than monthly), then you can get lower pricing. At first we thought this might be an error – but we asked the company directly about it, and they have confirmed that it is indeed true:
After the price increase goes into effect, the monthly-billed prices will be going up, but the prepaid prices will not increase. If an Annual subscriber wants to lower their current Creative Cloud price, then they can switch to prepaid instead, and they will not experience any price increase.
In other words, you have the option to reduce your current price for the next year by switching to (or signing up for) the prepaid annual plan now.
So how do I get the discounted price for Creative Cloud?
The simplest answer to avoid the increase and/or pay the lower price is to lock in a reduced rate for the next 12 months by becoming a prepaid Yearly subscriber… The same goes if you're still only a Monthly subscriber. In either case, your change in plan type will take effect immediately with no fees and no interruption in service.
If you're buying Creative Cloud for the first time instead of renewing, the trick is the same: go with the "Yearly, billed upfront" option here to get the price break. Just keep in mind that the subscription commitment is for 12 months with all of Adobe's Yearly plans.
Note that with prepaid Yearly memberships, cancellations are not possible before 12 months is up, after the initial 14-day refund period has passed. By contrast, the alternative monthly-billed Yearly plans are cancelable, but with an early termination fee. (And month-to-month plans can be canceled at any time with no fee, but cost 50% more.)
Learn more about the differences between Annual vs. Monthly plans.
My plan just renewed. Can I still switch to prepaid to get the lower rate?
Yes, you may be able to. Whether you currently have an Annual (12-month) or Monthly (month-to-month) plan, you should be able to upgrade or change your plan online here, at any time.
Look for the "one-year prepaid plan" option for the product(s) you want. If for some reason you are unable to complete the switch online, then you can contact Adobe Customer Support to make the change – via live online chat is usually fastest/easiest, and is typically available 24/7.
Adobe will cancel your paid-monthly Creative Cloud plan (and waive any fees), issue you a refund for the remaining days in the current month, and then sign you up for a prepaid annual plan to secure the lower CC price. You'll see two transactions (one refund and one charge) on your credit card, and the updated plan starts right away, with no break in service.
What if I want to cancel instead?
Be careful. If you have a Yearly plan and elect to cancel before your 12-month contract is up, you may owe an early termination fee. See our guide for more details:
What You Should Know Before Canceling Your Creative Cloud Subscription
Can I move from Creative Cloud for Teams to Individual plans?
Yes, this may be possible, although you would lose significant functionality. You can certainly use Individual CC licenses within a business, company, or other organization – or on the flip side, you can buy a Teams license (even just one) as an individual. There is no limitation on your purchase.
Just keep in mind the differences between the two options when making your decision as to which works out better for your needs… Just one example: you cannot transfer or reassign an Individual license. In general, you have a lot of additional features and flexibility with Teams licenses for management, deployment, tracking, reporting, control, billing, support, etc.
If you want switch, then just cancel online your current plan before its renewal, and then sign up for the new plan(s) you want instead.
In sum
No one ever likes to see a price increase, it's true… Hopefully this article helps explain a bit more about what's going on and why it happens. Fortunately, these are relatively rare events where Adobe, like most other companies in the world, is adjusting to market forces such as inflation and rising costs and expenses over the years. And in this case, at least, there are options for what you can do to keep the same price.
See Also

Do you have any questions about Creative Cloud? Just ask below and we'll get you answers fast!
Keep up with the latest on Adobe software — follow us on Facebook or Twitter, or subscribe to our RSS feed… You can also enter your email and have new articles sent directly to your Inbox. We are reader-supported; when you buy through links on our site, we may earn an affiliate commission.