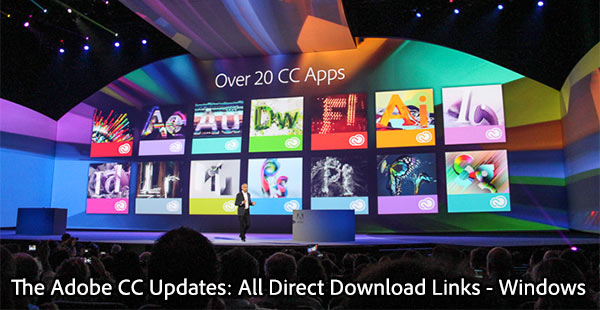 Important! On this page you'll find all the updates to CC 2013 (on Windows), since its initial launch in June 2013. If you need to install the full products themselves, then please see our CC 2013 download links first. For Mac updates instead, see here. If you're using Chrome and these links don't work, then try with another browser.
One of the great benefits of the Adobe CC release is receiving an ongoing stream of product updates at no extra cost… No longer do we have to wait 1-2 years for our tools to innovate and keep pace with evolving technologies; instead we get the latest & greatest features and improve­ments as soon as they are ready.
Since the initial launch of CC in June, Adobe has issued new upgrades for each individual app about once every 3-4 months, bringing new power and capabilities to all subscribers.
Normally these upgrades happen smoothly and automatically for customers via the Creative Cloud Desktop app or Adobe Application Manager. But as with any software, there occa­sionally can be exceptions. Sometimes the new updates don't show up in the CC desktop or manager apps, hindering the upgrade. Other times, you may have the need to rebuild, restore, or rollback to a specific earlier CC version for various reasons.
With older releases like CS6, Adobe used to post the individual update patches online for direct download and use when needed, but they stopped doing that for most CC apps. But we keep getting reader requests for these, so now – for all of CC – we're providing them here.
Starting today, you can use the table below for a complete list of all CC updates for all major products for Windows… [See here for Mac] These download links go to the authentic and original CC update installers residing on Adobe's servers, are guaranteed genuine, safe, legal, and will not change. There are no special instructions to down­load: just click and go.
These are cumulative patches and applied manually on top of the base CC 2013 release by unzipping the CC update file given below, and then running the "Adobe Patch Installer" executable. Make sure the base application was run at least one time (started up, signed in and activated) before applying the patch update.
Special: Legally download dozens of free Adobe books for a limited time!
These are multilingual packages and each one includes all supported lan­guages. They are universal 32/64-bit installers, except for Illus­trator and InDesign which have separate versions for 32-bit vs. 64-bit.
We have them all here in one place, so you may want to bookmark this page – because if you ever have any issues updating any of your CC 2013 programs, here's your workaround solution!
If you don't already have the necessary base release installed for any CC app, then you can just direct download the free trials here… Those offline product installers plus these update patches make a complete set for backup – and if you like, you can burn them to disc or copy them to a flash drive, and keep just in case.
Also included in the table below are release notes with everything that's new and changed in each update. For what's new in CC vs. CS6 generally, see this feature comparison.
We will be keeping this download list current with all new CC updates going forward… Please let us know in the comments below if there's anything you need that you don't see here!
Adobe CC 2013 Product Updates/Downloads for Windows
We also have the Mac OS versions of these updates. If you need the updates for the most recent CC 2015 version instead, then you'll find them here for Windows and here for Mac.
Note the Edge tools and services – Edge Animate, Edge Reflow, Edge Code, and Edge Inspect – are not included in the list above because as far as we can tell, there are upgraded via full new releases instead of patch updates… The same goes for Adobe Lightroom. You can find the latest releases of each of those tools in our complete CC direct download links.
We suggest using a browser other than Internet Explorer to download the files above. They can be quite large and IE has been known to drop the extension (like ".zip") from the Windows filename. If this happens and you can't open a file, then just rename it to add back the extension. But generally, using Firefox or Chrome will work better – and if you have any issues getting the downloads to work with one browser, then try another.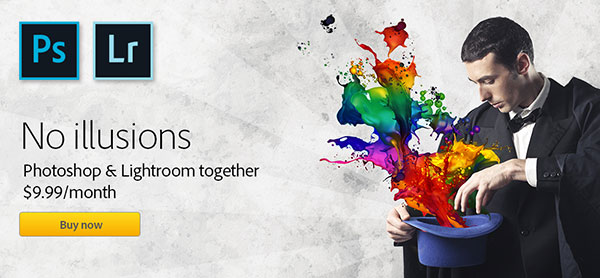 See Also

Did these links work for you? Hope they helped out; please let us know with a comment below… Do you have any questions about CC? Just ask below and we'll get you answers fast!
Keep up with the latest on Adobe software — follow us on Facebook or Twitter, or subscribe to our RSS feed… You can also enter your email and have new articles sent directly to your Inbox. We are reader-supported; when you buy through links on our site, we may earn an affiliate commission.