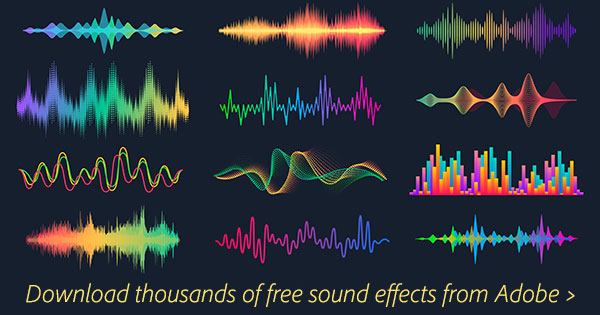 The Creative Cloud bundle includes thousands of uncompressed, royalty-free, sound effects. These can be used with Adobe's Audition desktop app, or for any purpose at all.
However, you don't have to be a paid subscriber in order to download this massive library of top-quality audio effects! In fact, everyone can access and use them at no cost.
Here's how to get them. All of these high-definition .WAV audio files have been grouped together by type and gathered into ZIP archives which can be down­loaded from this page, no subscription required:
Here is a high-level listing of all of the 26 categories of original sound effects included in this complimentary collection:
Ambience
Animals
Cartoon
Crashes
Drones
Emergency Effects
Fire and Explosions
Foley
Foley Footsteps
Horror
Household
Human Elements
Imaging Elements
Impacts
Industry
Liquid and Water
Multimedia
Noise, Tones, DTMF, and Tests
Production Elements
Science Fiction
Sports
Technology
Transportation
Underwater
Weapons
Weather
All together, there is over 10 GB of free audio .WAV files here that you can use for whatever you need, so don't miss this offer!
Also, did you know that Adobe Stock now offers audio and music? It's not free, but there are over 70,000 tracks to choose from – and, like the sound effects above, they are also royalty-free. You can use them to enhance virtually all of your projects with professional soundtracks. They make a real difference!
Install now: Get all new Creative Cloud 2023 direct download links and free trials.
Learn Audition – Tutorial for Beginners, with Mike Russell
And if you want to learn Adobe Audition and get started editing audio in Creative Cloud, check out this excellent tutorial by audio legend Mike Russell:
See Also

Keep up with the latest on Adobe software — follow us on Facebook or Twitter, or subscribe to our RSS feed… You can also enter your email and have new articles sent directly to your Inbox. We are reader-supported; when you buy through links on our site, we may earn an affiliate commission.