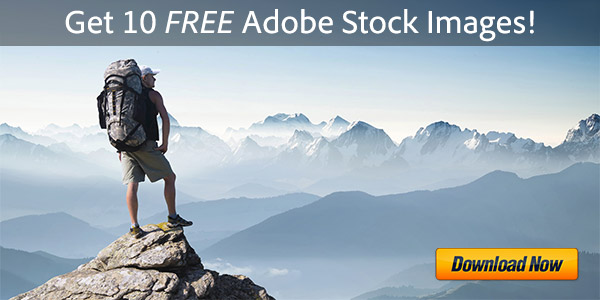 One of the coolest features added in the recent Adobe CC release is the brand new Camera Shake Reduction tool in Photoshop CC… It's a new filter that will analyze your photos to detect and correct blurring due to a shaky camera. It's gotten a lot of attention and justifiably so, as it can make a real difference in saving treasured or irreplaceable photos that might other­wise be lost or unrepairable.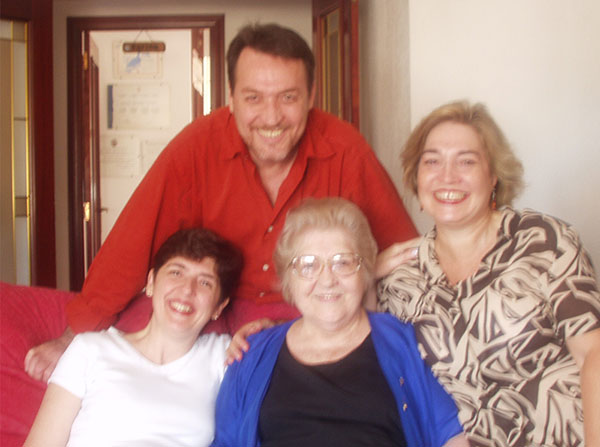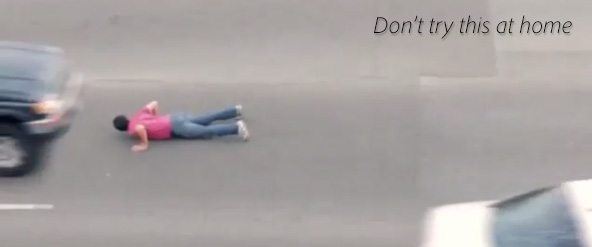 Check out the video below – 11 seconds of heart-stopping footage posted on Instagram by daring Adobe artist Shaun Saperstein:
[UPDATE – Also see our new Summer CC 2018 Giveaway!]
Last June Adobe shipped the CC lineup of creative tools, the new product line that replaces 2012's CS6. The CC version contains hundreds of new features compared to CS6, and it is available only via Creative Cloud membership.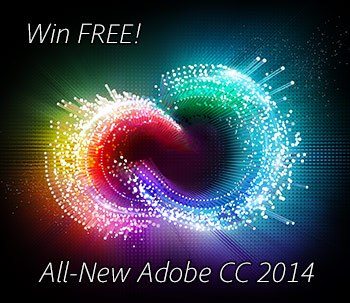 Last week, Adobe announced that they will soon be shipping a major milestone upgrade to CC that will be called the Creative Cloud 2014 Release… And that is exactly what we're giving away for free below, and it's open to everyone world­wide.
In all, Creative Cloud 2014 will come with 15 new desk­top applica­tions (Photo­shop CC 2014, Illus­trator CC 2014, InDesign CC 2014, Muse CC 2014, and all your favorites), together with other comple­mentary tools and services (such as Acrobat Pro, Light­room, DPS, Behance ProSite, Typekit) and much more. See the entire contents of what's in Creative Cloud, where all ongoing upgrades are auto­matic­ally included at no addi­tional charge.
So this means that all current Creative Cloud subscribers will automatically receive the new CC 2014 Release whenever they want it. We expect this software will be available to download immediately on the CC 2014 launch date, and you'll be able to install and run it alongside any older applica­tions you may have, including CS6 and CC 2013.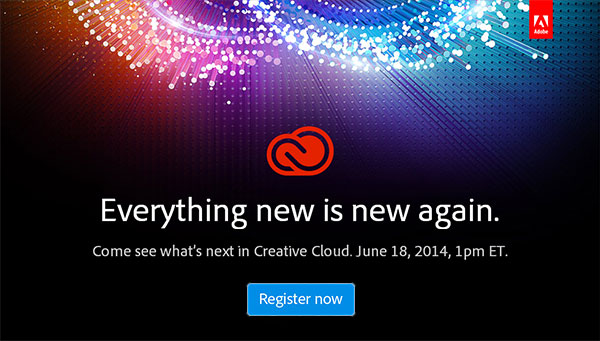 BREAKING NEWS — This just out from Adobe:
The 2014 release of Creative Cloud is coming: Watch the keynote live online.

On June 18th at 1pm ET, see the next evolution of Creative Cloud. All-new desktop and mobile apps, new creative hardware, hundreds of new features and other surprises – all designed to accelerate your creativity and make everything you do every day easier and faster.

Watch the free keynote live on June 18th: Catch the replay.
Adobe's finally done it. In case you haven't heard yet about the new Photoshop Playbook, you should.
After years of offering free video tutorials – and following on to Senior Product Manager Bryan O'Neil Hughes' success with his "Hidden Gems" series – Adobe has built a new collection of bite-sized lessons that cover exactly the kinds of things that many, many people want to (know how to) do with Photoshop.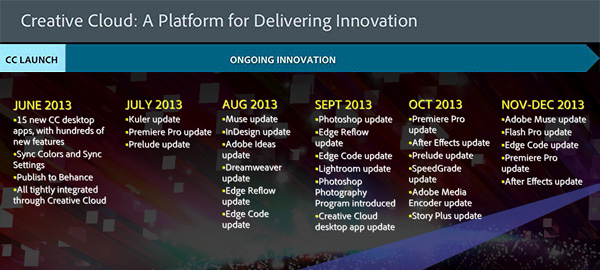 When comparing Creative Cloud to the older Creative Suite model, one of the promises of CC is an ongoing stream of product updates that comes included with every membership. Paying extra for upgrades is a thing of the past because your tools are always up-to-date with the latest-and-greatest versions – instantly as soon as the download is available, or whenever you want it to happen…
So, after a long history of monolithic 18-24 month product cycles, how is the company now adapt­ing and delivering on this new rapid refresh model in this time of fast-paced techno­logical changes?
"Creative Treat" to Be Part of New Accuracy-in-Naming Initiative
SAN JOSE, Calif.—April 1, 2014—Citing ongoing confusion over the Creative Cloud name introduced two years ago, Adobe Systems announced today that it is relaunching its flagship product line as "Creative Treat."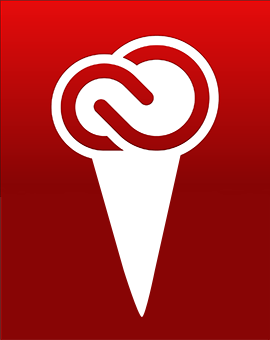 Commenting on the move, Founder John Adobe explained that too many people were still thinking Creative Cloud meant that mainline tools like Photoshop and Illustrator were run­ning as online applica­tions in a web browser – something he says will never actually happen.
"Creative Suite was the old model, and Creative Cloud is the new model," Mr. Adobe said. "And yes, it has some cloud-based services – but now with Creative Treat, we finally have a name that represents the sweet experience you should expect as a customer when using all these great tools," he added.
Origins of the New Name
"With the hundreds of innovations added since the release of CS6, plus complete access to full versions of all our top software for an affordable price, using these delicious new creative prod­ucts is really a treat, most of all," he explained.
[UPDATE (Jan. 2017) – Adobe just stopped selling CS6 entirely – here's why.]
When Creative Suite 6 arrived in 2012, there came with it a new way to buy Adobe software that the world had not seen before: the Creative Cloud. Traditionally, most Adobe products had only been sold with "perpetual" licensing that doesn't expire. The flip side is that these best-in-class tools often come with a steep price tag that is out of reach for many folks – though there have always been substantial discounts when upgrading from recent older releases, plus much lower pricing for some market segments like students and teachers…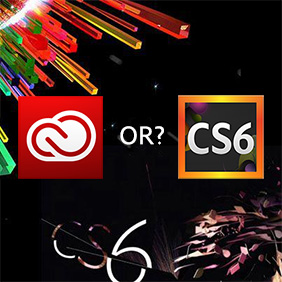 When Creative Cloud first entered the scene, there was (and still is) some uncertainty about what it meant and where it was going… But despite that skepticism, the Cloud has since gained strong adoption to become the company's dominant product line with most customers choosing it over CS6, which Adobe still continues to sell for people who want it. With Creative Cloud you receive the newer "CC" release that succeeds CS6 as the latest and greatest toolset, and generally gets high ratings from users.
Related: Compare Features – What's New in Adobe CC vs. CS6?
Adobe CC is available only via a subscription model which, yes, is cloud-based in some ways – but the name has been called confusing and misconceptions abound because in fact the major applications are not online or web-based, but still run locally on your computer as before. What's more, the company has been clear that powerful tools like Photoshop may add some online capabilities but will never run completely in the cloud.

Charting strong growth since its initial release and receiving near-five-star ratings from customers, Adobe's new all-in-one Creative Cloud offering has also been benefiting from high renewal rates from current and returning customers, the company divulged during a recent business presentation…
This is the first time that Adobe has publicly disclosed this information. In response to the audience question, "What statistics can you share with us on Creative Cloud renewal trends?" CFO Mark Garrett said:
So back in 2011 when we announced this transition, we had modeled 80% retention – which we thought was conservative – and that's planning out to be true, meaning our retention is better than 80%. We haven't disclosed exact numbers yet, but the reten­tion is well within the constraints of the model that we set and the guidance that we set. So we're really pleased with that.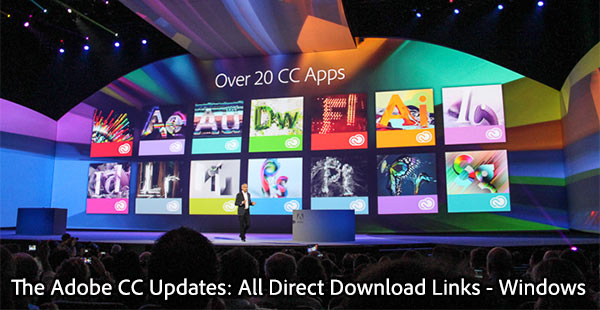 [UPDATE (July 2015) – These still work to download updates for the older CC 2013 release… However we also now have direct links for the new CC 2015 product updates.]
One of the great benefits of the Adobe CC release is receiving an ongoing stream of product updates at no extra cost… No longer do we have to wait 1-2 years for our tools to innovate and keep pace with evolving technologies; instead we get the latest & greatest features and improvements as soon as they are ready.
Since the initial launch of CC in June, Adobe has issued new upgrades for each individual app about once every 3-4 months, bringing new power and capabilities to all subscribers.