[UPDATE (Jan. 2017) – Adobe just stopped selling CS6 entirely – here's why.]
You most likely already know the news that Adobe ended the Creative Suite line (there is no CS7), and that new releases of all the CS tools (and more) have been relaunched as "CC" – and these new versions are available only via a Creative Cloud membership…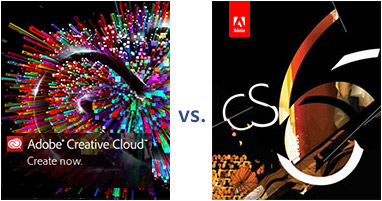 At the same time, Adobe is continuing to sell 2012's CS6 version for people that prefer the traditional licensing model instead of CC sub­scriptions, though statistically fewer than 1 in 5 customers are still going that direction.
Meanwhile, the 15 new CC applications have brought hundreds of new features and enhancements compared to CS6, with more being added all the time through ongoing upgrades that are included free with all memberships… Thus far, the latest CC tools have been getting nearly 5-star reviews from customers, as they sign up at the rate of 65,000 per week. But still, because of the relative newness of the Creative Cloud offering, some confusion abounds and there remain a few big myths floating around out there.
So all in all, there has been a lot of change to digest over the past year, and folks often ask us which route is best to take – what are the pros and cons of each option?

Both Microsoft Windows 8.1 and Apple Mac OS X "Mavericks" (10.9) have been announced and are available immediately to all customers, and naturally our readers' questions turn to: Are Adobe applications like Creative Cloud and Creative Suite 6 compatible with these new operating systems? Should you upgrade your computers, and will this Adobe software continue to run if you do? Will the programs work properly on a new machine with one of these platforms?
Good news: the answer in most cases is generally yes, yes, yes, and yes. This goes for both the full releases as well as the trial versions of CC and CS6. Read on for more details…
Install now: Get all new Adobe CC 2017 direct download links and free trials.
[UPDATE (October 2016) – These still work to download the old Elements 12 trials. We also now have the new Elements 15 Direct Download Links!]
In keeping with our custom of publishing the direct download links for major Adobe products such as Creative Cloud, CS6, Lightroom 6/CC, and Acrobat DC, below you'll find the direct links from Adobe's servers for the free trials of the new releases of Photoshop Elements 12 and Premiere Elements 12, for both Windows and Mac OS.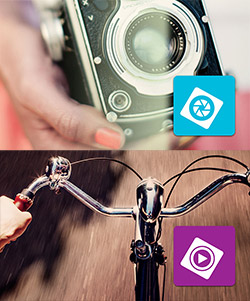 These links go to the authentic and secure files residing on Adobe's servers, are guaranteed genuine, safe, legal, and will not change. They are especially useful when you are unable to down­load Adobe's free trials via other means – often due to difficulties with the Akamai Download Manager or Adobe Download Assistant…
With the links provided below, you can use your own browser's download capability (without DLM), or another download manager of your choice.
For setting up PSE 12 and/or PRE 12 on Windows, each program consists of two down­loaded files: an .exe and a 7-Zip file (.7z). The .exe file will only work (and install) once the .7z file is fully down­loaded and resides in the same folder. For the Mac, it's just a single .dmg file for each program.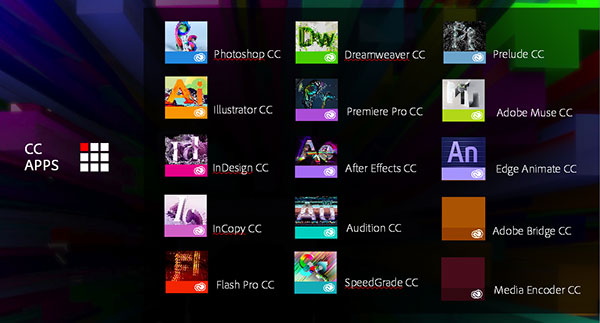 [UPDATE (November 2016) – These still work to download the older CC 2013 trials. We also now have Adobe's all-new CC 2017 Direct Download Links!]
The new Adobe "CC" release is now available for instant download worldwide and there are many important differences in this release compared to Creative Suite 6, including hundreds of new features added to the individual desktop applications…
Here we've put together a complete set of Adobe CC (2013) direct download links for all the new products (Windows and Mac OS), for instant access and the ability to use your own download manager or download assistant if you have any difficulty with what Adobe normally employs (AAM, ADA, Akamai DLM, CCD, ACC) and need to get the trials without it… These can also come in quite handy if you want offline CC installers to use, store, or back up with (i.e., copy to USB flash drive, burn to DVD or disc media, etc).
[UPDATE (April 2017) – These still work to download the old Captivate 7 trials. We also now have the all-new Captivate 2017 Direct Download Links!]
In surprise news this morning, Adobe introduced and announced the immediate availability of Captivate 7, a major upgrade to its industry-leading eLearning authoring software for rapidly creating a wide range of interactive eLearning and HTML5-based mobile Learning content [see full details of the annoucement].
[UPDATE (May 6th) – Major news out: Adobe Unveils New "CC" Release (CS7)…]
Based on recent indications from Adobe, we expect a new release of Creative Suite and/or Creative Cloud to be unveiled at their big annual MAX Conference on May 6th, just a few weeks away…
Historically during times like these, the company has set a "grace period" or grandfather offer to provide free upgrades to the next versions for customers buying the older software around the time of new releases – and in fact, such an "Upgrade Assurance promotion" deal was announced for CS6 in March of last year.
However, no such announcement has been forth­coming this year, perhaps due to the advent of Creative Cloud – where all paid members already receive all product updates and upgrades at no additional charge as soon as they are available.
But no matter – you can actually create your own grace period now, whether one officially exists or not.
The key is in awareness of Adobe's longstanding Software Return/Exchange Policy – whereby you can return your purchase to them within 30 days and they will grant you a full refund, no questions asked. This is possible even if you've already opened, installed, activated, and started using your product – and can be done quickly over live online chat with their customer service team.
Adobe Evangelist Terry White has a great new training session out showing you how to get started achieving immediate and productive results using new Illustrator CS6… This 42-minute class covers all the basics and walks through how to accomplish the top 10 techniques that beginners always want to know how to do. Earlier Terry did similar introductory primers for Photoshop, Lightroom, and InDesign – and now it's Illustrator's turn.
Here's the overview:
[UPDATE – Confirmed: Adobe's new tools in the current CC release are able to export or backsave to older CS6 file formats.]
This is one of the top questions we get. Especially now that Adobe is releasing a new version of Creative Suite once per year – with each edition potentially bringing a different or expanded file format – customers want to know if their existing projects will easily carry forward with them when they upgrade, or if they will be able to save back to older formats for clients or colleagues who are still running an earlier version of the tools…
OK then, here's how it works. Generally, your new CS6 tools (including those in the Creative Cloud) will be able to open and use any and all earlier project and data files no problem (including CS3, CS4, CS5 and CS5.5 files), without any loss of information. In other words, all Adobe software is able to read or import file formats from previous versions of the same program – and it should happen automati­cally.
Going the other way, when wanting to use CS5 or older tools to open a file saved from a CS6 product, the answer is it depends… Let's take a look at the inter­operability for each application within the Creative Suite, then at the bottom we'll talk about some additional tips and best practices no matter what your situation.
We've mentioned Adobe TV in the past, but it just keeps getting bigger and better… When Creative Suite 6 was released, they published a 15-hour series of new online tutorials – but have recently doubled this to over 30 hours now of free video training for all CS6 tools.
You'll learn the basics with Getting Started overviews plus What's New reviews by product experts, with 274 total chapters covering all major CS6 applications.
If you don't already have the programs installed on your computer but would like to get going today, you can easily down­load the free working trials for any CS6 product for Windows or Mac – then install, run, and start your training…
Acrobat is not listed below, but if you want to learn how to use that software then see these separate three hours for Acrobat X or two hours for Acrobat XI.
We've also linked below nearly two hours of sessions for the Creative Cloud, if decide to sign up for free membership there, or are already a member.
Install now: Get all new Adobe CC 2017 direct download links and free trials.
Lastly, if you also like learning in print, then don't miss this nice set of free new CS6 ebooks (over 1,000 pages). But here's how the video courses break out:
We've previously featured 30 hours of free video tutorials for Adobe's Creative Suite 6, as well as four hours for Lightroom 4 – so here are some terrific (and free) learning resources for the recently released Elements 11 product line…
In the course given below, the experts share how to get started with Premiere Elements 11 for editing your videos, the essentials of the software, new features added in PRE 11, how to use important tools and functions, plus their best tips and techniques. In total, there is over 2 hours of free video training, spanning 21 separate chapters.
Most modern cameras now take both great photos and videos, so Premiere Elements is well-integrated with Photoshop Elements for your image editing – and since many people use the two tools together, you may also be interested in three hours of free tutorials for learning how to use Photoshop Elements 11.
Because Elements 11 has an all-new intuitive editing environment with a revamped Organizer plus other new features, the content here doesn't carry well to older versions of Premiere Elements. However, we do also have a page still available with several hours of free tutorials for PRE 10 & 9 and earlier.
If you need a copy of Premiere or Photoshop Elements 11 to get going right away, just download the free trials and they will work fully on your computer for one month, which should be plenty of time to get through the classes. Note at the bottom of this page, you'll also find quick demonstrations of the two programs.