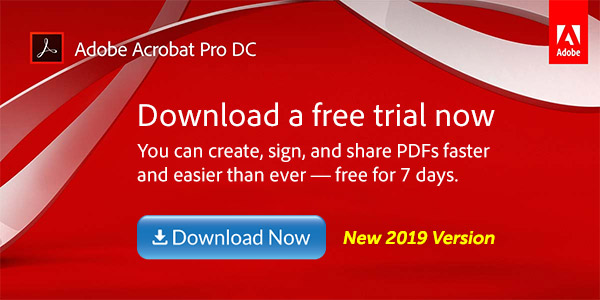 [UPDATE (March 2023) – These links still work to download the old Acrobat DC 2019 trials. We also now have the all-new Acrobat DC 2023 Direct Links!]
Adobe Acrobat DC 2019 is now shipping! If you hadn't heard by now, "DC" stands for Document Cloud, which is Adobe's set of integrated online services to help customers better manage critical documents. At the heart of Document Cloud is Acrobat DC – the industry standard for creating, sharing and editing PDFs – which was completely rearchitected for the initial DC 2015 milestone release several years ago. For more information, see: What Is the Document Cloud?
Acrobat continues as a desktop product in both Pro or Standard editions, and is available either via subscription or with a perpetual (one-time purchase) license. "Acrobat 2017" is the most recent perpetual desktop version of Acrobat – in other words, not the latest release. "Acrobat DC 2019" is the current subscription version of Acrobat. With Acrobat DC, ongoing updates are included so you always have the most recent version of Acrobat software with the newest product innovations and tools for desktop and mobile.
Note that this newly-upgraded desktop release of Acrobat Pro DC is also included as one of the many applications that all subscribers get with the complete ("All Apps") Creative Cloud.
And in keeping our tradition of providing the direct download links for major Adobe products such as Creative Cloud, Captivate 11, and Elements 2023, you'll find the direct links for the newest Acrobat releases below. Direct download links for the all the other apps in CC 2019 are now also available – and you can get them here.
Special: Legally download dozens of free Adobe books for a limited time!
What's New in Acrobat DC 2019 vs. DC 2018?
The main new features available in the Acrobat DC desktop, web and mobile ecosystem are:
A new collaborative PDF review service integrated across all DC apps designed to ease and speed the collection of feedback from multiple reviewers. It allows reviewers and initiators to participate from any device and includes new features like @ mentions, deadlines & reminders and notifications of review activity.

A new unified experience across desktop, mobile and web including a new Home view, Document viewer, Tools panel, Commenting and Fill & Sign.
The Home view is now the go-to-place to track and manage all documents that have been sent or received for viewing, reviewing or signatures.
A new and simplified Share experience across all platforms that makes sending documents for viewing or reviewing via links as easy as sending an email but with a lot more control.
New updated Acrobat Reader mobile app functionality for iPads and Android tablets that supports all of the new DC experience and capabilities mentioned above, plus all new Edit PDF functionality on Android tablets and major improve­ments to Edit PDF on iPad.
For a complete rundown of the major differences between Acrobat DC 2019 vs. Acrobat 2017 vs. Acrobat XI (from 2012), see this product comparison page.
Install now: Get all new Creative Cloud 2023 direct download links and free trials.
Here Are the Acrobat DC 2019 Direct Download Links
The links given below go to the authentic and secure files residing on Adobe's servers, are guaranteed genuine, safe, legal, and will not change. They are especially useful when you are unable to download these products via other means – perhaps due to issues with the Adobe's Download Manager. Here the file access is open and you can just use your browser, or another DLM.
Note there is no actual trial version of Acrobat DC Standard for any platform, but Pro includes all Standard features – so you can try out Pro for free and then decide which version you want at the time of purchase. In other words, the Acrobat Pro and Acrobat Standard installers are the same.  Naturally, the free Adobe Reader DC 2019 for PDF is also downloadable for both oper­ating system platforms – Windows (7, 8, 10) and macOS (10.11, 10.12, 10.13, 10.14).
The trial versions include all desktop features of Acrobat Pro DC, plus a limited set of Document Cloud services including the ability to fill, sign, and send forms on a tablet device, store and share files online and access recently viewed files across devices. A paid subscription is required to take advantage of other services including the ability to get signatures from others; send and track documents online; and create and export PDFs from a browser or mobile device. If/when the free trial expires, you can still use Acrobat to view PDFs, comment and fill forms – but to access the full set of features again, you will need to purchase Acrobat.
Note:
Very Important Instructions
Except for the Reader, you must have a free Adobe account and be logged in to use the links below, as Adobe sets a session cookie on your browser that lets you to access the software. Otherwise, you will receive an "access denied" message preventing the connection. So please follow these instructions carefully.
Adobe recommends temporarily turning off any browsing restrictions you might have running, like site or cookie blocking, filtering, firewalls or antivirus software.
Click «HERE» to visit this page first, before clicking any of the links in the table below –

this is critical!

If asked, sign in with your Adobe ID or take a minute to create one for yourself (free).
OK! Now you're logged in at Adobe with the trials cookie set, so you can instantly download any of the links below. Just make sure you have enough disk space.
Download the files either by clicking directly on the DDL links, or by right-clicking and choosing "Save Link As…" on the popup menu.
Then follow the product installation instructions here.

Acrobat Pro/Standard
DC 2019 (Subscription)

– Direct Download Links

This is the trial or version to download if you're considering purchasing Acrobat DC by subscription, via a lower-cost monthly/annual plan. Subscribers are entitled to the complete product featureset, including forthcoming new features and improve­ments on an ongoing (or "Continuous Track") basis at no extra charge, along with all product fixes and platform support enhance­ments.

 » Windows – Acrobat Pro DC 2019 free trial in 28 languages (908 MB)
     Version 2019.021.20058

 » macOS – Acrobat Pro DC 2019 free trial in 26 languages (689 MB)
     Version 2019.021.20058
Acrobat Pro/Standard
2017 (Standalone)

– Direct Download Links

This is the trial or version to download if you intend to upgrade or buy Acrobat outright, via a tradi­tional (or "Classic") perpetual license. Perpetual customers will get the regular product fixes and platform support enhance­ments, but don't receive future new features or upgrades. Standalone product users also don't have access to all the Acrobat DC web, mobile, and cloud-based workflows.

 » Windows – Acrobat Pro 2017 free trial in 28 languages (724 MB)
     Version 2017.011.30150

 » macOS – Acrobat Pro 2017 free trial in 26 languages (667 MB)
     Version 2017.011.30150

Note: Before deciding whether to get the subscription or perpetual version of Acrobat DC, you should see this product comparison.
Free Adobe Acrobat Reader DC 2019 – Direct Download Links
This is the new Acrobat Reader DC 2019, which is completely free for all users.
 » Windows – Free Reader DC 2019 in English (168 MB)
 » Windows – Free Reader DC 2019 in German (168 MB)
 » Windows – Free Reader DC 2019 in French (168 MB)
 » Windows – Free Reader DC 2019 in Spanish (168 MB)
 » Windows – Free Reader DC 2019 in 27 Languages (273 MB)
     Version 2019.021.20058
 » macOS – Free Reader DC 2019 in 22 Languages (196 MB)
     Version 2019.021.20058
Adobe Acrobat DC Updates
If you also want the direct download links for the latest Acrobat Pro/Standard product updates (i.e., all the included upgrades since the initial release above), here are complete sets for PC and Mac… These updates are cumulative and require that a previous version of the same major release of Acrobat already be installed on your system. To determine which version of you currently have installed, select "About Acrobat…" from the Help menu, and then download and apply the correct update patch file from these collections:
Installation Tips
The trial version includes all desktop features of Acrobat Pro for 7 days from the time you first launch the program on your system.
Installation of Adobe Acrobat Pro DC trial may uninstall any earlier version of Adobe Acrobat on Windows computers. If you want to reinstall the older release later, then you'd need your original serial number and software disc/installers.
Acrobat Distiller DC, the batch engine for converting other types of documents into PDF files, is included within the Acrobat Pro/Standard downloads above.
Make sure your computer meets the minimum system requirements for Pro/Standard and the Reader.
For the smoothest installation experience, exit any open programs, including virus protection software, prior to installing the product.
Install with an account that has administrative privileges (not a Limited User Account if you are using Windows).
If you encounter any difficulties, try Adobe Assistance.
We suggest using a browser other than Internet Explorer to download the files above. They can be quite large and IE has been known to drop the extension (like ".exe") from the Windows filename. If this happens and you can't open a file, then just rename it to add back the extension. But generally, using Firefox or Chrome will work better – and if you have any issues getting the downloads to work with one browser, then try another.
See Also

Do you have any questions about Acrobat? Just ask them below and we'll get you answers fast!
Keep up with the latest on Adobe software — follow us on Facebook or Twitter, or subscribe to our RSS feed… You can also enter your email and have new articles sent directly to your Inbox. We are reader-supported; when you buy through links on our site, we may earn an affiliate commission.