[UPDATE – Also see our new MAX 2017 Ticket Giveaway!]
Last week Adobe shipped the all-new "CC" lineup of products, the next release following last year's CS6. The CC version contains hundreds of new features compared to CS6, and it is available only via Creative Cloud membership… And that is exactly what we're giving away below.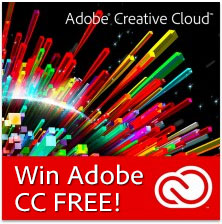 In all, the Creative Cloud includes 15 new CC desktop applications (Photoshop CC, Illustrator CC, InDesign CC, Muse CC, and all the rest), together with other comple­mentary tools and services (Acrobat XI Pro, Lightroom, DPS, Typekit, and many more). See the entire contents of what's in Creative Cloud, where all ongoing product upgrades are automatically included at no additional charge.
Also now available are all the free CC trial downloads, if you want try them out to see what's new for yourself – and they will install and run side-by-side with any older CS versions you may have, without difficulty.
Meanwhile, Adobe is continuing to sell the older Creative Suite 6 software for those who want a static version with traditional licensing, and the free CS6 trials are still out there as well.
Install now: Get all new Adobe CC 2017 direct download links and free trials.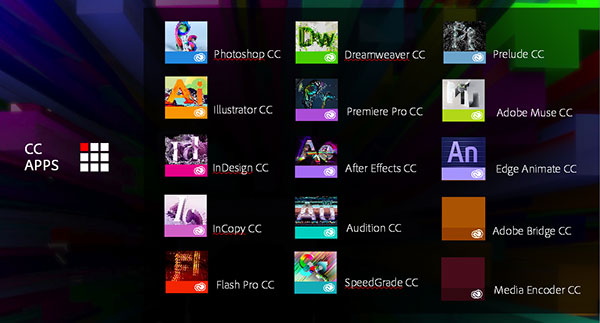 [UPDATE (November 2016) – These still work to download the older CC 2013 trials. We also now have Adobe's all-new CC 2017 Direct Download Links!]
The new Adobe "CC" release is now available for instant download worldwide and there are many important differences in this release compared to Creative Suite 6, including hundreds of new features added to the individual desktop applications…
Here we've put together a complete set of Adobe CC (2013) direct download links for all the new products (Windows and Mac OS), for instant access and the ability to use your own download manager or download assistant if you have any difficulty with what Adobe normally employs (AAM, ADA, Akamai DLM, CCD, ACC) and need to get the trials without it… These can also come in quite handy if you want offline CC installers to use, store, or back up with (i.e., copy to USB flash drive, burn to DVD or disc media, etc).
[UPDATE (Nov. 2016) – The all-new Adobe CC 2017 release has launched and is now available! See what's new in features and all the differences compared to CS6, CS5, CS4 & CS3.]
Six weeks after its official introduction, Adobe today has rolled out the the new "CC" release, with hundreds of new features and improvements across the product line centering on productivity, performance, and connectivity – see our guide to what's new in CC…
[UPDATE (Nov. 2016) – The all-new Adobe CC 2017 release has launched and is now available! See what's new in features and all the differences compared to CS6, CS5, CS4 & CS3.]
Adobe has just unveiled the new "CC" release to follow CS6 (it's not CS7) – and one of the upgrade ques­tions people are asking is what's new, what's different, what's changed in CC (Creative Cloud) compared to the previous version? The company says it "brings together everything you need to create your best work with incredible new versions of our flagship desktop tools, services that take publishing content to the next level, and making it easier than ever for creatives to collaborate and share their work worldwide." So our job here is to give you a quick "cheat sheet" on top new features, to help you decide about upgrading…
[UPDATE (Nov. 2016) – Watch 235 hours of new training & tutorials from MAX 2016!]
Just back from Adobe MAX 2013 and as in previous experiences, it's always the three most intense days of the year… It's wall-to-wall with larger-than-life presentations, keynotes with creative luminaries, diverse educational sessions, connecting with other leaders in the Adobe space, hands-on with the latest design tools, meeting the product teams, feeling the energy of the show floor, the buzz over "Sneak Peek" demos of cool new technology, and of course the fantastical MAX Bash party with 5,000 of your closest friends.
= BREAKING NEWS =
We're coming to you today direct from the MAX Conference, where Adobe has just made a blockbuster announcement.
The next generation of Creative Suite products – sometimes referred to as CS7 or CS-Next – will actually be called "CC" (as in "Photoshop CC") and from here on out will be available exclusively through the Creative Cloud. So there will not be a line called "Creative Suite 7."
[UPDATE (May 6th) – The next release is announced! Learn more about new Adobe CC.]
Normally in the weeks before a new version of Creative Suite comes out, we don't have a very concrete idea of what will be in it…
However this year – thanks to the early upgrades already out for Creative Cloud members, some telling blog posts, several "first look" videos, and a "major reveal" at the recent NAB show – we have already a pretty good picture of some of the major new features that CS7 (let's call it) will include. Adobe says all of the new products will be included in the Creative Cloud as soon as they're out.
Here below we've compiled some of the key information on what's new and expected in the upcoming release, and will keep this list up-to-date as we move forward…
Adobe promises much more will be revealed in the presentation on May 6th – so stay tuned!
[UPDATE (May 6th) – Major news out: Adobe Unveils New "CC" Release (CS7)…]
At their last MAX conference in October 2011, Adobe showed a sneak peak of some exciting work in progress: the prototype of a new Photoshop Image Deblurring feature that takes shaky photos and brings them into focus. The demonstration was impressive and the tech­nology received huge press at the time, but ultimately was said to be too early stage to make it into the final release of Photoshop CS6 last year. Since that time, our readers have been asking about the status of the unblurring function – and when, where, and how we might see it finally released and available to the public…
Well now, we may finally have the answer.
[UPDATE (May 6th) – Major news out: Adobe Unveils New "CC" Release (CS7)…]
Based on recent indications from Adobe, we expect a new release of Creative Suite and/or Creative Cloud to be unveiled at their big annual MAX Conference on May 6th, just a few weeks away…
Historically during times like these, the company has set a "grace period" or grandfather offer to provide free upgrades to the next versions for customers buying the older software around the time of new releases – and in fact, such an "Upgrade Assurance promotion" deal was announced for CS6 in March of last year.
However, no such announcement has been forth­coming this year, perhaps due to the advent of Creative Cloud – where all paid members already receive all product updates and upgrades at no additional charge as soon as they are available.
But no matter – you can actually create your own grace period now, whether one officially exists or not.
The key is in awareness of Adobe's longstanding Software Return/Exchange Policy – whereby you can return your purchase to them within 30 days and they will grant you a full refund, no questions asked. This is possible even if you've already opened, installed, activated, and started using your product – and can be done quickly over live online chat with their customer service team.
[UPDATE – See all of Adobe's current deals & discounts!]
Looking at Creative Cloud, with its 5-star customer reviews? Adobe has announced new and unprecedented special offer that we have to share with you…
Using a limited-time promotion code, you can now join the Creative Cloud for $29.99 a month for the first year, which is 40% off the regular $49.99 price of an annual membership.
No previous ownership of any Adobe product is necessary, but the price reduction is only available during this very brief window.
This deal comes via the big annual NAB show and is aimed at video professionals — though it's apparent that anyone interested can use it… It's valid through April 19, 2013 in North America, and available one-to-a-customer direct from the Adobe Store only:
With a new version of Creative Suite expected soon, one of the key benefits of Creative Cloud is that all members automatically get access to the latest upgrades and new CS features as soon as they are released for no additional cost.