Now that the Adobe CC release is becoming widespread with over 3 million paid customers, some folks are asking us whether the new versions of the tools in the Creative Cloud can read or save older data/document/project file formats like CS6, CS5.5, CS5, CS4 & CS3…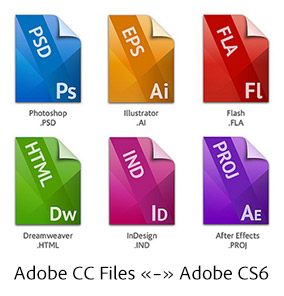 In fact, with Adobe still offering both CC 2014 (aka CS8) and 2012's CS6 for sale at the same time, file version compatibility is some­times an important decision point in choosing which release to purchase.
In the past, new Adobe product versions have often brought different or expanded file formats to support new features – and customers want to know if their existing projects will easily carry forward with them when they upgrade, or if they will be able to save back to older formats for coworkers or clients who may still be running an earlier revision of the programs…
OK then, here's how it works. Generally, your new CC tools will be able to open and use any and all earlier CS project and data files – including CS3, CS4, CS5, CS5.5, and CS6 files – with no problem or loss of information. In other words, all Adobe software is able to read or import file formats from previous versions of the same program – and it should happen seam­lessly and automatically. The only exception to this is Premiere Pro, where it's best to open/edit projects in the same versions that created them.
One of the most common upgrade questions we see out there is asking what's new, what's different, what's better, what's changed between Adobe CS6 and CS5.5 or CS5? Or more fundamentally, what are the key new features in CS6 versus prior versions, even compared to CS4 or CS3?
Creative Suite 6 contains hundreds of new or enhanced features and func­tions across the 14 point products that comprise it. So the easiest way to look at it is by major product… For example, Photoshop CS6 Extended has 62% more new features added in this cycle compared to the previous one, and nearly twice as many JDI requests (user-focused "Just Do It" items) addressed. You'll find the details on these linked from the table below.
Adobe turns 30 this year. Over the decades the company has excelled at creating software that abstracts the latest technology in a way that makes it easy for customers to express unique ideas and deliver those ideas in a variety of media. Whether you're editing an image with Photoshop, creating vector graphics in Illustrator, or laying out a page in InDesign, the goal of Creative Suite 6 is to give you total creative freedom along with the control and precision to ensure the highest quality when it comes to production. And when you combine the new time-saving features in CS6 together with the major reengineering of key user interfaces – in particular Photoshop, Illustrator, and Premiere Pro – plus further deep optimization of tool performance, you should be able to get that work done faster and more efficiently.
Yes, CS5 is out! It looks like a phenomenal release, and we have full coverage – including new products, pricing, configurations, system reqs, videos, "what's new" feature lists, and more:
ALL CS5 products are immediately available for purchase and instant download, with free shipping on all Adobe orders over €500/£350 in Europe and the U.K. (no coupon or promo code is required)…
On Adobe's site: If you're considering upgrading from your current software, here's a helpful upgrade guide. Also new is an excellent FAQ covering purchasing policies and key product changes… The online documentation for all CS5 products also just went up.
Lastly and importantly, the CS5 free trial downloads and Student and Teacher Editions
(up to 80% off) are also now available!
[UPDATE (May 13th) – Adobe CS5 is now shipping and downloadable in 16 languages: English, French, German, Japanese, Spanish, Portuguese, Italian, Dutch, Danish, Swedish, Norwegian, Finnish, Czech, Polish, Russian, and Korean.]
Categories:
Tools
Adobe, after effects, CS5, dreamweaver, flash, illustrator, indesign, photoshop, premiere, suites, upgrade, videos
[UPDATE (January 2013) – See also: 30 new hours of free tutorials for CS6!]
We've covered AdobeTV before, but it just keeps getting bigger and better… They've just issued a large series of free new video tutorials for every CS5 point product. You can learn the basics with Getting Started overviews and New Features re­views by product experts, over 17 hours in all. And if you want to get started today, you can go ahead and down­load a 30-day free trial for any CS5 product and begin getting trained…
Here's how it breaks out:
[UPDATE – Now confirmed: Adobe's new tools in the current CC (CS7) release are able to export or backsave to older CS6 file formats.]
This is one of the top questions we get. Especially now that Adobe is releasing a new version of Creative Suite once per year – with each edition potentially bringing a different or expanded file format – customers want to know if their existing projects will easily carry forward with them when they upgrade, or if they will be able to save back to older formats for clients or colleagues who are still running an earlier version of the tools…
OK then, here's how it works. Generally, your new CS6 tools (including those in the Creative Cloud) will be able to open and use any and all earlier project and data files no problem (including CS3, CS4, CS5 and CS5.5 files), without any loss of information. In other words, all Adobe software is able to read or import file formats from previous versions of the same program – and it should happen automati­cally.
Going the other way, when wanting to use CS5 or older tools to open a file saved from a CS6 product, the answer is it depends… Let's take a look at the inter­operability for each application within the Creative Suite, then at the bottom we'll talk about some additional tips and best practices no matter what your situation.
[UPDATE (June 2013) – These links still work! If not, then use instead the direct download links for the original CS5 trials, the CS5.5 trials, the CS6 trials, or the brand new Adobe CC trials…]
Click to immediately download whichever you like, from Photoshop CS5 to Master Collection!
All CS5 trials are fully functional for thirty days and can run side-by-side on your system with older versions, without interference. The Windows or Mac downloads can be installed on multiple computers if desired – and if and when you are ready to buy, you can easily convert your trial to permanent unrestricted use without reinstalling the software in most cases: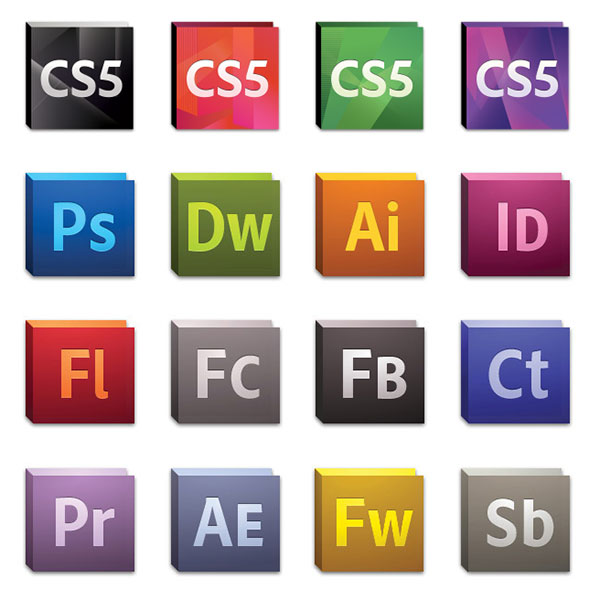 So Adobe Photoshop CS5 is finally out in its official release, with over 100 new and enhanced features… What's the word out there so far? First, a quick summary of what's new:
◊ Photoshop CS5 delivers exceptional power and creative control with the next generation of advanced tools for outstanding image manipulation and superior compositing. It redefines image editing with a strong focus on photography, including breakthrough selection capabi­lities, content-aware fill options, state-of-the-art processing of raw images, advanced creation of High Dynamic Range (HDR) imagery, automated lens corrections, puppet warp technology, extraordinary new painting effects, and a sweeping range of workflow and performance enhancements that boost productivity.
◊ Photoshop CS5 Extended takes it even further, as a superset of tools and features made for professionals who want to push the boundaries of digital imaging. It delivers all the editing, compositing, and painting capabilities of Photoshop CS5 plus powerful new features for creat­ing stunning 3D artwork from selections, graphics, and type with direct control over lighting, materials, and meshes. See the complete differences between Standard vs. Extended.
And here's what the reviewers have to say about it:
"When was the last time software changed the way you think and see? Photoshop CS5 will."
— John Paul Caponigro, photographer
"Each new version of Photoshop has included many exciting enhancements, but Photoshop CS5 is the most amazing technological jump I've seen since I started using the software."
— Ira Block, Ira Block Photography
"The Content-Aware Fill feature in Photoshop CS5 got a wow from me when I first used it. It is very good at replacing areas where you would otherwise need to use more strokes and time to clone or heal out a distracting element in a photograph."
— Dianne Taylor-Misztela, TM Photo
If you haven't upgraded to Creative Suite 5, you're missing out on new ways to reach customers, differentiate your brand, and save your company time and money in the process. Here are five good reasons to upgrade to CS5:
Productivity
CS5 brings quantifiable efficiency to users (see just-released benchmarks) through its optimi­zation for the latest hardware and operating systems and its focus on reducing common prod­uction tasks from days to hours and from hours to a few mouse clicks. For example, CS5 users can work up to 10X faster with large Photoshop images, get jaw-dropping video-editing speed, and perform numerous work­flow-specific production tasks in a fraction of the time.
Differentiation
CS5 introduces rich new creativity features for print, web, interactive, mobile, and video professionals to produce compelling content and stories that make brands stand out in a crowded marketplace. For example, companies can incorporate cutting-edge 3D objects and motion graphics into their creative thanks to new Repoussé technology in Adobe Photoshop CS5 Extended.
Content Aware Fill is one of the major features added since Adobe Photoshop CS5, and is said to be one of its greatest new timesavers. CAF allows you to move or delete parts of your image and Photoshop will automatically and intelligently fill in the space left behind. We've written about it before with the quote, "Any sufficiently advanced technology is indistinguish­able from magic." [Arthur C. Clarke]
And in our shop here we save hours every month from using Content Aware Fill as well as other CS5 advancements like Puppet Warp and the improved edge/masking tools.
Yet we still see some people claiming that Content Aware Fill "doesn't work," "doesn't give results like in the demo video," "doesn't use the right back­ground," or is just hype, smoke-and-mirrors, or a "gimmick."
It's true that it doesn't always work and of course has its limitations. You can't synthesize brand new material or hidden content that doesn't exist in some related form elsewhere in the image. And often it will require some retouching afterwards to get the final result you want.
But usually it will get you most of the way there very quickly – if you know the most effective ways to use the feature. The best is when it "just works" without doing anything special, and this happens often enough too…
[UPDATE (April 2012) – The same two applications mentioned below remain 64-bit only for CS6.]
[UPDATE (April 2011) – See also the top questions answered for CS5.5!]
Last week there was an online Q&A session called "Ask a CS Pro," where we got news on when CS5 would be released. The session with Adobe Evangelists Terry White, Greg Rewis, and Jason Levine lasted over an hour and there were a lot of other great questions address­ed. Here are some:
Q:
Is Creative Suite 5 64-bit-only? Or will it run on 32-bit systems?
A:
Only two CS5 applications are exclusively 64-bit,
Premiere Pro
and
After Effects
. The rest, including Photoshop, will run in either 32-bit
or
64-bit environments, including Windows XP. But CS5 users running on 64-bit native should realize noticeably greater gains in performance, in some cases as much as ten times the previous speed.
Q:
How can I tell if my system can run the 64-bit applications?
Q:
What if I buy CS5 but don't have a 64-bit computer yet?