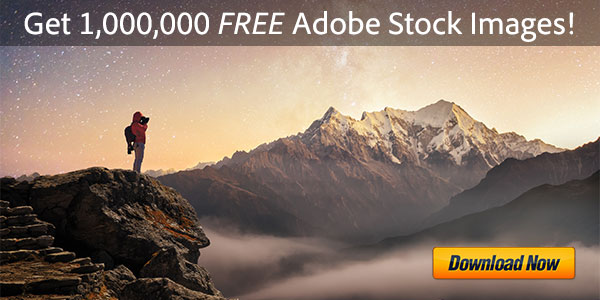 Archive for August, 2011
[UPDATE – See all of Adobe's current deals & discounts!]
Adobe has just rolled out a couple of nice offers for Labor Day and the back-to-school season… The first promotion is for all commercial customers, and the second bonus is specifically for education (students, teachers, and staff).
Labor Day Special

In North America: Receive a savings of 10% on any order of $375 or more purchased through the Adobe Commercial Store (any products). Valid for customers with shipping addresses in the U.S., Canada, and Mexico, excluding Volume and Education Stores, with no coupon code necessary. Offer available August 24, 2011 – September 8, 2011.
In Europe: Take 10% off orders €400/£350 or more in the Europe Commercial Store with coupon code Adobe10 (any software, full or upgrade). Offer available 29 August 2011 – 9 September 2011.
Offer discount valid in the following countries, for orders of the indicated amount or greater:
Ireland, Belgium, Luxembourg, Netherlands, France, Germany, Austria, Finland, Portugal, Spain, Europe: €400
UK: GBP £350
Switzerland: CHF 650
Denmark: DKK 3.300
Sweden: SEK 4.450
Norway: NOK 3.650

Even though Creative Suite 5 has been out for over a year, and CS 5.5 since the spring, some components of Creative Suite 4 remain surprisingly popular… In particular, the two applications After Effects CS4 and Premiere Pro CS4, which were released in the fall of 2008, are still sought by many. At first this might seem odd, but there's good reason… Why does this duo of earlier tools remain in demand?
It's no doubt owing to the 64-bit-only requirement for those two products (and only those two products) in Creative Suite 5… Adobe explains the reason for this is because developing in native 64-bit gives the best optimized performance benefits with the demanding technical requirements of working with high definition video. But these won't run on many older computers.
Note this is more of a Windows factor and does not affect the majority of Mac systems using Intel proces­sors… But with no 32-bit Windows versions of After Effects CS5.5 or Premiere Pro CS5.5 offered, perhaps it shouldn't be surprising the CS4 releases continue to be needed. After all, statistics show that 43% of the broad Internet community still runs on Windows XP – making it still the most widely-used Microsoft Windows platform – but which isn't supported for those CS5 apps.
The question then becomes, what to do about it? If you're still on 32-bit or XP, but need one of these products after the free trial has run out, would your best choice be to buy the previous generation version of CS4? Doubtless your next computer will be 64-bit – so wouldn't it be better to invest and get both – CS4 (for current use) and CS5.5 (for future growth) – two for the price of one? Especially since these two latest releases have been getting stellar reviews from many sources…
[UPDATE – Also see our all-new Creative Cloud 2021 Giveaway!]
MAX 2011 – the big yearly conference for all-things-Adobe – is coming up in just two months in Los Angeles, California… And continuing our long tradition of free Adobe giveaways, we've got one free and full conference pass (worth $1,495) to give away, plus one $400-off ticket discount, both courtesy of our friends at Adobe Systems.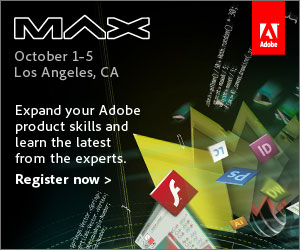 Adobe MAX 2011 will be chock full of expert keynotes and presentations, technical ses­sions and talks, surprise announcements and sneak-peeks, evening events and get-togethers, and possibly some freebies.
In fact, most of the over 200 training and tutorial sessions from MAX 2010 were recorded and are still available on-demand for free viewing, covering all Adobe tools.
Anyway, back to the ticket giveaway: We're awarding one full and free conference pass as a grand prize, and one $400 ticket discount to the runner-up. Any travel and lodging arrange­ments are the responsibility of the winners. The contest is open to residents of North America, U.K., Europe, Australia, New Zealand, and South Africa – and all you need to do for a chance to win is one (or both) of the following: