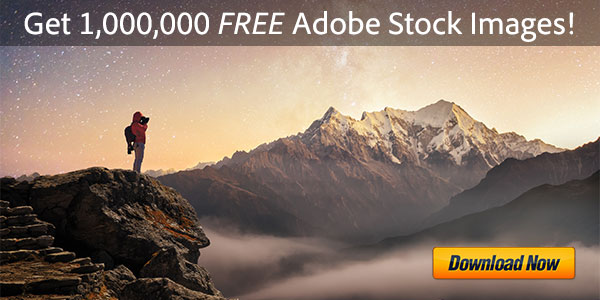 Archive for December, 2011

[UPDATE – See all of Adobe's current deals & discounts!]
Adobe has just extended their popular current offer for all customers to save an additional 20% off the regularly-discounted upgrade price when you move up to CS5.5 (to either a suite or an individual product) from any earlier qualifying Adobe tool listed below.
This special was set to expire at year-end but has now been extended into March 2012 and continues to be available worldwide, with no coupon or promotion code required. It's valid for upgrading to all the latest CS5.5 versions, and also includes Photoshop CS5.1 and Illustrator CS5 as well.
The additional time comes following Adobe's recent news of a major change in upgrade policy whereby only users with CS5.5 or CS5.0 would qualify for upgrade pricing to CS6 when it is released.
The new expiration dates for the additional 20% off upgrade savings are:
North American Store: Extended through March 15, 2012.
European Stores: Extended through 15 March 2012.
Australia/NZ + Asia: Extended through 15 March 2012.
Adobe has two major new products in free public beta right now – Adobe Edge for developing HTML5 animations (like Flash Pro but outputs HTML5) and Adobe Muse which allows designers to create websites as easily as creating a layout for print. Adobe says interest in these betas has far exceeded their expectations.
So what's the difference between Muse and Dreamweaver, Adobe's existing tool for creating websites? Well, with Muse you can build cool sites without coding (see impressive examples), whereas Dreamweaver is for users with greater technical orientation. So while you can do more advanced things with Dreamweaver, often you can (very easily) do just what you need with Muse, and have it look great.

Both tools will be shipping in their first official release in 2012. And while it's been known for a while that Muse would be "subscription-only," we now know too that Edge will likely follow the same path. Furthermore, neither will be included in the Creative Suite.
At a recent Adobe Analyst meeting during the question and answer session, it was revealed that Adobe is planning for both new design tools to be available only via subscription or through their optional "Creative Cloud" software rental offering – and neither will be a part of CS6 – in other words, they will only be sold separately.
Here it is at the 33-minute mark of the Q&A:
[UPDATE (Nov. 2020) – Check out Adobe's new 2020 Black Friday & Cyber Monday Deals!]
If you missed the deals Adobe had running for Black Friday, not to worry as there are more great holiday specials going for December through Christmas, Boxing Day, and on to New Year's and beyond – and here's your guide…
Adobe has a dozen major offers in multiple countries covering popular products – including saving 10-20% on Creative Suite 5 and 5.5 products, 30% on either Lightroom 3 or the new Photoshop & Premiere Elements 10, 10% additional discount in the Education Store, plus free shipping. The deals have various expiration dates Europe/UK, Australia/NZ, and North America. Note that you do need to use individual coupon codes (linked below) for many of them.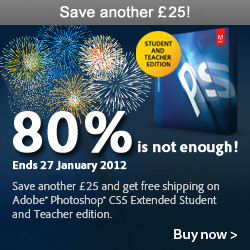 All the holiday offers and some of their graphics are detailed below, and are available only for direct purchases. This end-of-year sale will probably mark Adobe's last discounts for a while, so if you've been waiting to make a move – especially with the recent changes in Creative Suite upgrade policy – then now could be your time…
Note that if you buy either Photoshop or a CS5.5 suite together with Adobe Lightroom, then these coupon codes are stackable with an additional 30% off Lightroom 3 offer! (valid worldwide until December 31st, 2011)
If you prefer to try before buying, you can instantly download any Adobe product you want as a fully-working 30-day free tryout, then later purchase/activate it within the savings period to get the discount.
Judging by the amount of attention that Adobe's recent upgrade policy changes have been receiving, as well as our subsequent visitor poll on the company's model shift to the new "Creative Cloud," this is a big and important issue…
And while this cloud model is optional, two of the persistent questions so far have been: How are the Acrobat and Lightroom products affected by all of this?
Both of these tools have historically different release schedules from Creative Suite – and while Acrobat is included in the suites, Lightroom is not. Looking back, CS5.5 launched in May 2011, Acrobat X in November 2010, and Lightroom 3 in June 2010.
[See: When will Adobe CS6 be released? When is Lightroom 4 coming out?]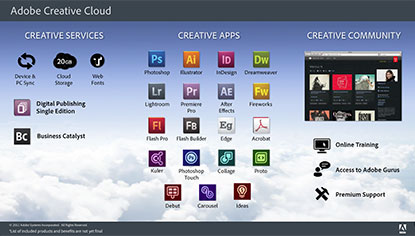 So first off, we can clarify: both Acrobat and Light­room are currently slated to be included in Adobe's Creative Cloud, at least according to this slide from a recent analyst presentation – although there is a disclaimer at the bottom which states, "list of included products [is] not yet final."
[UPDATE (January 25th) — Adobe now says that Lightroom will not be included initially, but is "planned for a future release."]
The next question then is, will either of these two popular standalone products be affected by Adobe's new upgrade policy?