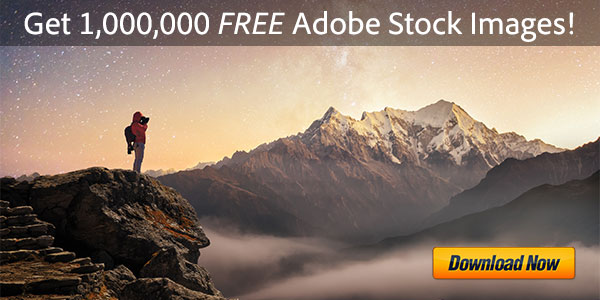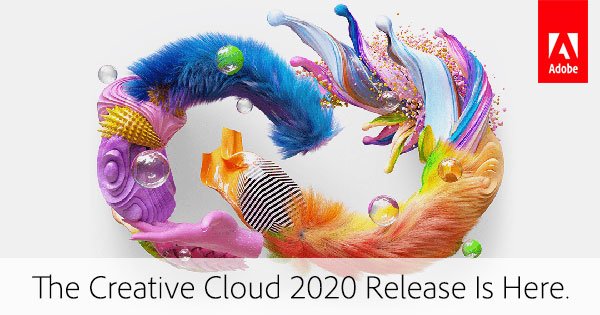 "Creativity for All" is the key theme of the all-new CC 2020 release, which was just announced by Adobe this week at their annual MAX conference. This next generation of Creative Cloud includes hundreds of new features and advancements across their product line, focusing on three core goals: faster, more powerful & more reliable tools, creating anywhere & anytime with anyone, and exploring new frontiers… CC 2020 is the next major release following the CC 2019, CC 2018, CC 2017, CC 2015, CC 2014, and CC 2013 versions, which in turn replaced CS6 from 2012.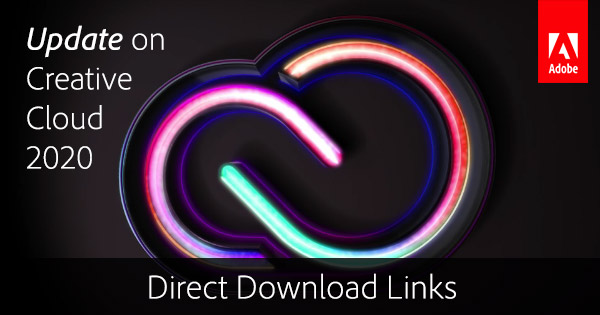 Every year, Adobe's creative product launches seem to get bigger – and this year is no exception… This morning, in front of a record 15,000 attendees at the annual MAX conference, Adobe unveiled the new CC 2020 Release, which feels like their biggest product launch since they first introduced Creative Cloud over seven years ago.
Now that the Adobe CC release has become ubiquitous with over 22 million paid customers, some folks are asking us whether the new versions of the tools in the Creative Cloud can read or save older data/document/project file formats like CS6, CS5.5, CS5, CS4 & CS3…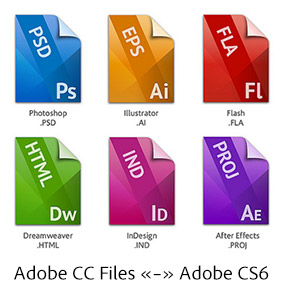 In fact, since Adobe's flagship creative toolset CC 2019 is now seven major releases past CS6 from 2012 (which they no longer sell), file version compatibility can some­times be an important decision point in moving forward.
In the past, new Adobe product versions have often brought different or expanded file formats to support significant new features – and customers want to know if their existing projects will easily carry forward with them when they upgrade, or if they will be able to save back to older formats for coworkers or clients who may still be running an earlier revision of the programs…
OK then, here's how it works. Generally, your new CC tools will be able to open and use any and all earlier CS project and data files – including CS3, CS4, CS5, CS5.5, and CS6 files – with no problem or loss of information. In other words, all Adobe software is able to read or import file formats from previous versions of the same program – and it should happen seam­lessly and automatically. The only exception to this is Premiere Pro, where it's best to open/edit projects in the same versions that created them.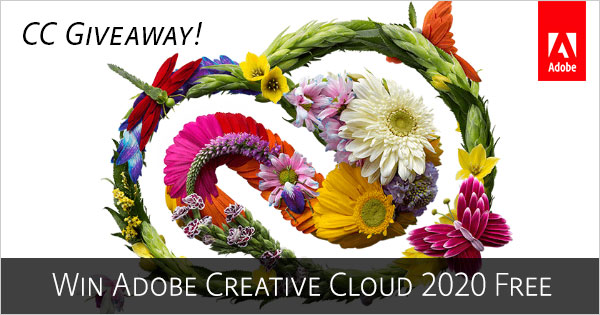 [UPDATE – Also see our all-new Creative Cloud 2021 Giveaway!]
Every autumn brings MAX – Adobe's big annual creative conference – and every recent MAX has also brought a major new release of Creative Cloud… For instance, CC 2019 was unveiled at MAX last year, and we expect this year to be no different. In fact, Adobe has already tipped this off with a new article about changing requirements for the next Photoshop and Lightroom:
As we prepare for our next major releases of Camera Raw, Lightroom Classic and Lightroom at MAX 2019, we wanted to give you a heads up on upcoming changes to our System Requirements…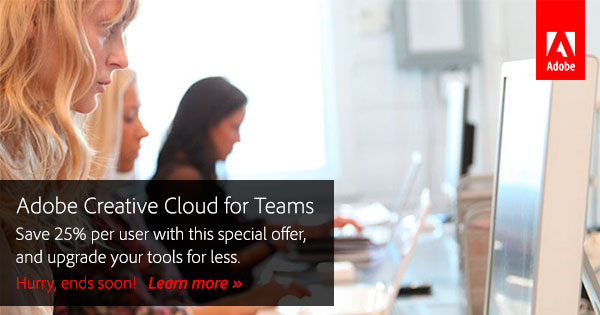 [UPDATE – See all of Adobe's current deals & discounts!]
Adobe is running a special (and rare) Creative Cloud promotion… For a limited time, you can save US$20/month – a reduction of 25% – on Creative Cloud for Teams for your first year. That comes out to under $60 a month ($80/user/month regular price) for the entire CC collection of tools and services ("All Apps"), including thousands of new features and performance improvements, as well as ongoing product updates!
This promotion is available in the United States, Canada excluding Quebec, and Mexico… The lower pricing will be activated by this link – but hurry, this coupon offer ends August 30th, 2019: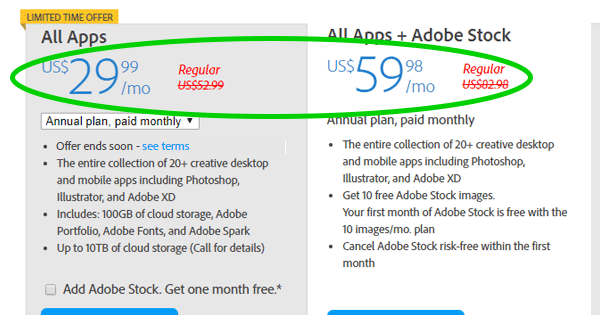 [UPDATE – See all of Adobe's current deals & discounts!]
Something very rare is going on this week, and we thought you should know about it. For one of the first times ever outside of the traditional Black Friday / Cyber Monday sale period, Adobe is currently offering a large discount on Creative Cloud to the general public…
For a limited time (until Friday, July 19th), first-time subscribers to the Creative Cloud 'All Apps' plan can score a 40%-45% discount off the regular prices for your first year. This promotion beats the all-time lowest prices ever offered on these popular products.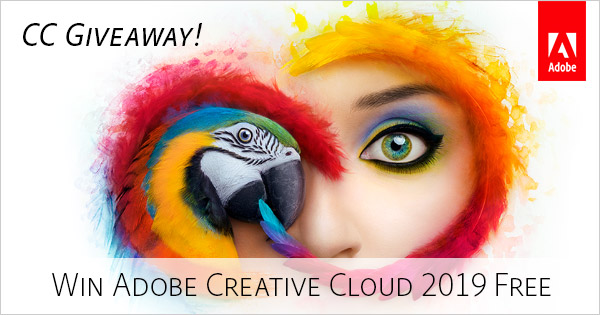 [UPDATE – Also see our all-new Creative Cloud 2021 Giveaway!]
Last fall, Adobe launched the all-new CC 2019 product line, a major milestone of creative tools and services marking the seventh major release of the CC product line. This latest version contains thousands of new features and advancements since Creative Suite in 2012, and this product is available only via Creative Cloud membership – a community which now surpasses 22 million paid subscribers.

We've previously covered here how to transfer Adobe software products (like Creative Cloud, CS6, Photoshop, Lightroom, Elements, or Acrobat) between two computers, including from PC to Mac or vice versa. In this article we're going to focus on transferring the actual legal license from one person or company to another, like transferring the title to a car or home between two people.
Moving the software physically is mostly a technical task, but doesn't cover what happens if the recipient has problems, needs customer support or updates, wants to be registered with Adobe, and be recognized as the new rightful owner and user of the tools. To address those needs, you can follow the transfer process described below to "unregister" the program from the old owner and re-register for the new one.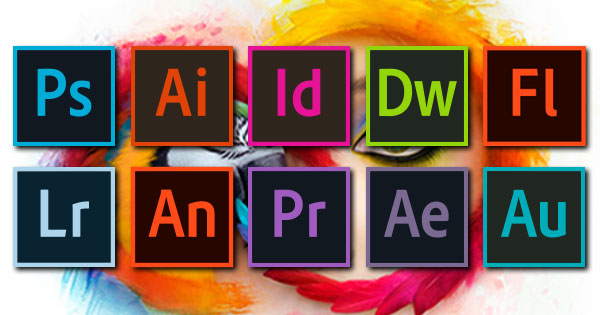 UPDATE (Oct. 2020) – The new Creative Cloud 2021 direct download links are now available.
Adobe has just made a big change to the version availability and usage of its creative software products, both for CC and CS applications…
Since the advent of Creative Cloud in 2012, subscribers have been able to use any version of the CC products that has ever been released. Some customers use prior versions due to compatibility with evolving system requirements, or because co-workers have standardized on the same earlier release.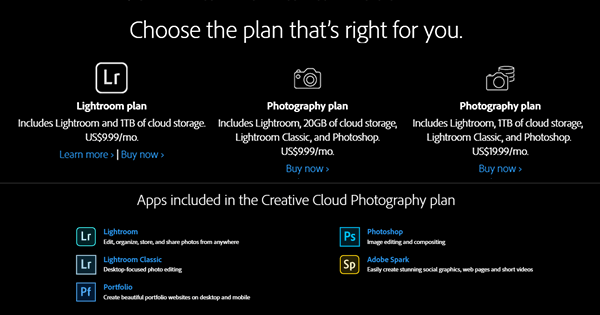 This morning, there was a widely-shared post on a photography blog with a headline stating that Adobe's $9.99/month Photography Plan (including Photoshop, Lightroom, and 20 GB of storage) was gone.
This has led a lot of folks to worry that it might no longer possible to buy or renew this popular bundle at a price lower than $19.99/month. Or, that they'd have to scramble to find a third-party reseller who might still be offering the lower price.
Fortunately, this is not the case. Adobe says they are currently running some tests, is all – so that not all product configurations may be shown on their website for all visitors: