Did you know that people spend over $7 billion each year printing, faxing, and overnighting documents just because a signature is needed? Adobe has just introduced a free solution aiming to crush those expenses… It's called Adobe eSignatures™ and it's live now, a new online service allowing you to electronically sign contracts, NDAs – any Acrobat PDF document that requires a signature.
If you already have an Adobe.com ID or login, you're good to go – just sign in and start signing (electronically)! If you don't yet have an Adobe ID, just take a minute to create one; it's easy and free. Then it's a very simple guided process that allows you to upload your document, enter the email address(es) for all parties, and click to sign. You don't need any special tokens or smartcards. Once signed, the final eSignatures document is certified by Adobe to ensure that no one has modified it, providing an authentic copy that is protected against alterations. And it's entirely legal, valid, and lawfully accepted, being used to sign everything from real estate and sales contracts to judicial orders.
Adobe actually has a lot of experience in this area, with a big, well-established business pro­viding a highly-secure digital signature capability into large banks, the military and a number of governments. In fact, the first digitally-signed judicial order was executed using Adobe technology, and the FY 2011 U.S. Federal Budget was electronically certified using the same technology that underlies eSignatures. They've been a market leader in digital signatures for over a decade, and are now extending this service out to the rest of the world for everyday documents… (Read how it works.)
Did we mention it's free?
[UPDATE – Download over 20 Adobe books free now!]
Our last giveaway went so well that we're launching a new one for the month of May – we're giving away ten copies of some of the best CS5 books coming, Adobe's popular "Classroom in a Book" series! The books will be published in early June, just after the contest ends… They sell for up to $59.99 and include companion DVDs for Windows or Mac with bonus content including lesson files and video tutorials. Our winners can choose a book for whichever product you'd like: Photoshop CS5, Dreamweaver CS5, Illustrator CS5, InDesign CS5, Flash Pro CS5, Flash Catalyst CS5, Premiere Pro CS5, After Effects CS5, Fireworks CS5, or CS5 Design Premium.
To enter, all you have to do is add a comment below describing what you like about CS5 and how you'll be using it, in up to four sentences – that's it! The contest runs until 11:59pm EDT on Monday, May 31st, 2010, when we'll choose the ten entries we like the best. One entry per person please, and if two submissions are similar, the first one will count. The contest is open to residents of the USA, Canada, U.K. and Ireland, and the winners will be chosen and books shipped out next month. Be sure to give an accurate email address as we'll be contacting ten commenters via email to get shipping information, and then follow up back here announcing first names and home­towns.
---
Speaking of giveaways, we're also pleased to announce the winner of our big Photoshop CS5 Giveaway last month… The lucky fellow who won the drawing is Dayne from North Lincoln­shire, England, and he will be receiving a shiny new shrinkwrap­ped box of Photoshop CS5 for free!
[UPDATE (June 2013) – These links still work! If not, then use instead the direct download links for the original CS5 trials, the CS5.5 trials, the CS6 trials, or the brand new Adobe CC trials…]
Click to immediately download whichever you like, from Photoshop CS5 to Master Collection!
All CS5 trials are fully functional for thirty days and can run side-by-side on your system with older versions, without interference. The Windows or Mac downloads can be installed on multiple computers if desired – and if and when you are ready to buy, you can easily convert your trial to permanent unrestricted use without reinstalling the software in most cases: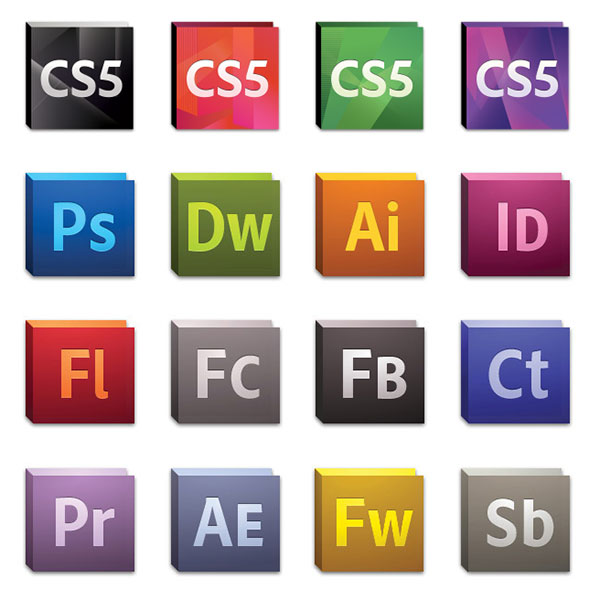 [UPDATE – Also see our new Creative Cloud 2017 Giveaway!]
Less than a week to go now until the big Global Online Launch of Creative Suite 5, if you haven't signed up yet … We've talked a lot here about Photoshop CS5, so here's your chance to win it for free! All you have to do is enter your email address in the "Adobe Special Offers" box in the sidebar to the right for our free occasional e-newsletter. That's it.
It's open worldwide with one subscription per person and submissions end at 11:59pm EDT on Friday, April 30th, 2010. Then on May 1st (right before we think CS5 is released) we'll choose one new subscriber at random, and if it's you we'll ship you a shiny new shrinkwrap­ped box of Photoshop CS5 for free! (up to $699 value) We'll contact you via email just to get your address for shipping, and then follow up back here announcing your first name and home­town. It's that simple, no kidding!
If you like, you can find out more about the newsletter you'll be receiving – it typically contains select Adobe-related news items plus the latest discounts and great coupon codes. And of course you can easily unsubscribe from the bottom of any issue. Naturally we'll never spam you or share your email address with anyone else, ever. So enter your email today and tell your friends – someone has to win the giveaway and there's nothing to lose!
Adobe has just started a new program of giving away full versions of some of its premium development tools ($699 – $1,299 value) absolutely free if you qualify…
If you are an educational customer or an unemployed developer, Adobe would like to lend a hend. Simply certify you are a student, faculty or staff of an eligible education institution, or currently out of work – and the software is yours to download for non-commercial use.
Get your free products here.
UPDATE (August 28, 2012) – With the two new version releases out recently, the products now available for free at this site are ColdFusion 10, ColdFusion Builder 2, and Flash Builder (formerly Flex Builder) 4.6.
[UPDATE (May 3, 2011) – All Creative Suite 5.5 trials are out!]
Not all are aware, but Adobe is now offering free trials of virtually any product that works without restriction for up to thirty days… The best part is you can immediately download the software for most products and have it up and running on your computer within minutes!
For the larger packages such as the suites, Adobe will send you software DVDs for a nominal charge of $10-15 (UPDATE, February 2010 – new policy – you can now directly download any of the suites too if you desire, for free, including the top-of-the-line Master Collection). In any event, all products and all suites remain fully functional for up to a month (no "demo mode"), and the trials can be installed on multiple or successive systems if desired.
In all cases you can test drive whatever you like, or get the work you need to get done for the duration of the period. And if and when you are ready to buy, you can easily convert your product trial for permanent unrestricted use without reinstalling the software in most cases.
Lastly, you can download as many individual CS4 CS5 apps as you want, including Photoshop, Acrobat, Dreamweaver, Lightroom, Illustrator, InDesign, Flash, Contribute, Elements, etc.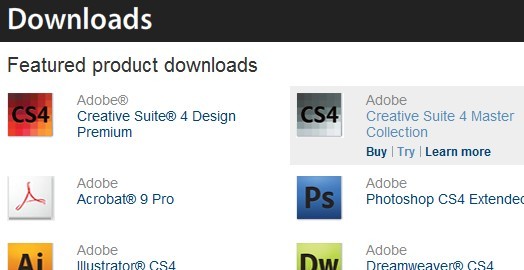 Here's a great one. How would you like a huge menu of absolutely free video training, tips, and tricks for most all of Adobe's major products?
A large selection of helpful segments from the experts you can run and view at any time from the comfort of your home or office, covering everything from "getting started" tutorials for beginners to advanced "how-to" guides for thirty different products…
Well, it's here – check it out and learn all you want at the new "Adobe TV."