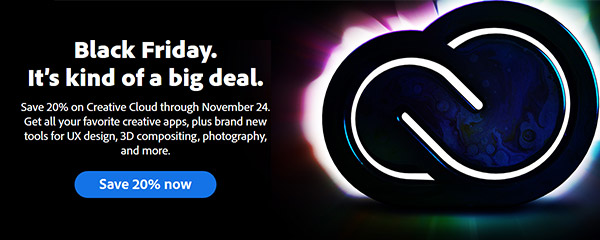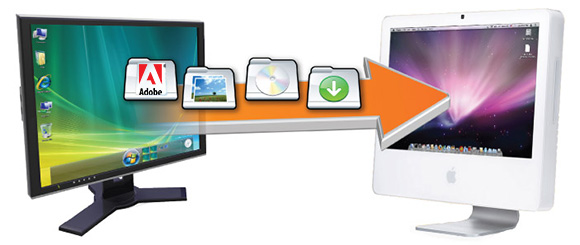 OK, so your old computer is running out of gas, you're upgrading or changing systems, adding a new machine, or switching from a PC to a Mac, or vice versa — and you want to move over your copy of CC/Creative Cloud or CS6 (or CS5 or CS4 or CS3) Adobe software — what do you do, and how do you do it? Just follow our complete guide below, which also works for other Adobe desktop products such as Acrobat, Elements, Lightroom, Captivate, and more.
As we've covered previously here, you are generally allowed to install and activate most Adobe software on up to two computers, with the restriction that the software can not used on both systems at the same time. So right off the bat, you might be good to go with installing the software on a second computer, although you may wish to double-check the licensing agreement for your product to be sure.
This is one of the most common questions we get, and the answer may pleasantly surprise you… The place to look to find the answer is the Software License Agreement, also called the terms of use or EULA. This agreement governs the use of your Adobe product, and is translated into 28 languages within each document. It also covers some basics about product activation.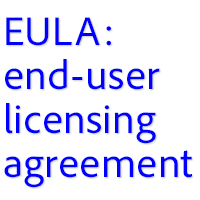 So, in general, how many systems can you install Adobe software on, including the Creative Cloud (CC) and CS6? The answer for individuals (as opposed to businesses) in most cases is two. The catch is that both computers must be used only by you and the two systems cannot be used at the same time. This policy was designed so that you could run Creative Cloud (or Creative Suite) at home on your desktop PC, as well as while traveling with your laptop or tablet PC. But the types of computers and their usage has blurred so much now that you can just pick any two you own and the product should install and properly activate on both…
For example, here is the key text from the EULA for Photoshop CS6:
2.1.3 Portable or Home Computer Use. Subject to the important restrictions set forth in Section 2.1.4 [having to do with volume licensees], the primary user of the Computer on which the Software is installed … may install a second copy of the Software for his or her exclusive use on either a port­able Computer or a Computer located at his or her home, provided that the Software on the port­able or home Computer is not used at the same time as the Software on the primary Computer.
[UPDATE – Also see our new Holiday CC 2018 Giveaway!]
In June, Adobe shipped the all-new CC 2015 set of tools and services – a milestone marking the third major release of the CC product line, which replaced CS6 from 2012. This latest CC version contains thousands of new features and advancements compared to CS6 (across all creative applica­tions), and it is available only via Creative Cloud membership – a community which now surpasses 10 million paid members.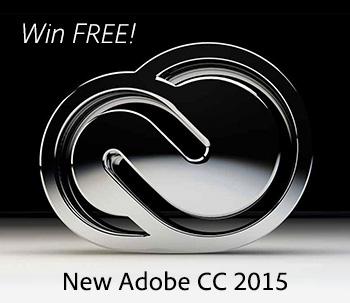 Adobe CC 2015 is also known as the Creative Cloud 2015 Release… And that is exactly what we're giving away for free below, and this offer is open to everyone world­wide.
In all, Creative Cloud 2015 comes with 15 new desk­top applica­tions (Photo­shop CC 2015, Illus­trator CC 2015, InDesign CC 2015, Light­room CC 2015, Muse CC 2015, and all your other favorites), together with other comple­mentary tools and services (such as Acrobat Pro, Edge, Typekit, Behance ProSite, CC Market) and much more. See the entire contents of what's in Creative Cloud, where all ongoing upgrades are auto­matic­ally included at no addi­tional charge.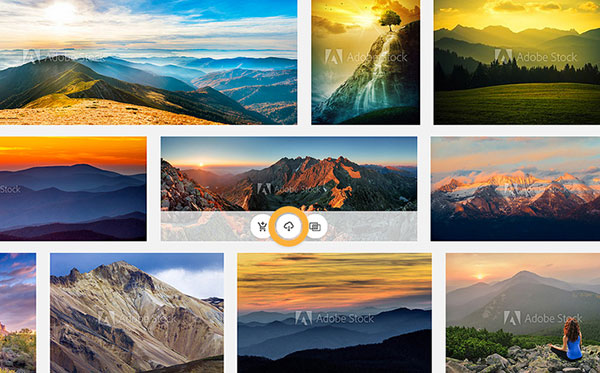 Adobe wants to give you US$50 worth of professional, high-resolution stock images right now. We're talking about high-quality, curated photos, illustrations, vectors, graphics, and more from a vast collection of over 100 million assets to choose from…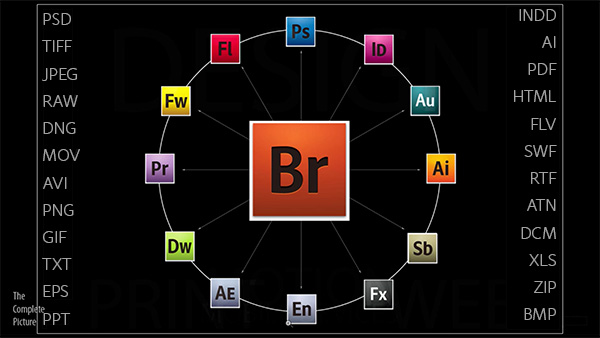 In response to our How to Join Adobe's Creative Cloud for Free post last week, we received this question from a reader:
Hi – is it really true that Adobe Bridge (the full version) is totally free to download and use forever, and I don't have to pay for it or have a subscription?
The answer is yes, it's absolutely true – although not that many people know about it because Adobe hasn't really publicized it widely…
[UPDATE (Nov. 2017) – Check out Adobe's new 2017 Black Friday Deals!]
Adobe is having a worldwide sale with money-saving deals lined up through Black Friday and Cyber Monday 2015, and we've got the complete guide below… There are some nice offers on tap for major products in this "season of savings" – with discounts as much as 68% off the regular prices!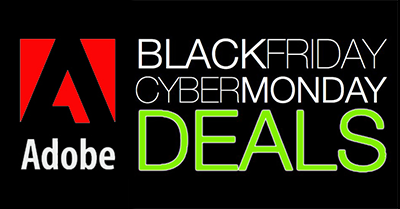 The company is running several major promotions for Creative Cloud (CC 2015) and for Elements. All are the lowest prices ever offered on these popular products. The holiday deals begin on Monday, Nov­ember 9th at 12:00pm Eastern Time and will run continuously until Wednes­day, Decem­ber 2nd at 11:59pm Pacific Time.
The three big offers are:
— Creative Cloud 20% Off: Normally $49.99/month for new customers signing up for an annual plan – now the complete Adobe CC member­ship will be available at a special discounted rate of $39.99/month (or £36.59/€47.59/A$39.99 including VAT) for one year. Or you can also get 20% off any CC Single-Tool Subscription, or for Creative Cloud with Adobe Stock. No previous software ownership or other qualifications are necessary to receive this reduction.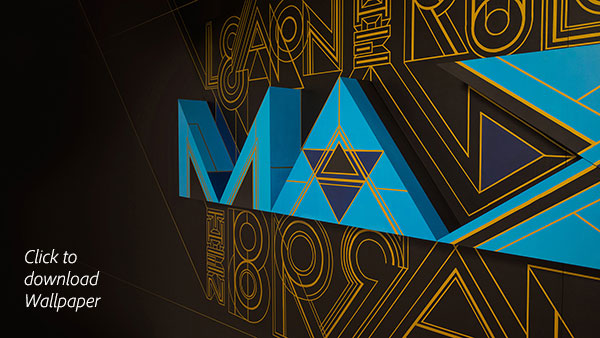 [UPDATE (Oct. 2017) – Watch 140 hours of new training & tutorials from MAX 2017!]
Did you make it to MAX this year? Adobe's Creativity Conference broke all records with 7,000 attendees coming together in Los Angeles earlier this month, up from 5,000 just a couple years ago… And that was despite an increase in the cost of a full conference pass to US$1,595.
For the price of that ticket, participants enjoyed major new product launches, inspirational key­notes from creative luminaries, hundreds of enriching training sessions, plentiful opportunities for networking with colleagues, access to the latest cool technology on the pavilion floor, meeting the Adobe product teams in person, the highly-anticipated "Sneak Peek" demos of jaw-dropping new features under development, and of course the famous MAX Bash party. And this year, all attendees also received a free year of Adobe Stock as well as a new FUJIFILM X-T10 camera.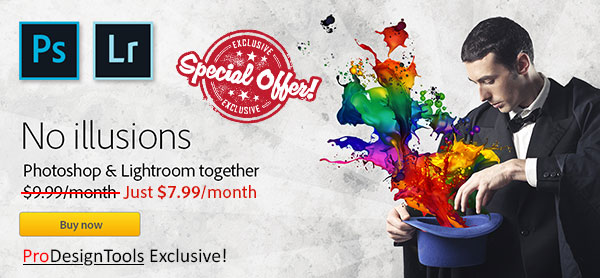 U

PDATE
– This special one-time promotional offer has ended. Please join through one of the current CC membership plans:
— See Latest Offers »
— Try for Free »
____________________
We've got a terrific new deal for you, one that is only available here to readers of ProDesignTools… For a limited time and while our allocation lasts, you can get an annual membership to the CC Photography plan – which includes the latest-and-greatest releases of both Photoshop CC and Lightroom CC – for 20% off the regular price worldwide. That works out to just US$7.99, £5.71, €7.99, or A$7.99 per month (plus applicable taxes or VAT) in several major currencies.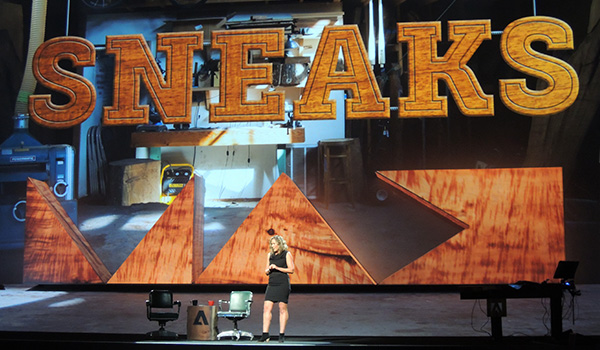 SAN JOSE, Calif.—October 13, 2015—At the record-breaking MAX conference last week, Adobe revealed 11 sneak peeks of technol­ogies they are working on but haven't released yet. Some of these new features are absolutely mind-blowing and defy belief, yet the company did not web­cast the sneak peeks. But good news, you will find complete videos of each of them captured below!
Naturally, the Adobe says there aren't any guarantees for what will appear in a production release, or when: "See the coolest demos of what we're cooking up in the Adobe development labs, and be the first to get a peek at technologies that may (or may not) make it into future products and services." But never­the­less, major new product features very often appear in these previews before they make it into the real tools (cases in point: Content-Aware Fill, Perspective Warp, Image Deblurring, and Defog/Dehaze).
With the continuing popularity of Adobe's Creative Cloud Photography Plan where anybody can get both Photoshop CC and Lightroom CC for just 10 bucks a month, we've had some readers asking us the best ways to learn these two top imaging tools…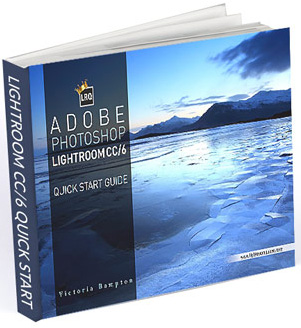 We always mention about the free video tutorials on Adobe TV, as well as the super­lative, compre­hensive courses offered on Lynda.com – but we can also recom­mend two new terrifi­cally helpful ebooks that you can work through step-by-step at your own pace. And fortu­nately, both books are completely free.
The first is the Adobe CC/CS6 Design Basics book that we've featured before on this site, which is 200+ pages taking you through the core essentials of Photoshop CC, Illustrator CC, and InDesign CC.
The second book is Victoria Bampton's excellent Lightroom Quick Start Guide, just out in a new 81-page edition which tells you every­thing you need to know to get going with Lightroom from the ground up.