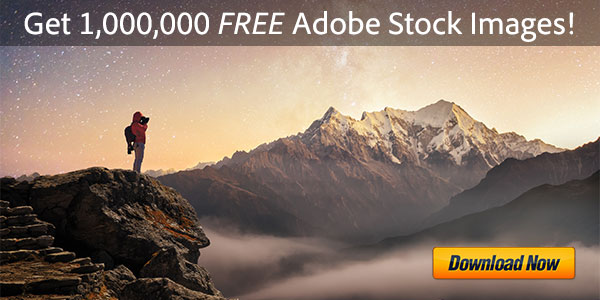 Archive for January, 2010
Just a quick post because I thought you might be interested in this, on the making of Avatar:
– Watch a full-screen video from the movie's producer on how Adobe software was used throughout.
– Download the free interactive Avatar app.
(The first link comes from the new AdobeTV site where you can check out dozens of free online training videos for all of Adobe's products, covering everything from "getting started" tutorials to advanced "how-to" guides with tips and tricks, etc.)

[UPDATE – See all of Adobe's current deals & discounts!]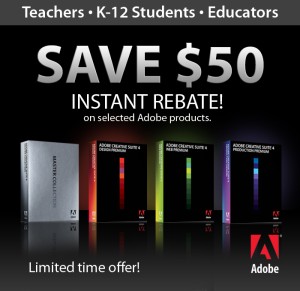 Adobe is offering free Fedex shipping on all Education products at select Adobe Education Stores. Offer valid until February 22, 2010. Plus, students, teachers, and faculty can still save up to 80% off regular prices at the Adobe Education Store.
Offer good for the following Adobe Education Stores:
North America
United Kingdom
France
Germany
Other European Countries (Austria, Belgium, Denmark, Finland, Ireland, Italy, Luxembourg, Netherlands, Norway, Portugal, Spain, Sweden and Switzerland)
Also there's another promotion where if you're a teacher or K-12 student in North America, you can save $50 instantly on the already-reduced price of a "Premium" version of CS4… This one is valid through February 28, 2010.
[UPDATE (5/7/2012) – CS6 is now available in the Business (Volume) Store!]
Adobe has just launched a new Volume Licensing Store in the UK and Europe, to go along with the one it opened online last year for North American customers. These sites can save you money, time, and provide benefits not found elsewhere – and make it easy for organizations of all sizes large or small to gain the advantages of volume ordering.

If you use multiple copies at your location (or may in the future), volume licensing is a good idea to consider – in addition to getting a discount on your software, you also simplify maintenance and upgrades enormously, as there is only one license key to deal with for all your systems… Administration becomes a snap and almost all Adobe products are eligible – and discounts can begin with as little as one copy.
It's simple because it's all online, and there are no membership requirements or signature "contracts" to sign. Plus you can conveniently charge your order instantly to a major credit card or PayPal, and download your software right away. Then once you're registered it's easy to add users via the flexible online management tool.
Further there is an option called Upgrade Plan where you are assured of automatic access to all Adobe upgrades for your covered products during the life of your plan – at your convenience and all at a single cost per licensed product.
If you like, there's a new tool to get an Instant Quote for the products you're interested in. And right now there's also an offer going on where you can get 5 copies for the price of 4 – check it out at the Adobe Specials page.
Learn more with our full coverage page on Adobe's Volume Licensing program.