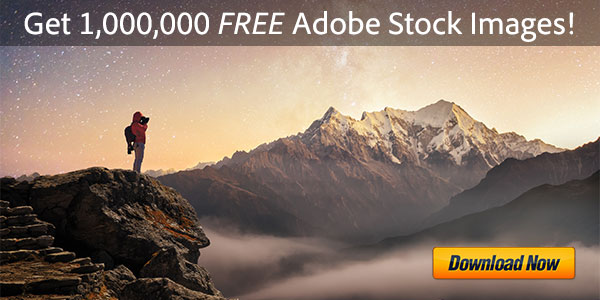 Archive for December, 2010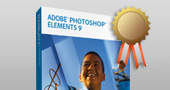 Amazon.com just announced that Adobe Photoshop Elements 9, which was released in late September, is tops on their list of Most Popular Gift Products of 2010 in the Software category. Elements is already the #1 selling consumer photo- and video-editing software†, and Amazon's latest ranking solidifies this latest 9th-generation version at the top of the charts:
Read more…
It's been almost a month now since Adobe Acrobat X was officially released, so let's take a look at what the reviews out there are saying…
In our earlier article on the differences between Acrobat X and earlier versions, we covered what PC Magazine wrote: the new software is "massively improved" and "faster and more powerful than ever," with "finally a lucid, up-to-date interface" and "terrific corporate and automation features, including high-quality exports to Word and Excel documents." Their review gives Acrobat X a rating of 4½ stars and concludes it is "the most powerful, flexible, and best-designed PDF software ever written," and "a giant step forward, and an essential upgrade for anyone who creates or manages PDFs." And About.com rates the product 5 stars.
How about the end-users out there – how is Acrobat X being received? Here's a quick video:

This year, as in years past, Adobe is sharing a holiday greetings card online that's attracting thousands of visitors… And their card this year is all about finding inspiration.
Only this year, the tradition is even better – because for each viewer, Adobe will make a $1 donation to Mercy Corps to help children around the world. Mercy Corps is a global aid agency dedicated to helping people in the world's toughest places through crises of natural disaster, poverty, and conflict.
So please take a moment to view Adobe's Holiday Card 2010 (and be inspired), and you'll also be helping Adobe and Mercy Corps help millions of young people around the globe.
[UPDATE (Nov. 2020) – Check out Adobe's new 2020 Black Friday & Cyber Monday Deals!]
If you missed the deals Adobe had running for Black Friday, not to worry as there are more great holiday specials going for December through to January, and here's your guide… Adobe has a dozen offers in multiple countries covering all orders – including saving up to $100 on Photoshop CS5, and $50 on Lightroom 3 or Photoshop/Premiere Elements 9, a terrific 15% off on all CS5 suites (full or upgrade), plus storewide free shipping. Most of these promotions run through Wednesday, January 5th, in both Europe and North America. Note that you do need to use individual coupon codes (linked below) for many of them.
All the holiday offers and some of their graphics are detailed below. This end-of-year sale will probably mark Adobe's last discounts for a while, so if you've been waiting to make a move then now could be your time… And in a year where we've seen brand new releases of Creative Suite 5, Lightroom 3, Elements 9, and Acrobat X (now shipping), it could be a good time.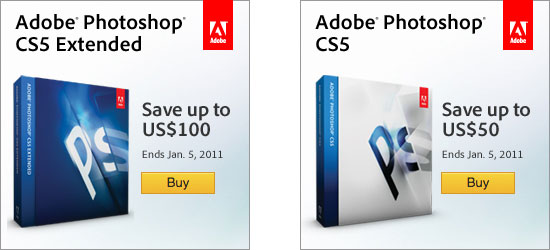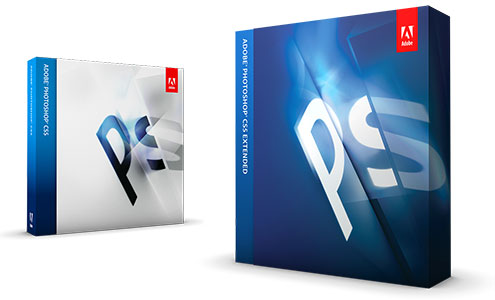 It's a question that's been around a while, yet we still see it asked a lot… What is the version comparison difference between Adobe Photoshop CS5 and Photoshop CS5 Extended? The Extended version is Adobe's top-of-the-line Photoshop product, and they have one page on their site comparing the editions and feature differences, but it's hidden in a corner and not obvious to find.
[U

PDATE

(5/3/2011) – Adobe has just released Photoshop CS5.1 (version 12.0.4)… This free update adds remote connectivity for new mobile apps, while fixing liquify performance, several application crashes, potential security vulnerabilities, and other top customer issues. In addition, Lightroom 3.4 is now out, also a free update!]
Final Versions of Adobe Lightroom 3.3 and Adobe Camera Raw 6.3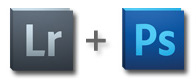 Adobe Lightroom 3.3 and Adobe Camera Raw 6.3 are now available as final releases, and are free for all current Lightroom 3 and Photoshop CS5 owners… These updates include bug fixes, performance and stability improvements (37 for Lightroom and 9 for Camera Raw), plus support for 69 new lens profiles and 15 new cameras, including the Canon PowerShot S95, Nikon D7000, Olympus E-5:
---
» Download the Final Adobe Lightroom 3.3 for Mac (a free update to Lightroom 3)
» Download the Final Adobe Lightroom 3.3 for Windows
» Download the Final Adobe Camera Raw 6.3 for Mac (a free update to Photoshop CS5)
» Download the Final Adobe Camera Raw 6.3 for Windows
---