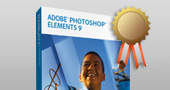 Amazon.com just announced that Adobe Photoshop Elements 9, which was released in late September, is tops on their list of Most Popular Gift Products of 2010 in the Software category. Elements is already the #1 selling consumer photo- and video-editing software†, and Amazon's latest ranking solidifies this latest 9th-generation version at the top of the charts:
Amazon.com Announces "Best of 2010" Lists

SEATTLE, December 30, 2010 (Business Wire) — Amazon.com today released its "Best of 2010" lists, which include the bestselling, most-wished-for and favorite gift products as determined by Amazon.com customers in 2010.*

Most Popular Gift Products of 2010

The following is a list of products most frequently purchased as gifts by Amazon.com customers in 2010:

Electronics: Kindle Wireless Reading Device (Wi-Fi)
Books: "Delivering Happiness: A Path to Profits, Passion, and Purpose" by Tony Hsieh
Kindle Books: "Decision Points" by George W. Bush
Movies: "Toy Story 3" (DVD)
Music: "The Gift" by Susan Boyle
Video Games: Just Dance 2
Computers: Toshiba Satellite TruBrite 15.6-Inch Laptop
Software: Adobe Photoshop Elements 9 (Win/Mac)
Wireless: Nokia N900 Unlocked Phone/Mobile Computer
Home & Garden: Oregon Scientific Grill Right Wireless Talking Oven/BBQ Thermometer
Grocery: Numi Tea Bamboo Flowering Tea Gift Set
Health & Personal Care: Chia Obama Handmade Decorative Planter
Beauty: Jerdon Magnification Tri-fold Lighted Mirror
Toys: LEGO Ultimate Building Set
Baby: Vulli Sophie the Giraffe Teether
Clothing & Accessories: Kenneth Cole REACTION Men's Passcase Wallet
Shoes & Accessories: BEARPAW Women's Eva Shearling Boot
Jewelry: Sterling Silver Amethyst Butterfly Pendant, 18″
Watches: Casio Men's G-Shock Classic Digital Watch
Sports & Outdoors: Zumba Fitness Total Body Transformation System DVD Set
Home Improvement: Black & Decker Ratcheting ReadyWrench
Automotive: Wagan Heated Seat Cushion

*

Includes data from Jan. 1, 2010, to Dec. 15, 2010.
Learn more about Photoshop and Premiere Elements 9:
---
†
Source: The NPD Group/Retail Tracking Service (January 2007 to March 2010) based on units sold in the Video and Photo Editing categories.