[UPDATE (9/20/2011) — Photoshop Elements 10 has been released!]
Yes – Adobe Photoshop Elements 9 and Premiere Elements 9 are just out and now shipping! Pretty much on the timeframe we forecast, you can instantly download the free trials today – with both products available on both Windows and Mac with the same features… And the new software will work side-by-side with any previous release(s) of Elements you own. If you have an earlier version installed, you can automatically import and convert your work.*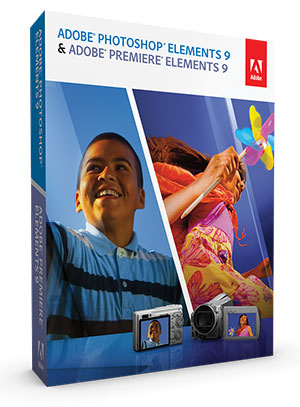 And right off the bat, some big news: "The Content Aware Fill technology introduced with Photoshop CS5 is one of our most exciting innovations ever, so we're thrilled to be able to make it accessible to photo and video enthusiasts in this latest Elements release…"
The prices remain US$99 for the full version of either PSE 9 or PRE 9, and $149 for the bundle package containing both. To add Adobe's Plus Benefits runs $30 more. Students and teach­ers can grab the full education versions for $69 each (31% off), or $119 for both – with free shipping (the Back-to-School Special) until October 31st. The product languages available today include English, French, Dutch, German, Japanese, Swedish, Italian, Spanish, Portuguese, Polish, Russian, and more.
Moments ago Adobe also updated their cash­back offer where you can get a $20-$30 rebate on Photoshop/Premiere Elements 9 in the US and Canada. No coupon or promotion code is necessary for the discount.
Photoshop and Premiere Elements 9 will run well on 32-bit or 64-bit systems, and are designed for Windows XP, Vista, Windows 7, or Mac OS (see the full system requirements for PSE 9 on Windows or Mac; and PRE 9 on Windows or Mac). It's now sold as multiplatform software, meaning your single purchase can be installed on either Mac OS or Windows. And similar to other Adobe software, you may be able to put Elements 9 on up to two computers, subject to the terms of the software's license agreement.
See the new product documentation (online or PDF) that just went up, including the Photoshop Elements 9 keyboard shortcuts.
What's new in Adobe Elements 9 – what are some key new features?
Unclutter and repair photos
Enhance and expand panoramic scenes
Make richly layered images w/ layer masks
Add stunning photo effects

Pop Art
Reflection
Lomo photography look
Perfect Portrait
Out of Bounds

Match photo styles
Create using basic or advanced modes
Print creations at home
Upload photos and videos to Facebook
Import from Flip or DSLR cameras
Enjoy optimized HD editing
Easily fix audio problems

Audio polish
Auto mute
Cleaner
Hum remover
Noise fader
Noise reducer

Easily apply cartoon effects
Brand new InstantMovie themes
Upload videos and photos to Facebook
Share via web DVD
Elements is already the #1 selling consumer photo- and video-editing software.† Now with the benefits of Photoshop CS5 and Lightroom 3 as cousins, this new 9th-generation version of Elements is looking like a smooth and polished release.
Learn more or review the three new books on Photoshop Elements. There's also a free new 29-chapter video tutorial series entitled, "Learn to Use Photoshop Elements 9." If you're having trouble downloading the software, use our PSE 9/PRE 9 direct download links to access the products without the Akamai Download Manager (Adobe DLM).
---
*
Elements 9 will not overwrite earlier versions. If you install PSE9 or PRE9 on a computer with older software, both versions will be on your system until you remove one. You can upgrade a copy of your catalog to move everything over the first time you launch Elements 9. If that doesn't happen automat­ically, you can force it to happen via
File > Catalog > Convert
.
† Source: The NPD Group/Retail Tracking Service (January 2007 to March 2010) based on units sold in the Video and Photo Editing categories.