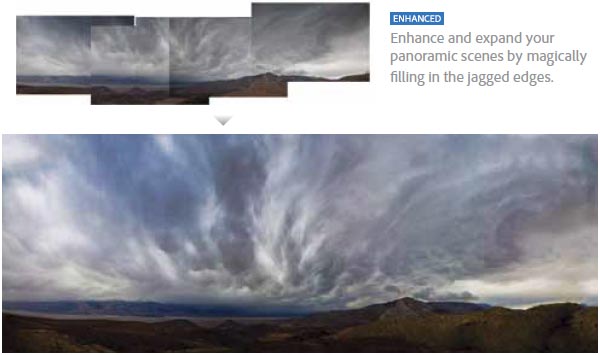 One of the most common upgrade questions you're likely to see is what's new, what's different, what's improved, what's changed between the new Adobe Photoshop Elements 9 and version 8? Or more fundamentally, what are the key new features in PSE 9, versus PSE 8, 7, or even version 6? We put together a short list here and a longer list (with details) at our product page here, but how about a feature-by-feature, version-by-version table? You'll find this down below, but first let's take a look at some of the biggest new additions.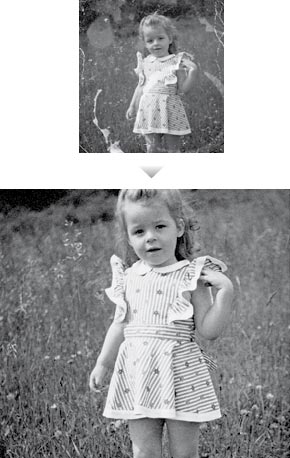 The two photographic "before-and-afters" on this page come from the new Elements 9 version just released. Do the images above seem familiar? They might – they were also in Adobe's blockbuster Content Aware Fill "Sneak Peek" Video for Photoshop CS5… So for starters, this is very good news for the new release of PSE9.
From Adobe's press release:
Image Intelligence for Easy Editing
Photoshop Elements 9 uses powerful technology to make even the most complex results achievable for anyone. Adapted from Photoshop CS5's celebrated Content Aware Fill feature, the new content intelligence in the Spot Healing Brush analyzes what's in the image and quickly de-clutters or repairs photos (like removing tourists from a crowded scene or an obstruction, such as a telephone pole) with a swipe of a brush, magically filling in the background. The same content intelligence synthesizes missing pixel information to create a stunning panorama from multiple photos, without leaving any gaps or blank spaces.
Another major new feature in Photoshop Elements 9 versus version 8 is Layer Masks. This is probably the single most requested capability that Elements has been missing since it first came out. Layer masks are a powerful feature for editing photos non-destructively and one of the most-used functions in the full Photoshop, so will be a big asset to Photoshop Elements.
Also important for Mac users is the Macintosh version of PSE 9 is now much the same as the Windows version, including key components like the Organizer. So Mac users will now get automatic analysis, quick photo fixes, people recognition, easy photo sharing, and all the other great Organizer features. Further, Elements 9 (like Lightroom 3 before it) is now multiplatform software, meaning you get both Mac OS and Windows versions with your purchase and can install and run on either (see How Many Computers Can You Install or Run Adobe Software On?)
There are plenty of other great additions in PSE 9, and you can see a comprehensive feature comparison between all recent versions of Photoshop Elements here, for both Windows and Mac OS (click to open):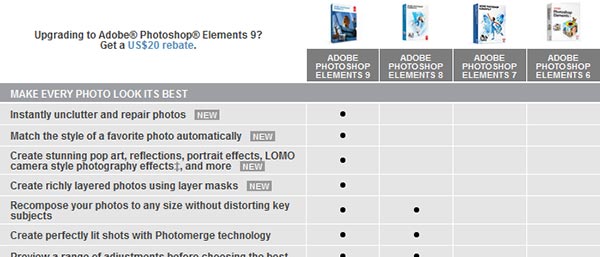 [UPDATE (Sept. 2014) — See the differences in the new Photoshop Elements 13 vs. earlier.]