[UPDATE (September 2011) – Photoshop Elements 10 is out! See all the differences between PSE 10 vs. 9…]
Now Shipping: The Complete Solution for Extraordinary Photos.
Simply unlimited! Adobe® Photoshop® Elements 9 delivers powerful yet easy-to-use editing options that help you tell your life stories in amazing ways. With PSE 9, it's easier than ever to create great-looking photos and printed mementos and to automatically organize all your media. Instantly unclutter or repair photos with the enhanced Spot Healing Brush. Easily match the style of a favorite photo to another photo. Use Guided Edits to create stunning pop art, reflection, and portrait effects. Quickly share photos and videos on Facebook; in Online Albums; and in printed photo books, cards, calendars, and more that look just the way you want. And now enjoy a complete solution for photos whether you use Windows or Mac.
Top 18 reasons to upgrade to Adobe Photoshop Elements 9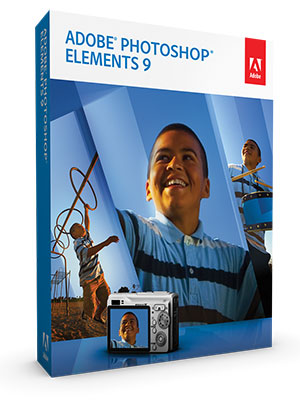 Do it all with one powerful yet easy-to-use product – Use Photoshop Elements 9 for all your photo needs. Manage, edit, and enhance photos; make photo creations that look just the way you want; and share in print, on the web, and on popular devices.
Instantly unclutter or repair photos – Is your photo cluttered with telephone wires, tourists, or passing cars? Make unwanted elements vanish with one stroke of the enhanced Spot Healing Brush, which beautifully blends even the most complex background. Also instantly fix old or torn photos so you can make new prints.
Create stunning photo effects – Easily create stunning effects that enhance your photos with professional style. New Guided Edits help you create pop art masterpieces, reflection effects, perfect portraits, and more.
Create richly layered photos – Bring new sophistication to your photos. Reveal one portion of a photo through another photo by using layer masks to control the transparency of specific areas.
Go from flawed to phenomenal in seconds – Get just the photo fixes you're looking for with one-step shortcuts that whiten teeth and make skies a vibrant blue. When you perform one-step photo adjustments – including color, contrast, and lighting – you can quickly choose the best result from a group of adjustment previews.
Conveniently print photo creations at home – Admire and share your photos in custom wall calendars, greeting cards, and photo books that you can print with your home printer.
Quickly share photos and videos on Facebook – Conveniently share photos and videos on Facebook directly from the Organizer, which automatically optimizes your media so it looks its best. Or share to Flickr, Shutterfly, Kodak, YouTube, SmugMug, or Photoshop.com.
Experience the ultimate media-management hub – Quickly organize all your media in one convenient place. Find your best photos and clips – or photos that feature specific people – fast, thanks to automated options. Then dive into a full range of creative activities and start enjoying your memories.
Easily create the perfect photo – Take advantage of amazing Photomerge technology to easily match the style of one photo to another – create perfectly lit images, great group shots, and combine elements of different faces for entertaining results. Enhance and expand your panoramic scenes by magically filling in the jagged edges, stitching together multiple horizontal or vertical photos.
Count on step-by-step assistance – Want to easily fix a scratch, create a reflection effect, or design a scrapbook page? Get help with key steps to get the results you want fast.
Match a favorite photo style – Want to imitate a favorite photography style, like a dramatic high contrast or a beautiful color tone? Photomerge Style Match analyzes the stylistic qualities of any photo you choose and then automatically applies those qualities to another photo.
Show off your creativity with flexible layouts – Make amazing printed photo creations like scrapbook pages, photo books, calendars, and cards. Choose your level of control: Create in minutes using professionally designed templates, or let your creativity run wild and access every photo-editing option from directly within your layout. Get fun, fresh looks with new artwork and templates.
Create the way you want – Make photo creations the way that works best for you thanks to Basic and Advanced design modes that let you choose your level of control.
Dramatically transform your photos with easy-to-use options – Convert your color originals to elegant, nuanced black-and-whites, or use color curves adjustments to get the perfect exposure.
Get just the right look – Access every photo-editing option from within your creation layouts so you can customize any detail you wish.
Get a complete photo solution for Macs – Use a Mac for your photos? You can now experience the ultimate media-management hub for organizing your photos, and quickly find your best photos and video clips – or photos that feature specific people – thanks to automated options.
Enjoy support for Mac multitouch – Take advantage of the hands-on capabilities of Mac multitouch technology.
Share experiences in fresh, exciting ways on the web – Show off your photos in one-of-a-kind Online Albums with your choice of animated templates, including all-new options for sharing photos and videos together with music. Adobe Flash

®

technology lets viewers interact with your photos for an entertaining experience.
Video: New Content-Aware Fill Features in Photoshop Elements 9
Adobe Photoshop Elements 9 System Requirements

Windows

1.6GHz or faster processor
Microsoft

®

Windows XP with Service Pack 2 or 3, Windows Vista

®

, or Windows 7
Color monitor with 16-bit color video card
1024×576 display resolution at 96dpi or less
Microsoft DirectX 9 compatible display driver

Mac OS

Multicore Intel

®

processor
Mac OS X v10.5.8 through v10.6
1024×768 display resolution

For both Windows and Mac OS

1GB of RAM (2GB for HD video functions)
3GB of available hard-disk space (additional free space required during installation)
DVD-ROM drive
QuickTime 7 software (required if importing QuickTime formats)
Internet connection required for Internet-based services
Adobe Photoshop Elements 9 Plus
Get everything you need for your photos and videos and the convenience to do so much more. Includes everything in the award-winning software product, and more:
Protect precious memories with 20GB of storage for automatic online backup – enough to protect up to four hours of DVD-quality video or 15,000 photos.
Boost your creativity with access to exclusive libraries of how-tos and creative extras.
Learn new tricks with ongoing delivery of easy-to-use how-to's.
Keep the creative sparks flying with ongoing delivery of seasonal artwork, templates, and Online Albums.
Sign up for Photoshop Elements 9 Plus
Do you also take digital video?
Consider getting the Adobe Photoshop Elements 9 & Premiere Elements 9 bundle, a complete photo- and video-editing solution. Create extraordinary photos and incredible movies, and use them together in entertaining ways.
See Also
Learn more, get the Product Overview brochure (PDF), or download a free trial.