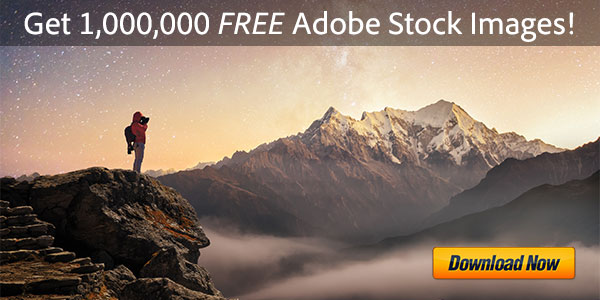 Archive for January, 2011

We've previously featured over 17 hours of free video tutorials for Creative Suite 5, plus three hours for Lightroom 3 – so here's a brand new set for the recently-released Adobe Acrobat X Pro & Standard… In the free courses below, product experts share how to get started, the basics of the software, overviews of major new features, how to use key tools and functions, plus their favorite tips and most useful techniques. In total, there are three courses with 3½ hours of free content, spanning over 57 separate chapters.
If you need a copy of Acrobat X Pro to get going, you can just download a free 30-day trial.
[UPDATE – Also see our all-new Creative Cloud 2021 Giveaway!]

Adobe has just launched a major sweepstakes to give away US$55,000 in cash and popular software to dozens of future winners… To enter "Try It, Believe It, Win It – the Adobe CS5 Sweepstakes", all you have to do is download a free trial of any CS5 product – either individual like Photoshop CS5, or a suite like CS5 Design Premium.
The Grand Prize is a $10,000 home office technology makeover (in the form of a $10,000 Visa gift card, so it's really free to use as you wish), followed by five First Prizes of CS5 Master Collection, five Second Prizes of CS5 Design Premium, five Third Prizes of CS5 Web Premium, five Fourth Prizes of CS5 Production Premium, and five Fifth Prizes of Photoshop CS5 Extended…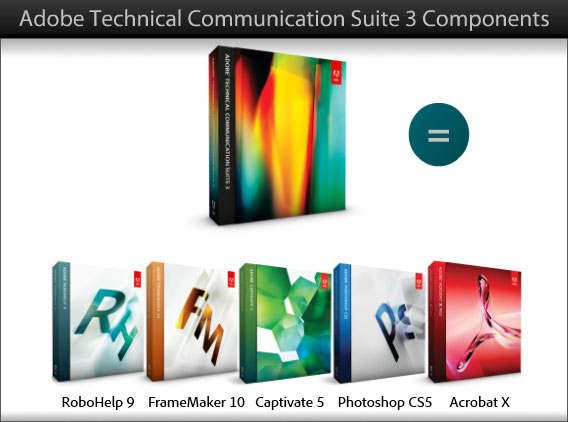 Following up last summer's new version of Captivate, this morning Adobe is releasing three new products for technical communicators, instructional designers, documentation creators, help system authors, and eLearning professionals – and they are RoboHelp 9, FrameMaker 10, and Technical Communication Suite 3. The last of these, TCS 3, is a fully-integrated suite that comprises five major Adobe applications – with the other three components being Captivate 5, Photoshop CS5 and the recent Acrobat X Pro.
[UPDATE – Download the newer free Adobe CS6 books (over 1,000 pages)!]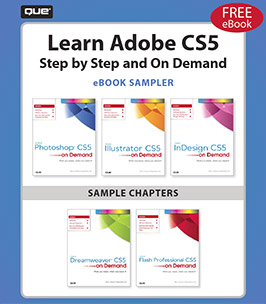 The fine folks over at Que Publishing, who have over thirty years of experience writing good books about software and technology, have put out a free sampler edition of their new series of books on learning Adobe Creative Suite 5… This "CS5 on Demand" e-book runs 172 pages (11.3 MB to download, in PDF format) and includes five full chapters on Photoshop, Dreamweaver, InDesign, Illustrator, and Flash Professional.
This collection has been designed to teach CS5 through step-by-step tutorials with easy-to-follow instructions, to be rich in illustrations for those who want to learn visually, and to be complete and in-depth references for those seeking a trusted desk resource to quickly provide the answers you need.