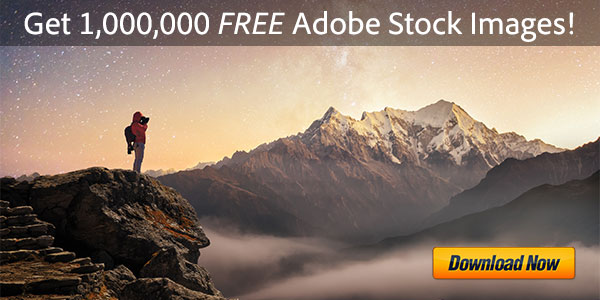 Download Adobe CS5 Trial for a Chance to Win It Free, or $10,000!
[UPDATE – Also see our all-new Creative Cloud 2021 Giveaway!]

Adobe has just launched a major sweepstakes to give away US$55,000 in cash and popular software to dozens of future winners… To enter "Try It, Believe It, Win It – the Adobe CS5 Sweepstakes", all you have to do is download a free trial of any CS5 product – either individual like Photoshop CS5, or a suite like CS5 Design Premium.
The Grand Prize is a $10,000 home office technology makeover (in the form of a $10,000 Visa gift card, so it's really free to use as you wish), followed by five First Prizes of CS5 Master Collection, five Second Prizes of CS5 Design Premium, five Third Prizes of CS5 Web Premium, five Fourth Prizes of CS5 Production Premium, and five Fifth Prizes of Photoshop CS5 Extended…
[Learn more about the differences between various CS5 products, versions, and editions.]
If you already have an Adobe account or are registered with them, then it's very easy – all you have to do is visit through the Sweepstakes page and then log in with your Adobe ID, and that will do the trick and take you right away to the regular trials page.
Once you download the free product tryout of your choice, you automatically will receive one entry into the Sweepstakes. Each participant may enter one time during the promotion. Multiple entrants aren't permitted to share the same email address.
[Once you've got your trial, get started with over 17 hours of free online CS5 video tutorials.]
The promotion runs until Monday, February 28, 2011, and the prizewinners will be selected at random from all eligible entries received. No purchase is necessary, and a purchase will not increase your chances of winning. The drawing is open to legal residents of the USA, Canada, United Kingdom, France and Germany. See the contest page for the complete official rules.
So download a free trial of Adobe CS5 today for your chance to win one of 25 Creative Suite products or a $10,000 gift card! (Just make sure you enter through that correct page, and share this information so your friends, family, and colleagues get a chance too.)
Share This
GET FREE ADOBE BOOKS
Sign up for our popular newsletter and we'll send you 30 great ebooks to learn all major Adobe tools at no cost!