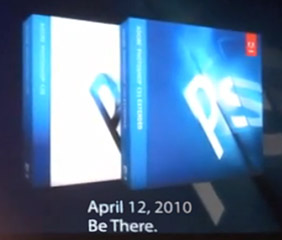 [UPDATE – Also see our new Holiday Creative Cloud 2024 Giveaway!]
Less than a week to go now until the big Global Online Launch of Creative Suite 5, if you haven't signed up yet … We've talked a lot here about Photoshop CS5, so here's your chance to win it for free! All you have to do is enter your email address in the "Adobe Special Offers" box in the sidebar to the right for our free occasional e-newsletter. That's it.
It's open worldwide with one subscription per person and submissions end at 11:59pm EDT on Friday, April 30th, 2010. Then on May 1st (right before we think CS5 is released) we'll choose one new subscriber at random, and if it's you we'll ship you a shiny new shrinkwrap­ped box of Photoshop CS5 for free! (up to $699 value) We'll contact you via email just to get your address for shipping, and then follow up back here announcing your first name and home­town. It's that simple, no kidding!
If you like, you can find out more about the newsletter you'll be receiving – it typically contains select Adobe-related news items plus the latest discounts and great coupon codes. And of course you can easily unsubscribe from the bottom of any issue. Naturally we'll never spam you or share your email address with anyone else, ever. So enter your email today and tell your friends – someone has to win the giveaway and there's nothing to lose!