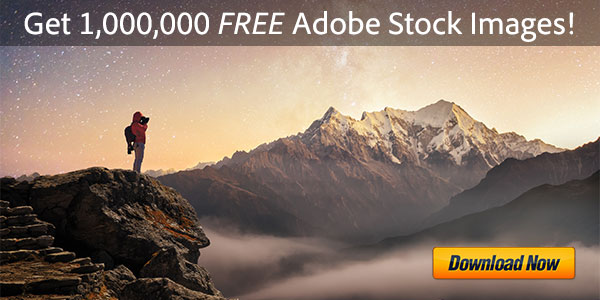 Archive for February, 2011
[UPDATE – For a quick tutorial with CS6, see Ten Steps to Building a Website with Adobe Dreamweaver CS6 — or download the free new ebook, Dreamweaver CS6 Basics.]
For some months now, Adobe has had a great set of videos out (17+ hours) covering the highlights and new features of all products in Creative Suite 5… Now comes a terrific new course specifically on getting started from the ground up with Dreamweaver CS5. This 15-chapter step-by-step tutorial really covers all the basics and key topics – not just for Dreamweaver, but for developing websites in general.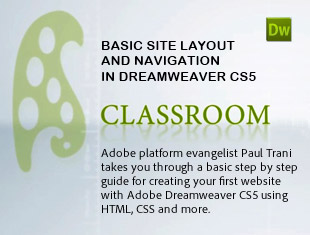 So, it's a helpful and complete background and introduction for getting started with HTML, CSS, Spry, JavaScript, XML, and rich media content such as Flash, video, and online maps. Some of the many fundamen­tal topics covered include images, fonts, layout, hyperlinking, navigation, menus, panels, templates, animation, testing, and uploading. But note that this class is not just for beginners – even experienced Dreamweaver users are learning some­thing new here… (see reviews below)
Basically, if you're looking to get going with website design and development, this is a nice way to get your feet wet (or expand your existing knowledge) with the industry-standard product in just three hours for free – regardless of whether you keep using it. If you want or need a free copy of Dreamweaver CS5 to walk through during the training, you can just download the fully-functional 30-day free trial.
[U

PDATE

– The direct links below now all pull to Flash Player 10.3. If you need a release older than that for some reason, you can find them under Archived Flash Player Versions… Looking for a newer version? See the direct download links for Flash Player 11.]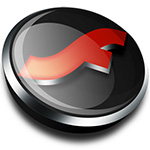 Following our custom of providing the direct download links for major Adobe products such as Creative Cloud, CS6, Acrobat DC, Elements 15, and Lightroom 6/CC, below you'll find all the DDL for the just-released new Adobe Flash Player 10.2. This is important because the free Flash Player is the most widely-used and often-downloaded software in world, and some people find it easier to gain access without a download manager (Akamai/Adobe DLM), or with their own DLM, and without additional products or toolbars included.
Check your current Adobe Flash Player version: What version are you running now?
What's New in Flash Player 10.2?
Flash Player 10.2 introduces Stage Video, a full hardware-accelerated video pipeline for best-in-class, beautiful video across platforms and browsers – making Flash video dramatically more efficient (a 10X reduction in CPU usage in some demos). This advance in performance builds on the benefits of H.264 hardware accelerated decoding and optimized power consump­tion introduced in 10.1, and works with all of the existing video on the web viewed in Flash Player – so will save significant battery life on portable computers and mobile devices.
Additionally, this release of Flash Player offers all new features like multiple monitor full-screen support (enabling you to watch videos in true full screen on one display while multi-tasking on another), custom native mouse cursors (another popular request from designers and devel­opers), and Internet Explorer 9 (IE9) hardware accelerated rendering support.
[UPDATE – See all of Adobe's current deals & discounts!]
After a couple of nice rounds of specials for the holidays, we thought Adobe's big sales might be over for while, but we were wrong… Adobe is slated to announce a surprise new set of "winter specials" for the month of February and beyond.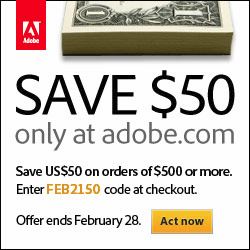 The deals include saving $50, $25, or $20 on Adobe software purchases, a 10% discount on all CS5 products or Acrobat X Suite, an extra $10 off Photoshop or Premiere Elements 9, plus free shipping and earbuds with the Student & Teacher Editions. Most of these promotions run through late February, and you need to use individual coupon codes (linked below) for many of them.
Note that if you buy either Photoshop or a CS5 suite together with Adobe Lightroom, then these coupon codes are stackable with an additional 30% off Lightroom 3 offer… (valid world­wide) In addition, all purchasers of Photoshop Elements 9 will also receive a free $20 Shutterfly gift card.
If you prefer to try out the software first, you can instantly download any Adobe product as a fully-functional free trial, then later buy it within the savings period to get the discount.
In a week where we learned that Google's Android has become the world's best-selling smartphone platform, Adobe's President and CEO Shantanu Narayen gave an interesting interview to Forbes Magazine, copied below…
In it he extols the virtues of an open ecosystem winning out in a fragmented world, perhaps not unlike the PC and Mac market dynamics of twenty years ago. Narayen cites Flash as a key differentiator and unifier of that fragmentation. Regarding Apple, he says it's a non-issue in that they've made their decision, although they did recently relax some restrictions for Flash apps.
As evidence of growing momentum, he cites 10 million Flash-based devices (smartphones, tablets, and consumer electronic devices) having shipped in the latter half of 2010, essentially since the mobile-attuned Flash Player 10.1 was officially released.
Here at ProDesignTools we love both Android and iOS, Adobe and Apple – we don't take sides, but we think the space and players are worth watching, not to mention entertaining…
Here's the transcript of the interview: