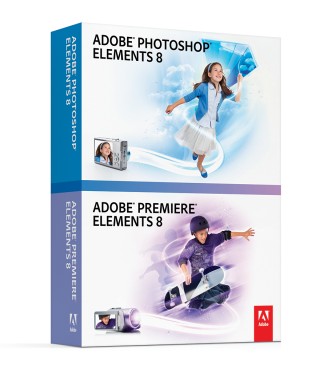 Yes – the 8th generation of the popular Elements series has been released! The new versions of Photoshop and Premiere are finally unveiled and now available for immediate purchase and download. To find out more and get the latest tools, select your desired product at the left.
From these pages you can also learn more about all the new features and functions within, plus instantly receive your software or a fully-functional 30-day free trial.
UPDATE: Special Limited Time Offer – Save up to 30% on your Adobe purchase!
Top New Features
The newest version of the #1 selling consumer photo-editing software*, Adobe Photoshop Elements 8 (now on Mac too) combines power and simplicity so that creating extraord­inary images and sharing amazing stories is now easier than ever. Bring all your photos and video clips together in one convenient place where you can easily find, view, and manage them; protect them with automatic online backup and 2GB of free storage; and then dive right into a full range of creative activities. Make your photos look exceptional with editing options that let you recompose images to any size while keeping key subjects intact, without distortion. Combine multiple exposures into a single, perfectly lit shot. Quickly clean your scene of all unwanted elements and then preview a range of adjustments and effects before choosing the right one. Let the Auto-Analyzer and People Recognition automatically tag your photos so you can easily find your best, most relevant shots. See the same photos and videos on all your computers. And share your stories in unique photo books, scrapbook pages, slide shows, and interactive online experiences with Elements Plus.
And for the #1 selling consumer video software*, new Adobe Premiere Elements 8 delivers automated options that make it easy to create polished, incredible movies in minutes, saving you time and effort. Pick a theme, and sit back and let new InstantMovie edit your best clips together using creative techniques from Hollywood directors. Use new SmartFix, SmartMix, and SmartTrim to easily combine and composite elements of different videos for entertaining results, and enhance your stories with professional effects and sound. Use motion tracking to add graphics that automatically follow the action in your scenes. Easily find, view, and protect your video clips and movies in the powerful new Organizer, fully media-integrated with Photoshop Elements 8. Automatically sync photos and videos across all your computers. And share your movies with friends and family on DVD, Blu-ray Disc, mobile devices, YouTube™, and virtually anywhere else.
SEE THE NEW Elements 8 Datasheet. Or, read our recent Elements 8 review.
---
* Source: The NPD Group/Retail Tracking Service based on units sold (N. America, 2002 to 2010).