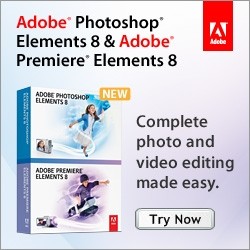 "SAN JOSE, Calif.–Adobe Systems today announced Adobe® Photoshop® Elements 8 and Adobe Premiere® Elements 8, the highly anticipated new versions of the No. 1 selling consumer photo- and video-editing software. Available as standalone products or as a single retail package, the bundle offers the most complete photo and video solution by seamlessly integrating two powerful, yet easy-to-use, products. With this landmark release, Adobe has … [continues]"
OK, we've had a look inside these new products and there are a lot of cool new features, much inherited from their big brothers Photoshop and Premiere Pro CS4. In addition to many new automated options and smart editing tools for saving time and effort on your photos and videos, there is also much improved media management, tagging, and integration. Yet the Elements versions remain significantly easier to learn and use (not to mention less expensive) than their CS4 brethren…
So what exactly is in there, and what exactly is new? Fortunately Adobe has put together a great feature comparison page giving all the details.
Other points of note: In contrast to version 7, Adobe is issuing a brand new and fully-featured version for the Mac with Photoshop Elements 8. And PC World magazine just published a product review where they gave Elements 8 a Superior rating with a score of 94 out of 100.
Best of all: Both versions are available immediately for full download with 30-day free trials… And right now there's a $30 rebate.