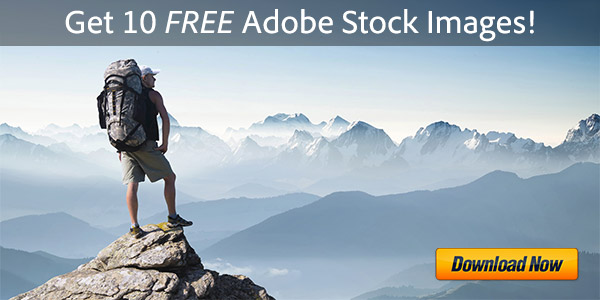 If you're interested in learning about the best web and interaction design techniques, there's a free new 2½-hour course you'll find worthwhile…
It's the third installment in the excellent Classroom series, which features free expert training in well-designed sessions with high-quality production values. Previous classes have been an in-depth Dreamweaver CS5 tutorial and a terrific After Effects CS5 tutorial.
This latest presentation details how to design your interfaces in the most effective way with the behavior of the user in mind. Some of the topics include crafting effective navigational systems, creating a liquid layout, how to best deliver images and media, designing forms and dialogs to smoothly guide users through a positive user experience, and more. The best practices covered here will help you make better design decisions in your work going forward.
[UPDATE – See all of Adobe's current deals & discounts!]
NEWS FLASH – This just out: a new link into Adobe.com that will score you big savings off the regular price of Adobe Photoshop CS5…
It is no joke, it is the real deal – genuine, authentic, and you're getting it direct from Adobe.

And it's not an upgrade – it's the full commercial version… You can get it via instant download or shrinkwrapped box delivered by FedEx, for either Windows or Mac, in any language.
For even more savings, it appears this sale is stackable with another current Adobe offer where you can save 30% off Lightroom when purchased at the same time…
This really is a stunning offer, the lowest price we've ever seen on any version of Photoshop. And Photoshop CS5 is a fantastic release:
[UPDATE – Also see our new Holiday CC 2018 Giveaway!]
Last year was a good one for ProDesignTools and also for our readers. Over the course of the past twelve months, we've given away brand new copies of Adobe Photoshop CS5 and Acrobat X Pro, three copies each of Lightroom 3 and Photoshop Elements 9, and ten of the best CS5 books…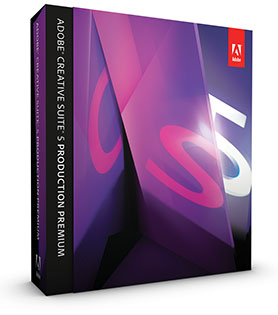 But now comes our biggest drawing yet: a shrinkwrapped new box of the CS5 Production Premium suite (the full commercial version), courtesy of Adobe – a new spring sweepstakes to thank our visitors.
CS5 Production Premium sells for $1,699 / €2,099 / £1,509 and includes Photoshop Extended, Illustrator, Flash Pro, After Effects, and Premiere Pro, among others… (see the complete list of applications it contains)
This giveaway is open to residents of North America, Europe, U.K., Australia and New Zealand – and all you need to do for a chance to win is the following three steps:
[UPDATE – For a quick tutorial with CS6, see Ten Steps to Building a Website with Adobe Dreamweaver CS6 — or download the free new ebook, Dreamweaver CS6 Basics.]
For some months now, Adobe has had a great set of videos out (17+ hours) covering the highlights and new features of all products in Creative Suite 5… Now comes a terrific new course specifically on getting started from the ground up with Dreamweaver CS5. This 15-chapter step-by-step tutorial really covers all the basics and key topics – not just for Dreamweaver, but for developing websites in general.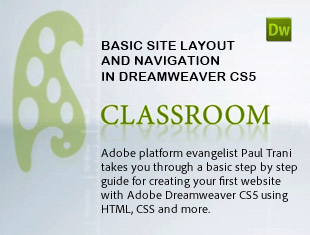 So, it's a helpful and complete background and introduction for getting started with HTML, CSS, Spry, JavaScript, XML, and rich media content such as Flash, video, and online maps. Some of the many fundamen­tal topics covered include images, fonts, layout, hyperlinking, navigation, menus, panels, templates, animation, testing, and uploading. But note that this class is not just for beginners – even experienced Dreamweaver users are learning some­thing new here… (see reviews below)
Basically, if you're looking to get going with website design and development, this is a nice way to get your feet wet (or expand your existing knowledge) with the industry-standard product in just three hours for free – regardless of whether you keep using it. If you want or need a free copy of Dreamweaver CS5 to walk through during the training, you can just download the fully-functional 30-day free trial.
[UPDATE – Also see our new Holiday CC 2018 Giveaway!]

Adobe has just launched a major sweepstakes to give away US$55,000 in cash and popular software to dozens of future winners… To enter "Try It, Believe It, Win It – the Adobe CS5 Sweepstakes", all you have to do is download a free trial of any CS5 product – either individual like Photoshop CS5, or a suite like CS5 Design Premium.
The Grand Prize is a $10,000 home office technology makeover (in the form of a $10,000 Visa gift card, so it's really free to use as you wish), followed by five First Prizes of CS5 Master Collection, five Second Prizes of CS5 Design Premium, five Third Prizes of CS5 Web Premium, five Fourth Prizes of CS5 Production Premium, and five Fifth Prizes of Photoshop CS5 Extended…
[UPDATE – Download the newer free Adobe CS6 books (over 1,000 pages)!]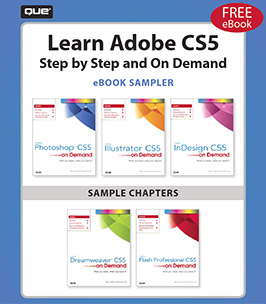 The fine folks over at Que Publishing, who have over thirty years of experience writing good books about software and technology, have put out a free sampler edition of their new series of books on learning Adobe Creative Suite 5… This "CS5 on Demand" e-book runs 172 pages (11.3 MB to download, in PDF format) and includes five full chapters on Photoshop, Dreamweaver, InDesign, Illustrator, and Flash Professional.
This collection has been designed to teach CS5 through step-by-step tutorials with easy-to-follow instructions, to be rich in illustrations for those who want to learn visually, and to be complete and in-depth references for those seeking a trusted desk resource to quickly provide the answers you need.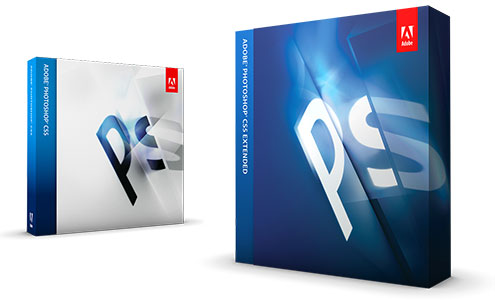 It's a question that's been around a while, yet we still see it asked a lot… What is the version comparison difference between Adobe Photoshop CS5 and Photoshop CS5 Extended? The Extended version is Adobe's top-of-the-line Photoshop product, and they have one page on their site comparing the editions and feature differences, but it's hidden in a corner and not obvious to find.
[UPDATE – See all of Adobe's current deals & discounts!]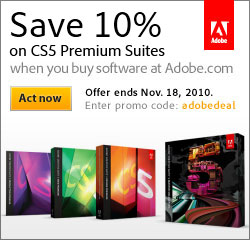 Adobe is revving up for the holiday season with another "one-week-only" special, this time to save 10% on any CS5 Premium Suite, exclusively with the promotion code adobedeal. Since this offer includes the greatest suite of all – CS5 Master Collection – the potential savings are up to $260, a "sweet" discount. Other eligible products include Design Premium, Web Premium, and Production Premium. Note that the voucher must be entered into your shopping cart prior to purchase.
Adobe has other offers coming up for Black Friday and Cyber Monday 2010, but none that will be as good as this one is for buying the suites – we guarantee it. So take advantage while you can, as this deal will expire in seven days…
Yesterday at the big MAX conference, Adobe finally announced their Digital Publishing Suite – a new publishing solution that allows authors to deliver innovative digital reading experiences that attract readers and advertisers. This set of end-to-end, turnkey hosted services plus viewer technology build on the foundation of Creative Suite (including InDesign CS5) and allows publishers to use existing staff, skills, and workflows to design and deliver engaging, digital content direct to consumers, through content retailers or leading mobile marketplaces. You may have seen this already being used very successfully by magazines such as WIRED and The New Yorker.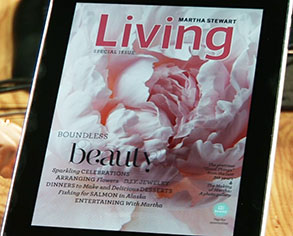 The Digital Publishing Suite will be released in the second quarter of 2011, likely in conjunction with a CS5.5 point release update. In the meantime, Adobe Labs has made some tools available now for writers to get started and create, preview and share their content in the new format. The tools include the Digital Content Bundler and Interactive Overlay Creator, plus the Digital Publishing Plug-in for InDesign, which allows InDesign to interface with and transfer information to the Digital Content Bundler.
[UPDATE (April 11th) – Adobe CS5.5 is out! See also when CS6 is penciled.]
Last week Adobe held a private briefing for partners under non-disclosure agreement, where they gave "an overview of the upcoming Creative Suite release"… While we can't speak to what transpired within the presentation, the invitation itself is publicly available.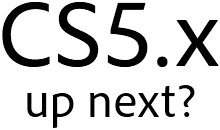 Given that the next release of Adobe Acrobat is due out within a matter of weeks (see why and when, or get a chance to win a free upgrade to Acrobat 10 Pro), and given the two year age of Acrobat 9, it's likely Adobe would be refreshing CS5 with the addition of the new Acrobat X. When Acrobat moved from version 7 to version 8, Adobe subsequently updated the Creative Suite and issued CS2.3 – and then once again when Acrobat revisioned from 8 to 9, Adobe incorporated the new version into CS3.3 in 2008. Acrobat 9 is still what we have today in CS5 – but since it's obviously way too early for CS6, it seems a safe bet we'll be seeing a point release (CS 5.3?) that would incorporate the new Acrobat 10.
But from reading the briefing invitation, it looks like there will be more in store for this next release than "just" integrating the new version Acrobat X Pro. It says, "… an overview of the upcoming CS release with a focus on InDesign and ePublishing…" Adobe has been hard at work on a new Digital Publishing Platform (you may have seen or read about the tablet editions of WIRED or The New Yorker magazines) that ties in with InDesign, and is (over)due to be made available on Adobe Labs. It seems logical that this would also be part of a CS5 point release, as it is a major deal for magazine and print publishers to deliver their content to the iPad, iPhone, Android, and other mobile devices, and has been quite successful thus far… But since the publishing tools haven't yet been released in beta form on the Labs, it could be a while longer before the final version of this new technology is ready for the world at large.