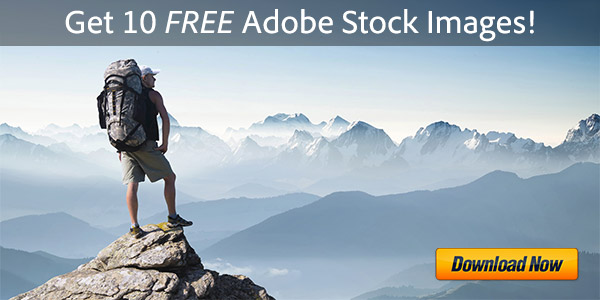 [UPDATE (May 2012) – The all-new Creative Suite 6 is now shipping!]
Three weeks after its official introduction, Adobe this morning has released Creative Suite 5.5, with major upgrades for mobile, publishing, HTML5, video, audio, and Flash. The CS5.5 configurations are similar to CS5 and the product prices are the same. The new software is available immediately for Windows and Mac via full purchase or discounted upgrade (from as far back as CS2), with delivery via boxed shipment or instant download.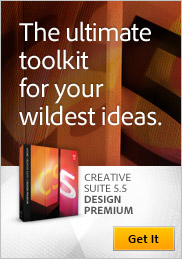 Adobe has simultaneously made CS5.5 free trials available for download (with the new Adobe Download Assistant app). These trials are fully-functional for 30 days and work side-by-side with any previous version(s) of the Creative Suite, including CS5. If you decide not to buy CS5.5 when the trial period is up, you can just uninstall it and your older software will continue to run – while buyers can easily convert their trial to permanent use without reinstalling the software. For upgrades, you can install a trial and then buy an upgrade to convert your trial into a purchased version. (For more informa­tion, refer to the complete Trial FAQ.)
If you have any difficulty with that process, you can instead use the direct download links to get the Adobe CS5.5 trials without the Download Assistant.
The CS5.5 Student & Teacher Editions are also now shipping. These offer up to 80% off the regular prices for education customers including students, teachers, and academic staff. Just be sure you know the key differences between Adobe's academic versions vs. regular.
Since Creative Suite 5.5 was launched three weeks ago, Adobe has held three "Ask a CS Pro" sessions to find out more about the new release and get top questions answered. The first one happened on Facebook and we covered it in its entirety. The most recent two included live demo walkthroughs of the new CS5.5 products and features, plus plenty of great Q&A. The replays run about an hour apiece and you can watch videos of them here (April 21st) and here (April 28th).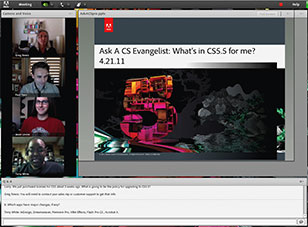 We have recorded the entire text of the questions and answers from both of these last two sessions and they are shared for you below. Adobe's Creative Suite Evangelists are Terry White (Design), Rufus Deuchler (Design), Greg Rewis (Web), Paul Trani (Flash Platform) and Jason Levine (Digital Video & Audio).
If you have any questions at all about the release that are not answered here or by our CS5.5 launch review, or comparison to CS5, or what's new product feature articles, just leave them in the comments below and we'll get answers!
Last week Adobe unveiled Creative Suite 5.5 and held an expert session to address common questions and answers about the new release. We covered part of this session in our earlier piece on the free-upgrade grace period for CS 5.5…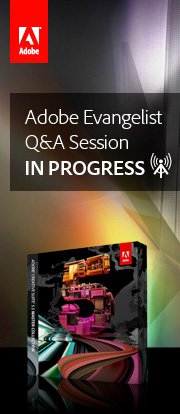 And here, without further ado, is the rest of the shared knowledge from those Adobe Evangelists.
If you have any questions at all about the release that are not answered here or by our CS5.5 launch overview, or comparison to CS5, or new product feature articles, just leave them in the comments below and we'll get answers!
Topics
[UPDATE (March 2012) – Adobe's grace period for free upgrades to CS6 is here!]
Adobe launched Creative Suite 5.5 this week and it is open for preorder but not shipping yet… The company says the release date will be in May, and in the meantime you can still buy Creative Suite 5 (or download the CS5 free trials) if you need something going today.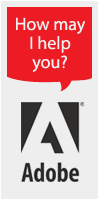 And, if you bought Adobe CS5 recently (a suite edition or an individual application like InDesign, Dreamweaver, Flash, After Effects, Premiere Pro) or if you purchase any CS5 product now, you may be entitled to a free upgrade to CS5.5 when it is released.
Historically, Adobe's policy for major product releases has been that you may qualify for a free upgrade if you buy the previous version near or after the new product has been announced, but before it ships… The advantages are threefold: (1) you get software available for immediate download, (2) you get a more mature release if you prefer and can move up later at your leisure, and (3) you win a lower upgrade cost (e.g., from CS2, CS3, or CS4), because you're buying fewer steps to go up. For Design Premium it's $150 less to upgrade now from CS3 to CS5, than to upgrade from CS3 to CS5.5.
The good news is this post-announce free upgrade policy remains in effect, according to an Adobe Q&A Session earlier this week… So it looks like you can get the best of both worlds and buy or upgrade to CS5, and then later get a free update to CS 5.5 when you — and it — are ready. (Just look for "Can't wait? Order the previous version today" on Adobe's page…)
Big question out there with Adobe's unveiling of Creative Suite 5.5 yesterday – is there a new version of Photoshop for CS 5.5?
We've already taken a close look at this with our extensive release review of all CS 5.5 products. But Photoshop is the most popular product of the suite, so the new functions here deserve special focus:

Photoshop will in fact be getting a revision to CS5.1 while extending the creative process beyond the desktop by helping integrate tablet devices into creative workflows. The new Adobe Photoshop Touch SDK (Software Development Kit) allows developers to create companion apps that run on mobile platforms like the Apple iPad, Motorola Xoom, and RIM PlayBook… The SDK controls an internal scripting engine to perform directed actions within Photoshop CS5 – thus enabling cool new applications like color mixing and painting on tablet devices.
[UPDATE (May 2012) – The all-new Creative Suite 6 is now shipping!]
Yes – Adobe CS5.5 has just been announced with all the details… Pretty much on the time­frame we forecast, you can learn about and order any of the new products or suite editions, or download a free CS5.5 trial. And while the version and software have changed, the boxes look much the same as before.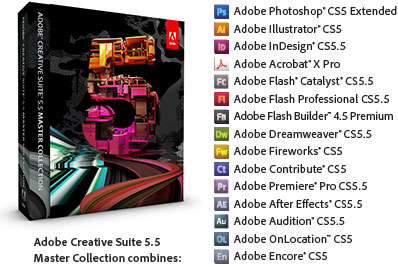 For this "mid-cycle release" coming one year after CS5 first arrived, Adobe is offer­ing similar configurations and prices, but with most of the individual products receiving additional features, enhanced functionality, updated technol­ogies, or nice performance boosts.
Overall we present some highlights here, but see our two companion "what's new" articles for: (1) an overview of the key differences between CS5 and CS5.5, including what's been added and what's been taken away, and (2) a detailed product-by-product review of the significant new features and enhancements in CS5.5.
Adobe has just unveiled Creative Suite 5.5 – and one of the upgrade questions people are asking is what's new, what's different, what's changed in CS5.5 as compared to previous version(s)? So our job here is to give you a quick "cheat sheet," or guide to the updates. Adobe calls it "the most compelling release yet" and these kinds of answers can help decide about upgrading…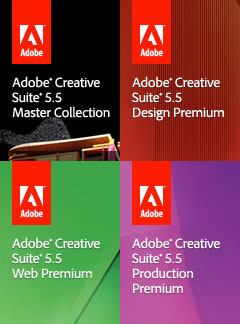 You may be wondering, why a Creative Suite 5.5? What happened to CS6? See what Adobe's CEO says about it, or read our launch overview… You might also be interested to know that a CS6 release won't be out until a long time from now.
CS5.5 updates most of the individual products, but not all… The 11 upgraded applications are: InDesign, Dreamweaver, Premiere Pro, After Effects, Flash Pro, Flash Catalyst, Flash Builder, Audition, Acrobat X Pro, Media Encoder, and Device Central. Learn more about the new features added to these applications in detail, with our special coverage.
The CS5 tools not revisioned to CS5.5 are Photoshop (Extended), Illustrator, Fireworks, and Contribute.
While Photoshop officially remains at CS5, there is a new Photoshop Touch SDK (Software Development Kit) that allows developers to create companion apps for desktop and mobile use… Read about 3 of the coming tablet apps, or find out more and see a demo of the new Photoshop functions running on the Apple iPad and Motorola Xoom.
Adobe today has launched Creative Suite 5.5 and we just took a high-level look at how CS5.5 is different from CS5 – and so now here we'll step through the significant new features at an individual product level, product-by-product…
The upgraded applications and their key new functionalities are detailed below. If you're coming from further back and would like to know the differences between older versions – like an upgrade from Adobe CS4 to CS5.5, or from CS3 to CS5.5 – the last section will also help.
Major Changes to the Creative Suite Products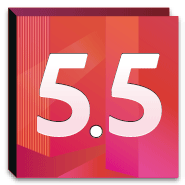 Similar to how they did before the launch of CS5, Adobe has been quietly slipping out a bevy of "sneaks" (now numbering 16 videos) for new features that may be in a forthcoming release of the Creative Suite…
"Check out what new technologies, features and innovations the Adobe product teams are working on behind the scenes. Stay tuned to get an early glimpse of what could be next from Adobe."
The products covered include: InDesign, Dreamweaver, After Effects, Premiere Pro, Audition, Adobe Story, Media Encoder, Flex, Flash Pro, Flash Builder and Flash Catalyst.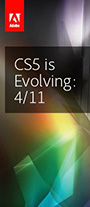 Given the recent news of a "mid-cycle release to CS5" (e.g., CS5.5), and a forecast for when CS6 could be out, one question might be in which future version might we see these new capabilities?
Well, Adobe tips their hand once again – because at the end of a couple of these videos they flash the graphic, "CS5 is Evolving: April 11th, 2011″……
Which says to us, you might expect some of these features soon, in fact you might expect more about them next week!
The company has scheduled a special session with Creative Suite Evangelists on Monday, and is tweeting: "CS5 is getting even better. Stay tuned to #Adobe.com on 4/11, and join this Q&A"
[UPDATE (April 11th) – Adobe CS5.5 is out!]
We just got confirmation from Adobe that a "mid-cycle release" of Creative Suite 5 will be out later this year, perhaps in the coming months.
The definitive word came from a conference call on Tuesday afternoon with financial analysts, where the Adobe CEO Shantanu Narayen stated:
We will continue to expand our content authoring offerings by providing a mid-cycle release to CS5.
[ Read the full transcript here ]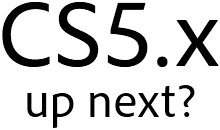 We've known for some time now (see our October piece) that a "dot release" of Creative Suite 5 would be coming and due to incorporate the new version of Acrobat X Pro – similarly to how CS2 and CS3 had mid-cycle upgrades for that exact reason…
But here Adobe has been working quite a bit harder and longer, with no "CS5.3" at the November ship date of Acrobat X… So instead, we have clear indications of a larger upgrade in store – and here's what's going to be in it: