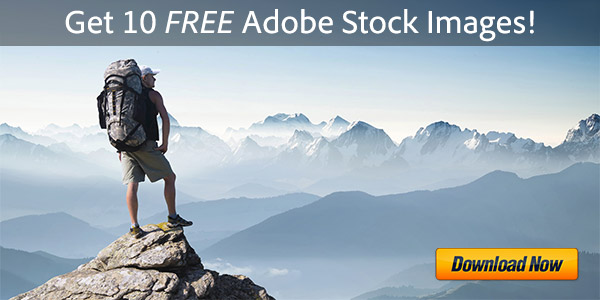 [UPDATE (May 7th) – Creative Suite 6 is now shipping!]
This morning Adobe opened an official "grace period" for free upgrades to Creative Suite 6 for anyone who purchases the current Creative Suite software version today (full or upgrade), and for the next six weeks. This is a "first" for the company – formalizing and announcing a complimentary upgrade offer in advance – and means that if you buy CS5.5 or CS5 now (depending on the application), you will receive a free upgrade to CS6 when it comes out, which can save you significant money…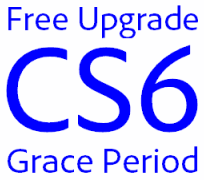 This news follows on the heels of the release of the free public Photoshop CS6 beta version last week (download here) – and opens the door for owners of older versions of Creative Suite such as CS4, CS3, and even CS2 with a clear upgrade path to CS6 at today's current prices. Adobe puts this plainly in the Offer FAQ:
"If you upgrade to or purchase CS5.5 today, you'll be paying the current price, plus you'll get CS6 at no additional cost. If you wait until CS6 ships, you'll pay the price to upgrade to CS6, which may be higher."
This Upgrade Assurance promotion is valid largely worldwide* for all commercial, education, government, and volume customers, and is good for individual applications as well as suites. It includes most current CS products (but not all – Acrobat, Flash Catalyst, Flash Builder, Con­tribute, and OnLocation individual products are excluded – although suites containing them are covered). The free upgrades are definitely included for all new orders of Photoshop CS5 and Illustrator CS5, and CS5.5 versions for all the rest.
[UPDATE – Also see our new Holiday CC 2018 Giveaway!]

If you like Photoshop and want a free paid trip to Photoshop World plus a CS5.5 suite, check out Adobe's Next Photoshop Evangelist contest… All you have to do is create and upload a 1-2 minute video demonstrating your favorite "Hidden Gem" in Photoshop CS5.
What's a hidden gem? Essentially, it's just a lesser-known feature or workflow of the product that you find valuable – perhaps using a function or tool in a way that Adobe didn't imagine… For some great examples, check out this helpful series of Photoshop Hidden Gems that Adobe produced.
The top 5 videos will be selected and voted on, with the winner receiving a $4,000-$6,000 prize package including a trip to the PSW Conference either in Washington, D.C. this spring, or in Las Vegas this fall – plus a full copy of CS5.5 Design Standard. The trip includes roundtrip airfare, lodging, event admission, and spending money – plus meeting Adobe's Photoshop Product Team personally and the opportunity to demonstrate your hidden gem live at the show. Four runners-up will get a free $1,000 copy of Photoshop CS5 Extended.
[UPDATE (May 2013) – CS4 and CS3 users no longer receive upgrade discounts to CS6, but to the new Adobe CC release instead.]
Two months ago Adobe made a major change in the Creative Suite upgrade policy that had been in place since CS3 came out in April 2007…
Had you heard about it? If not, here's what they said on the new upgrade policy for CS6…
In a nutshell, Adobe said only customers running Creative Suite 5 products would be eligible for discounted upgrade pricing to the new CS6 when it comes out.
Customers spoke up and reaction to the change was pretty unfavorable across the web… Results from our own poll here showed a striking 85% against the move including the company's related business model changes to the Creative Cloud.
---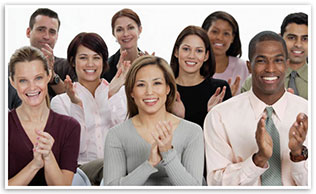 And now, in a stunning turnabout, Adobe says they have been listening and are backing off the new policy, in response to customer feedback…
Yes, it's true – and just as we were one of the first to break the original story, we're back now with the good news that the older Creative Suite versions like CS3 and CS4 will indeed be able to get upgrade discounts to CS6 in the future.
Here it is from our Adobe Partner Update:

[UPDATE – See all of Adobe's current deals & discounts!]
Adobe has just extended their popular current offer for all customers to save an additional 20% off the regularly-discounted upgrade price when you move up to CS5.5 (to either a suite or an individual product) from any earlier qualifying Adobe tool listed below.
This special was set to expire at year-end but has now been extended into March 2012 and continues to be available worldwide, with no coupon or promotion code required. It's valid for upgrading to all the latest CS5.5 versions, and also includes Photoshop CS5.1 and Illustrator CS5 as well.
The additional time comes following Adobe's recent news of a major change in upgrade policy whereby only users with CS5.5 or CS5.0 would qualify for upgrade pricing to CS6 when it is released.
The new expiration dates for the additional 20% off upgrade savings are:
North American Store: Extended through March 15, 2012.
European Stores: Extended through 15 March 2012.
Australia/NZ + Asia: Extended through 15 March 2012.
[UPDATE (October 2012) – Looking for CS6 tutorials? Check out this Photoshop CS6 primer, or 1,000 pages of free CS6 ebooks, or 30 hours of free CS6 videos.]
Adobe Photoshop is a sophisticated tool with a 21-year history and a seemingly-endless array of powerful capabilities. And after spending $549 for the product with discounts (or $199 for students), who wants to pay a lot more to learn how to use it all?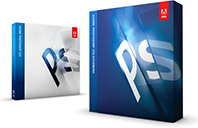 Fortunately there are a number of avenues to get great training and tutorials for free. The first stop is Adobe TV, which has nearly four hours and 37 chapters of 100% free tutorials for Photoshop CS5 alone. There is also a wealth of content for prior versions like Photoshop CS3 and CS4. It's a good place to get started and orient yourself with the major functions, and all of it is gratis.
For learning how to use the best new features added in Photoshop CS5, take a look at our collection of articles with tours of:
We also have a regular page here on the site with a rotating selection of tuts for all versions of Photoshop, stepping through various tips and tricks. And for a terrific set of little-known but very handy techniques, check out Adobe's Photoshop "Hidden Gems" series with Product Manager Bryan O'Neil Hughes.
[UPDATE (January 11th, 2012) – Adobe has listened to customers and just reversed this change! CS3, CS4, & CS5 are all good for upgrade to CS6 now.]
HUGE breaking news out from Adobe, regarding substantial changes in upgrade pricing and policies for their very popular Creative Suite software…

For several years, the company has offered a "three-versions-back" upgrade policy – meaning anyone who owned a prior CS product up to three major versions back would be eligible for discounted upgrade pricing when moving up to the latest release.
Meaning, if you've got CS2, CS3, or CS4 – either a full suite or an individual point product like Photoshop – you can receive price reductions of up to 80% when upgrading to CS5.5.
Adobe now says that will be ending – the policy is going to shift dramatically, worldwide.
Starting in 2012 when CS6 comes out, this will be changing to a "one-version-back" plan – meaning to receive a price break when upgrading to CS6, you need to already be on some flavor of Creative Suite 5 – either CS5 or CS5.5.
So, what does this mean for anybody still running CS2, CS3, or CS4 at that time? Basically, if you want to upgrade later or have been waiting for CS6 to do so, it would cost you full price… To receive a discount from older versions, you'd need to upgrade to CS5 before CS6 ships.
Here it is straight from Adobe's "Conversations" Blog:
Knowing how to make a good mask is one of the most important things you can learn to do in Photoshop. With accurate masks you can completely control the placement and movement of all the elements of your image. The techniques shared in these videos will help you get the most out of the new masking capabilities in Photoshop CS5… And when you combine them with the new content-aware fill feature to magically fill backgrounds of moved or deleted objects, well then you've really got something.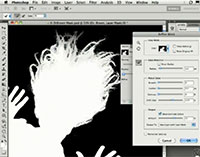 The first video is a two-part playlist, New Masking Basics: Get up-to-speed with the great new masking tools and techniques in Photoshop CS5, to quickly and easily create professional quality masks, including a photograph with challenging hair.
The second video, to the right, also plays in two parts – New Advanced Masking: Learn some of Photoshop guru Russell Brown's favorite methods for masking out the background from a really difficult image.
The third and final video is Advanced Motion Blur Masking and Blending: This tutorial will get you through the toughest motion blur with flying colors… Also learn some advanced blending tips and techniques.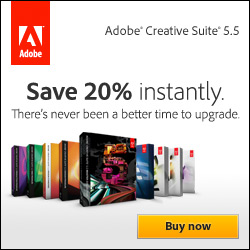 [UPDATE – See all of Adobe's current deals & discounts!]
Are you thinking about moving up to to Creative Suite 5? Well then here's a special new offer – a nice bonus – that will help…
Right now you can save a further 20% off the normally-discounted upgrade price when you upgrade to CS5.5 (to either a suite or an individual product) from any earlier qualifying Adobe tool listed below.
This new offer is now available worldwide, with no coupon or promotion code necessary. It's valid for upgrading to all the latest CS5.5 versions, but also includes Photoshop CS5.1 and Illustrator CS5 as well.
North American Store: Offer period is October 3, 2011 – December 31, 2011 March 15, 2012.
European Stores: Offer period is 3 October, 2011 – 31 December, 2011 15 March 2012.
Australia/NZ + Asia: Offer period is 9 November, 2011 – 31 December, 2011 15 March 2012.
So if you currently have one of these Adobe products with a valid license (either commercial or for education/student), then you qualify:

Even though Creative Suite 5 has been out for over a year, and CS 5.5 since the spring, some components of Creative Suite 4 remain surprisingly popular… In particular, the two applications After Effects CS4 and Premiere Pro CS4, which were released in the fall of 2008, are still sought by many. At first this might seem odd, but there's good reason… Why does this duo of earlier tools remain in demand?
It's no doubt owing to the 64-bit-only requirement for those two products (and only those two products) in Creative Suite 5… Adobe explains the reason for this is because developing in native 64-bit gives the best optimized performance benefits with the demanding technical requirements of working with high definition video. But these won't run on many older computers.
Note this is more of a Windows factor and does not affect the majority of Mac systems using Intel proces­sors… But with no 32-bit Windows versions of After Effects CS5.5 or Premiere Pro CS5.5 offered, perhaps it shouldn't be surprising the CS4 releases continue to be needed. After all, statistics show that 43% of the broad Internet community still runs on Windows XP – making it still the most widely-used Microsoft Windows platform – but which isn't supported for those CS5 apps.
The question then becomes, what to do about it? If you're still on 32-bit or XP, but need one of these products after the free trial has run out, would your best choice be to buy the previous generation version of CS4? Doubtless your next computer will be 64-bit – so wouldn't it be better to invest and get both – CS4 (for current use) and CS5.5 (for future growth) – two for the price of one? Especially since these two latest releases have been getting stellar reviews from many sources…
[Now updated for CS 5.5… Also find out more on the complete differences from CS5.]
One of the most common upgrade questions we see out there is asking what's new, what's different, what's better, what's changed between Adobe CS5.5 and CS5 or CS4? Or more fundamentally, what are the key new features in CS5.5, versus earlier versions, even CS3?

Creative Suite 5 contains hundreds of new or enhanced features and func­tions across the 13 point products that comprise it. So the easiest way to look at it is by major product… For example, Photoshop CS5 Extended con­tains 18 new features that CS4 didn't have, plus a further 14 more that have been enhanced. The numbers are similar for other products and even greater over CS3 of course – although generally speaking CS5 has significantly more improvements and innovation compared to CS4 than CS4 had over CS3.
Creative Suite 4 was certainly a capable release (we used it here every day), but some folks have com­mented that CS5 is really the release they wanted when CS4 came out and that CS5 is a game-changer over both previous versions… On that account, we haven't seen a bad review of CS5 yet.
Creative Suite 5.5 adds further to this with significant new features and enhancements in the areas of mobile, publishing, HTML5, video, audio, and Flash… Read our full release guide for CS5.5, or find out even when CS6 is due.
So here they are, the breakouts by individual product – the CS5.5 vs. CS5 vs. CS4 vs. CS3 version comparisons: