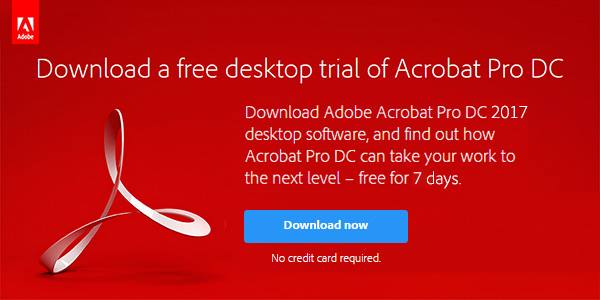 Adobe Acrobat DC 2016 is now shipping! "DC" stands for Document Cloud, which is Adobe's new set of integrated online services that helps people and businesses better manage critical documents. At the heart of Document Cloud is Acrobat DC – the industry standard for creating, sharing and editing PDFs – which was completely reengineered last year for the initial DC 2015 milestone release.
This new version of Acrobat continues as a desktop product in both Pro or Standard editions, and is available either via subscription or with a perpetual license. Adobe has incorporated many new features and improvements to bring Acrobat up the modern day. Further, the company has moved to a year-based versioning model for Acrobat… So this revision is officially called the "the 2016 Release of Acrobat DC" – and the technical version number is actually 15 rather than 12.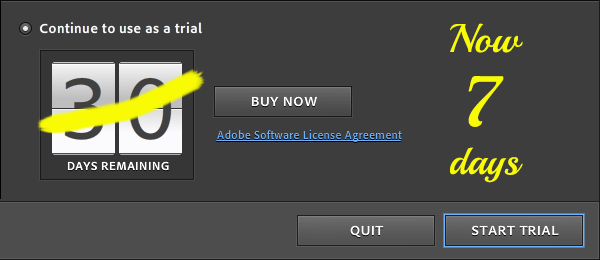 After decades of 30-day free trials for its flagship creative applications such as Photoshop, Illustrator, InDesign, and all the others, today Adobe announced that going forward, the length of the trial period for Creative Cloud (i.e., the CC 2015 desktop apps) will be standardized worldwide at 7 days.
The company has been running some tests over the past couple months, and says the changes better align with how individuals are actually using the trial software – meaning the degree and duration of time they use them the most after initial installation. By moving to seven days, Adobe feels they can follow up better with the customer when the experience is freshest than if it happened a month later. It also gives users greater incentive to bump up the priority of the new software evaluations. Given the accelerating pace of change in technology (and pretty much everything else moving faster these days), these findings aren't entirely surprising.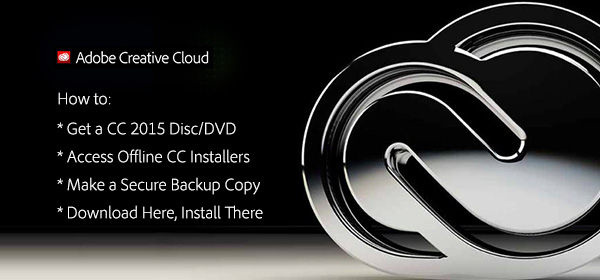 The Creative Cloud is cool because it offers access all major tools that Adobe makes at an affordable price… But here are four recurring challenges we still see out there since Adobe discontinued boxes and switched over to Cloud-only application downloads: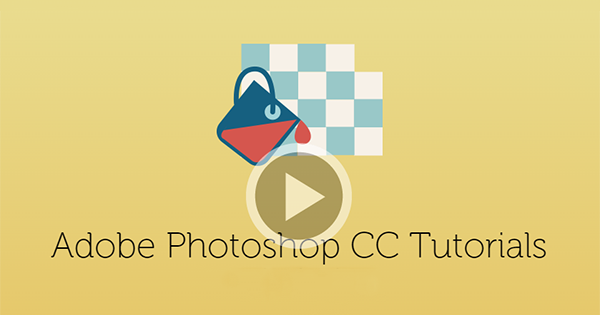 Here's an incredible new resource that you should not miss – and even bookmark/share… It's a compre­hensive professional training course on how to best use Adobe Photoshop from O'Reilly's InfiniteSkills – normally costing US$130, but now completely FREE with no catch. It includes 13 hours of high-quality instruction broken out into 23 chapters with 166 video tutorials (in HD or SD), covering all major aspects of Photoshop – the world's most popular graphics and photo editing software – at no cost!
Time-lapse photography videos never go out of style… Here is one of our all-time favorites from Norwegian landscape photographer Terje Sorgjerd – incredibly beautiful and perfect for the clear, dark nights of the season (watch full-screen):
Prior to the extensive video editing tools first introduced in CS6, Photoshop wasn't normally known for its video capabilities – but in fact it's always been possible to take a series of still photo­graphs (manipulated as desired) and then quickly create your own timelapse video using Photoshop Extended…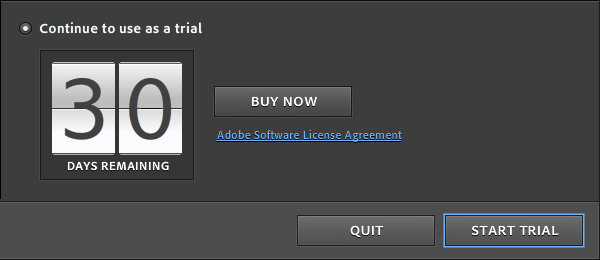 [UPDATE (May 2016) – Adobe just reduced the length of all CC free trials from 30 to 7 days… So the approach below will still work, but would triple the period from 7 to 21 days.]
How long are the free trials for Adobe software? Most people would say 30 days – but practically speak­ing, it's actually almost 50% longer, at 44 days. Here's why, and how you can do it…
After downloading and installing Adobe's free trial software – whether it's the latest major release CC 2015 (have you tried it yet?), CS6, Acrobat, Captivate, or Lightroom – your official free trial will begin for 30 calendar days from the date you first run the application (like Photoshop) on your computer.
Once you reach the end of that month – if you haven't already purchased the product – then that free trial period will end and all the files you created will still be yours, but the software itself will no longer start on your system. And redownloading or reinstalling it won't give you a new free trial.
[UPDATE – Also see our new MAX 2017 Ticket Giveaway!]
In June, Adobe shipped the all-new CC 2015 set of tools and services – a milestone marking the third major release of the CC product line, which replaced CS6 from 2012. This latest CC version contains thousands of new features and advancements compared to CS6 (across all creative applica­tions), and it is available only via Creative Cloud membership – a community which now surpasses 9 million paid members.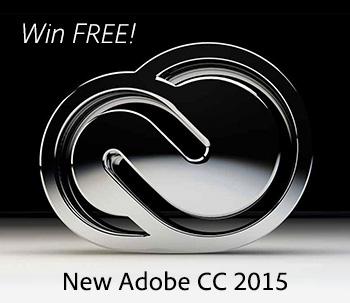 Adobe CC 2015 is also known as the Creative Cloud 2015 Release… And that is exactly what we're giving away for free below, and this offer is open to everyone world­wide.
In all, Creative Cloud 2015 comes with 15 new desk­top applica­tions (Photo­shop CC 2015, Illus­trator CC 2015, InDesign CC 2015, Light­room CC 2015, Muse CC 2015, and all your other favorites), together with other comple­mentary tools and services (such as Acrobat Pro, Edge, Typekit, Behance ProSite, CC Market) and much more. See the entire contents of what's in Creative Cloud, where all ongoing upgrades are auto­matic­ally included at no addi­tional charge.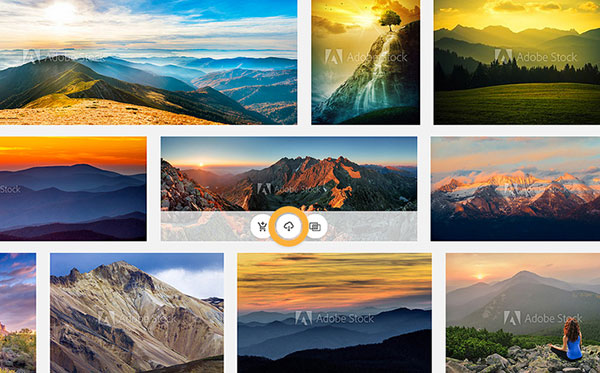 Adobe wants to give you US$50 worth of professional, high-resolution stock images right now. We're talking about high-quality, curated photos, illustrations, vectors, graphics, and more from a vast collection of over 90 million assets to choose from…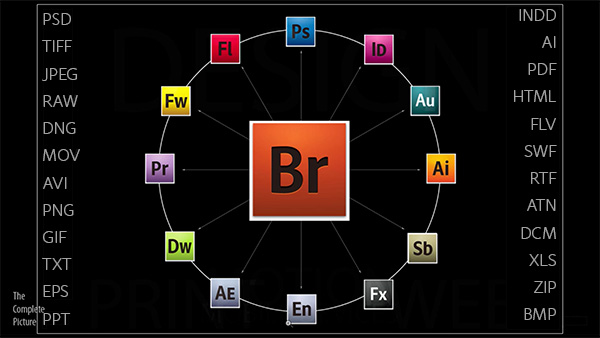 In response to our How to Join Adobe's Creative Cloud for Free post last week, we received this question from a reader:
Hi – is it really true that Adobe Bridge (the full version) is totally free to download and use forever, and I don't have to pay for it or have a subscription?
The answer is yes, it's absolutely true – although not that many people know about it because Adobe hasn't really publicized it widely…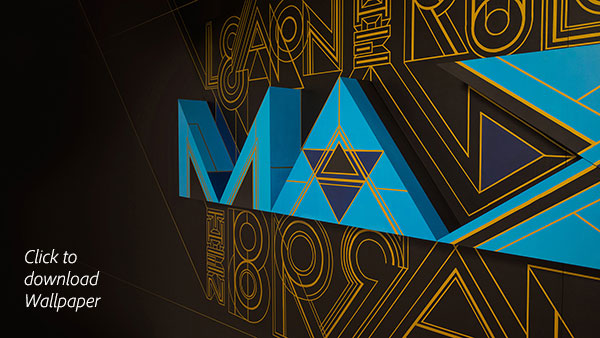 [UPDATE (Nov. 2016) – Watch 235 hours of new training & tutorials from MAX 2016!]
Did you make it to MAX this year? Adobe's Creativity Conference broke all records with 7,000 attendees coming together in Los Angeles earlier this month, up from 5,000 just a couple years ago… And that was despite an increase in the cost of a full conference pass to US$1,595.
For the price of that ticket, participants enjoyed major new product launches, inspirational key­notes from creative luminaries, hundreds of enriching training sessions, plentiful opportunities for networking with colleagues, access to the latest cool technology on the pavilion floor, meeting the Adobe product teams in person, the highly-anticipated "Sneak Peek" demos of jaw-dropping new features under development, and of course the famous MAX Bash party. And this year, all attendees also received a free year of Adobe Stock as well as a new FUJIFILM X-T10 camera.