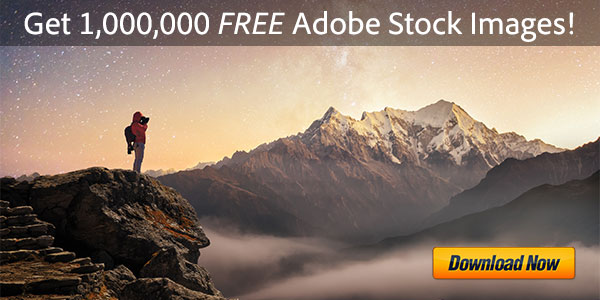 Archive for November, 2010
[UPDATE (Nov. 2020) – Check out Adobe's new 2020 Black Friday & Cyber Monday Deals!]
Adobe has got a huge raft of amazing money-saving deals lined up for Black Friday 2010 and Cyber Monday this year, and we've got the full scoop… There are more than 20 offers on tap in multiple countries covering all products – including saving up to $200 on Photoshop, $100 on Lightroom, 15% on CS5 suites, $50 on Elements or Acrobat, free shipping, and much more. The specials kick off on Monday, November 22, with most running through Tuesday, November 30. Note that you do need to use individual coupon codes (given below) for almost all of them.
All the holiday promos and some of their graphics are detailed below. So if you've been waiting for a great sale to make a step, now could be your time… And in a year where we've seen brand new releases of Creative Suite 5, Lightroom 3, Elements 9, Captivate 5, and Acrobat X (now shipping), it could be a pretty good time.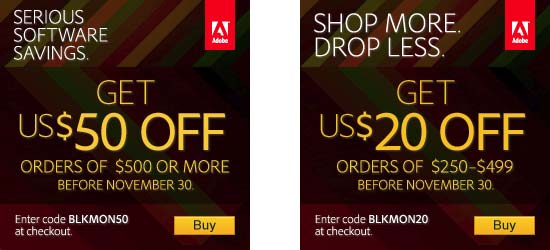 [UPDATE (May 2020) – These links still work to download the old Acrobat X or Acrobat 9 trials. We also now have the all-new Acrobat DC 2020 Direct Download Links!]
Adobe Acrobat X has just been released! And continuing in our tradition of providing the direct download links for major Adobe products such as Creative Cloud, CS6, Captivate 11, and Elements 2020, below you'll find the direct links for the brand new Acrobat X (10)… We also have added the direct links for the previous versions Acrobat 9 and Acrobat 8 as well, in case you also need them for any reason.
The links given below go to the authentic and secure files residing on Adobe's servers, are guaranteed genuine and will not change. They are especially useful when you are unable to download Adobe's software via other means – often due to difficulties with the Akamai Down­load Manager (the Adobe DLM). Here it's open and you can just use your browser, or another download manager of your choice.
The links are listed below. For Windows, the Acrobat X Pro download is in the form of a single .exe file, and for Mac OS it's a single .dmg file. There is no actual trial version of Acrobat X Standard available for any platform, but Pro includes all Standard features – so you can try out Pro for free and then decide which version you want at the time of purchase. Languages offered here are English, French/Français and German/Deutsch.
[UPDATE – See all of Adobe's current deals & discounts!]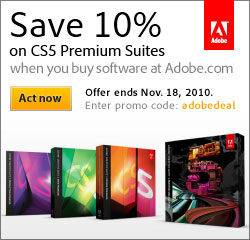 Adobe is revving up for the holiday season with another "one-week-only" special, this time to save 10% on any CS5 Premium Suite, exclusively with the promotion code adobedeal. Since this offer includes the greatest suite of all – CS5 Master Collection – the potential savings are up to $260, a "sweet" discount. Other eligible products include Design Premium, Web Premium, and Production Premium. Note that the voucher must be entered into your shopping cart prior to purchase.
Adobe has other offers coming up for Black Friday and Cyber Monday 2010, but none that will be as good as this one is for buying the suites – we guarantee it. So take advantage while you can, as this deal will expire in seven days…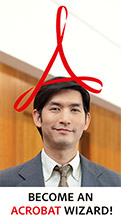 Every couple of years when Adobe puts out a full new release of Acrobat, there are a few different editions to choose from and new features to study to decide which of them you're going to get… This year is no different – the Acrobat X (10) family is available in the form of the free Reader, the familiar Standard and Pro, and a brand new Suite edition that bundles Acrobat Pro together with Photoshop, Captivate, and three other Adobe products in a package to deliver complete business communications.
Conspicuously absent is the "Pro Extended" edition from version 9, which used to be called Acrobat 3D. What happened to Pro Extended? The answer:

[UPDATE (February 2013) – The commercial version of Project ROME will remain free for public download! (Windows and Mac OS)]
In all the excitement last week with the hundreds of free online sessions from the Adobe MAX conference, there was a brand new product debut that should get just as much press. Adobe launched a free preview of their new Project ROME content creation and publishing applica­tion for print, photo, presentations, animation, and web. And this is a pretty cool tool if you haven't checked it out yet. The streamlined interface with plenty of templates helps you get started quickly, and the "all-in-one" nature allows you to easily borrow and repurpose content across projects or from the cloud.
The best way to get a sense of it is a quick one-minute demo:
[UPDATE – See all of Adobe's current deals & discounts!]
Adobe has just announced a pre-holiday "kick-off" promo to give an instant US$40 off orders placed at the Adobe Store – for seven days only…

You'll receive a one-time savings of $40 off orders of $400 or more containing full or upgrade versions of any Adobe software. In order to redeem the $40 discount, you must enter the special promotion code Nov2010SW40 in the Adobe.com shopping cart.
Orders must be placed from November 1, 2010, at 5pm PT through November 8, 2010, at 11:59pm PT. This offer is available only to customers with shipping addresses in the USA, Mexico, and Canada. This offer may not be used in conjunction with any other offers, and is not valid for Adobe Volume Licensing, OEM bundle, or education purchases.
These type of unrestricted coupons don't come along very often for Adobe, so if there's a purchase you've been thinking of, now could be a good time… Some ideas to consider could be the brand new version of Adobe Acrobat X, Photoshop/Premiere Elements 9, Lightroom 3, or of course Creative Suite 5.