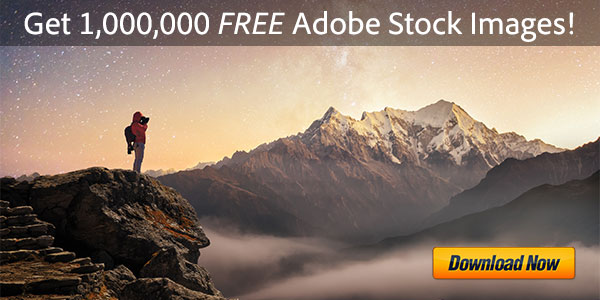 Archive for February, 2012

[UPDATE – See all of Adobe's current deals & discounts!]
Adobe's Student and Teacher Editions are already a pretty sweet deal. If you're eligible, you can get huge discounts off Adobe's normal prices for software that works the same as the standard editions…
Now, for a limited time, Adobe is offering up to an additional US$200 off their CS5.5 suites and applications for students and educators, on top of the regular discount – with new coupon activation. Here it is:
Save up to US$200 on select Adobe Student & Teacher Editions (Windows or Mac)
Promotion activation link: SAVEONEDU
Offer valid: Hurry – offer ends March 15, 2012
Notes: Full versions, instant savings reflected in shopping cart after adding the products
Conditions: See complete terms here
This is for North America – however for customers in UK/Europe, Adobe is offering a further €50/£40 discount on Education Editions until 16 March 2012.
[UPDATE – See all of Adobe's current deals & discounts!]
We thought the deals were getting good with 20% off CS5.5 upgrades and Lightroom 3 for half price – but now we have two incredible new coupon codes to get 50% off purchases of the full CS5.5 Web Premium or CS5.5 Production Premium suites!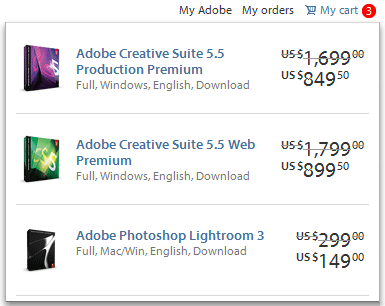 Web Premium is one of Adobe's top-selling suites, containing Photoshop Extended, Illus­trator, Dreamweaver, Acrobat Pro, Flash Professional, and four other major applications.
Production Premium is the package more focused on video production – with both Premiere Pro and After Effects, but also includes Photoshop Extended, Illustrator, and three others.
And now, the latest full Creative Suite 5.5 versions of either suite are available for half their regular prices – plus all other CS5.5 products for 15% off – to customers in the U.S., Canada (except Quebec), and Mexico when purchased through the Adobe Store… but you must have these coupons activated:
[UPDATE – Also see our all-new Creative Cloud 2021 Giveaway!]

If you like Photoshop and want a free paid trip to Photoshop World plus a CS5.5 suite, check out Adobe's Next Photoshop Evangelist contest… All you have to do is create and upload a 1-2 minute video demonstrating your favorite "Hidden Gem" in Photoshop CS5.
What's a hidden gem? Essentially, it's just a lesser-known feature or workflow of the product that you find valuable – perhaps using a function or tool in a way that Adobe didn't imagine… For some great examples, check out this helpful series of Photoshop Hidden Gems that Adobe produced.
The top 5 videos will be selected and voted on, with the winner receiving a $4,000-$6,000 prize package including a trip to the PSW Conference either in Washington, D.C. this spring, or in Las Vegas this fall – plus a full copy of CS5.5 Design Standard. The trip includes roundtrip airfare, lodging, event admission, and spending money – plus meeting Adobe's Photoshop Product Team personally and the opportunity to demonstrate your hidden gem live at the show. Four runners-up will get a free $1,000 copy of Photoshop CS5 Extended.
We've seen a few sneak peeks already of what Adobe's working on now in Photoshop – but this new one is the best to date, it's pretty incredible… They don't say which release these capabilities could make it in (or when), but presumably it's Photoshop CS6.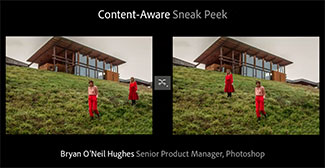 This new demonstration takes the much-praised concept of Content-Aware Fill that was introduced in Creative Suite 5 and carries it much further with new Content-Aware Move, Extend, and Patch tool features. It's hard to explain but you can see how it works with the 2½ minute video below.
Last month we actually put together a guide to getting the best results with Photoshop CS5's Content-Aware Fill, but these new tools clearly make the work much faster, simpler, and more flexible… and dare we say magical (see the "before and after" screengrabs below the video).
See more advanced features of Photoshop Content-Aware technology. Straight from Photoshop Senior Product Manager Bryan O'Neil Hughes, this video shares how to seamlessly move, extend, remove, or patch an object from an image.
Last month Adobe quietly revealed a first look at Photoshop CS6, which was received with hundreds of thousands of views… And now we have second and third looks, new sneak peeks which focus on performance gains and vector improvements (with dashed and dotted lines).

As images grow larger and larger in resolution and file size, even simple actions such as saving your files can slow down productivity – which has been a point of interest in Photoshop CS5. In this preview, a smooth and oft-requested Background Save capability is introduced allowing you to fully continue working while all file saving takes place in the background, regardless of size or compression.
Large images also slow down functions like Liquify… In the video, a 100MB photograph lags when loading and editing in Photoshop CS5. Now this new Photoshop (CS6 we presume) uses the Graphics Processing Unit (GPU) to greater effect to bring real-time loading and editing responsiveness. See how much faster and crisper the Liquify filter works, enabling effectively unlimited brush sizes: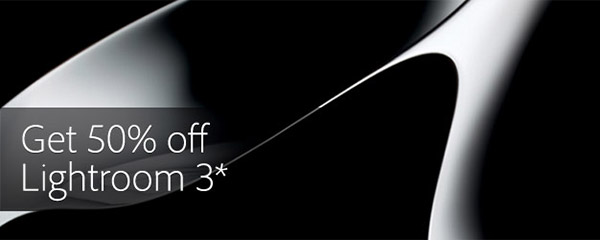 [UPDATE – See all of Adobe's current deals & discounts!]
There's an amazing deal out that's just been expanded for Adobe customers worldwide (in US/Canada, Europe/UK, Australia/NZ, and South Africa) – you can get the full version of Adobe Photoshop Lightroom 3 for half off the regular price: now US$149, £99, €125, or A$124 – plus free shipping:
[UPDATE – See all of Adobe's current deals & discounts!]
We have word of a new coupon code you can use get an instant 15% off orders placed at the Adobe Store – for eight days only…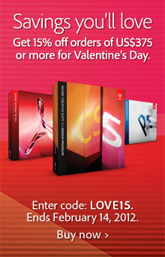 You can receive a one-time savings of 15% off orders of US$375 or more containing full or upgrade versions of any Adobe software. In order to redeem the 15% discount, you must have the special promotion code LOVE15 applied in your Adobe shopping cart.
And good news for students: the offer is valid for both commercial and education customers – meaning you can get an additional 15% off the already-discounted academic pricing.
Outside of that exceptional case, the coupon may not be used in conjunction with any other offers – meaning you can't combine it either with the current half-price on Lightroom offer, or with the 20% discount on CS5.5 upgrades offer (both of which are better anyway, and worldwide).
[UPDATE – Also see our all-new Creative Cloud 2021 Giveaway!]
Anybody interested in some free copies of new Adobe Lightroom 4?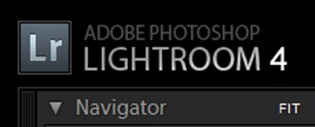 We've got them. Adobe says the 4th release of this very popular photography solution is due to ship fairly soon – however if you want to try it out and get your feet wet before then, you can just download and run the free LR4 beta version, though this shouldn't be used for production or permanent work.
In the meantime, did you know that Adobe just extended an unprecedented deal on the current full version – Lightroom 3 – for half off the regular price of US$300, save 50% worldwide? Yes, it's true, and never been done before – but you can take advantage of that here. And you'd still be eligible and welcome for the free giveaway of version 4 by entering below.
So, we've got two brand new boxed copies of the final official Lightroom 4 product all lined up and would love to give them away to our faithful readers… It's easy to sign up. The contest is open to residents of North America, U.K., Europe, Australia, New Zealand, and South Africa – and all you need to do for a chance to win is one (or both) of the following: