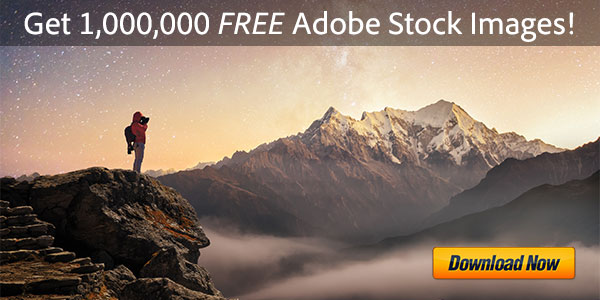 Archive for February, 2013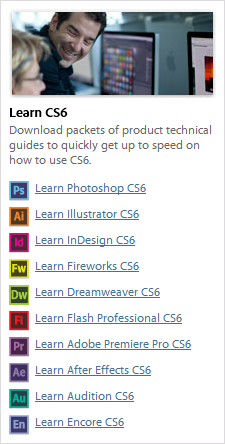 Creative Suite 6 and the Creative Cloud are the most powerful and sophisticated toolsets Adobe has ever released and so there is a lot of demand for training resources to learn how to best use these products…
Last month we posted details on over 30 hours of free video tutorials for CS6. But printed materials are also nice, to use side-by-side at your own pace. So how about a collection of free e-books to go along with those, which you can instantly download and learn from whenever you want?
There are 10 volumes of 169 chapters in total with over 1,000 pages for most CS6 products. Some tools receive more coverage than others, but the basics are reviewed for all. You can download in the ebooks in PDF format after signing in with your Adobe ID (which is easy to create if you don't already have one).
If you don't have the software yet, just download a free working trial for any CS6 product for Windows or Mac (or try the whole Creative Cloud) – then install, run, and start your training…
Here's how the files break out. Click on the title to download the e-book, or the trial to get the free product tryout. The book file sizes range from 4-10 MB each, so shouldn't take long to download. The contents of each volume are listed below the table: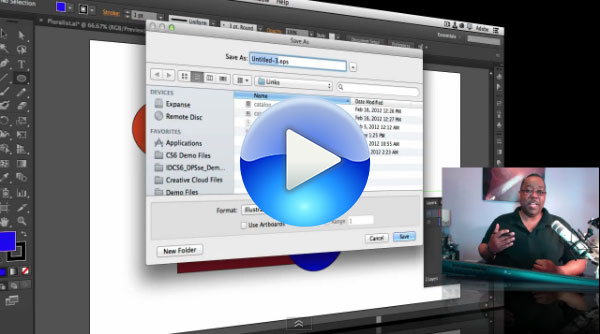 Adobe Evangelist Terry White has a great new training session out showing you how to get started achieving immediate and productive results using new Illustrator CS6… This 42-minute class covers all the basics and walks through how to accomplish the top 10 techniques that beginners always want to know how to do. Earlier Terry did similar introductory primers for Photoshop, Lightroom, and InDesign – and now it's Illustrator's turn.
Here's the overview:
[UPDATE – Confirmed: Adobe's new tools in the current CC release are able to export or backsave to older CS6 file formats.]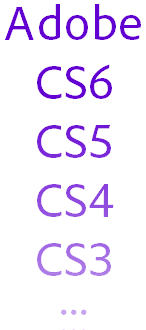 This is one of the top questions we get. Especially now that Adobe is releasing a new version of Creative Suite once per year – with each edition potentially bringing a different or expanded file format – customers want to know if their existing projects will easily carry forward with them when they upgrade, or if they will be able to save back to older formats for clients or colleagues who are still running an earlier version of the tools…
OK then, here's how it works. Generally, your new CS6 tools (including those in the Creative Cloud) will be able to open and use any and all earlier project and data files no problem (including CS3, CS4, CS5 and CS5.5 files), without any loss of information. In other words, all Adobe software is able to read or import file formats from previous versions of the same program – and it should happen automati­cally.
Going the other way, when wanting to use CS5 or older tools to open a file saved from a CS6 product, the answer is it depends… Let's take a look at the inter­operability for each application within the Creative Suite, then at the bottom we'll talk about some additional tips and best practices no matter what your situation.

[UPDATE – Also see our all-new Creative Cloud 2021 Giveaway!]
MAX 2013 – the big annual conference for all-things-Adobe – is coming up in just 3 months in Los Angeles, California… And continuing our long tradition of free Adobe giveaways, we've got one free and full conference pass (worth US$1,495) to give away, plus one $400-off ticket discount, both courtesy of our friends at Adobe Systems!
And great news: included together with that first prize pass — and in fact with all MAX 2013 full conference passes — is also an annual Creative Cloud membership for you (containing all fourteen CS6 Master Collection tools plus much more, and valued at $600) – or 12 months added to your account if you're already a Cloud member… You'll get immediate access to the latest products and exclusive features, plus an entire library of training videos. It's every­thing you need to create anything.
Install now: Get all new Creative Cloud 2021 direct download links and free trials.

[UPDATE – See all of Adobe's current deals & discounts!]
After a couple of nice rounds of specials for the holidays, we thought Adobe's big sales might be over for while, but we were wrong… Adobe is slated to announce a surprise new set of global Valentine's and winter specials for the month of February and beyond.
The deals include saving up to 50% on Photoshop/Premiere Elements 11 purchases, a 30% discount on Lightroom 4, plus a big worldwide 60%-76% off Creative Cloud Education offer for students and teachers. Most of these promotions run in February and some into mid-March, and we have exclusive coupon codes linked below so you can get the lower prices. And stay tuned to this page for updates on new winter offers as they arrive.
Note that if you buy either Photoshop or any CS6 suite together with Adobe Lightroom, then you can actually get a larger 30% off Lightroom 4… (valid in all countries) In addition, all purchasers of Photoshop Elements 11 will also automatically receive a complimentary $20 Shutterfly gift card.