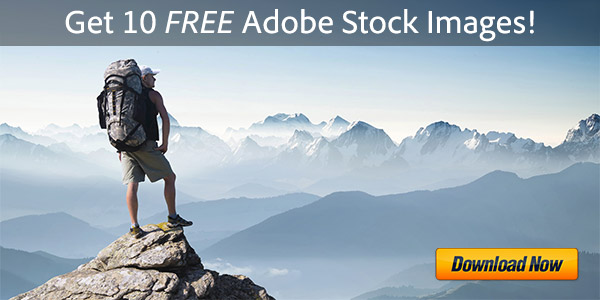 Adobe has two major new products in free public beta right now – Adobe Edge for developing HTML5 animations (like Flash Pro but outputs HTML5) and Adobe Muse which allows designers to create websites as easily as creating a layout for print. Adobe says interest in these betas has far exceeded their expectations.
So what's the difference between Muse and Dreamweaver, Adobe's existing tool for creating websites? Well, with Muse you can build cool sites without coding (see impressive examples), whereas Dreamweaver is for users with greater technical orientation. So while you can do more advanced things with Dreamweaver, often you can (very easily) do just what you need with Muse, and have it look great.

Both tools will be shipping in their first official release in 2012. And while it's been known for a while that Muse would be "subscription-only," we now know too that Edge will likely follow the same path. Furthermore, neither will be included in the Creative Suite.
At a recent Adobe Analyst meeting during the question and answer session, it was revealed that Adobe is planning for both new design tools to be available only via subscription or through their optional "Creative Cloud" software rental offering – and neither will be a part of CS6 – in other words, they will only be sold separately.
Here it is at the 33-minute mark of the Q&A:
This very cool InDesign "sneak" comes fresh from the big Adobe MAX conference earlier this month… What's a sneak?
We've gone through the company and found the 11 coolest demos of technology that are at work within Adobe. These are things that are on the cutting edge of the technology. They may show up in a product, they may not. The demo may work, it may not. But this is your chance to get closer and really understand where we're going and what we're doing.
OK fair enough. Here's the set up: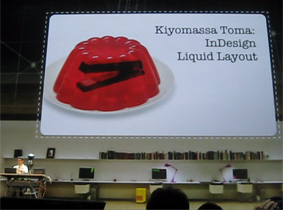 "I want to show you some things we're thinking about on the InDesign Team. As you know, it's actually been about a year since we launched Digital Publishing Suite, and we've had fantastic traction in terms of getting great-looking content on tablet devices. So I have an iPad here and as you see I can turn it over and tilt it, let the accelerometer do its trick. We're actually seeing two different layouts here – two different layouts – which creates two different files. So designers actually have to create two separate InDesign files for this one device.

If you're interested in learning about the best web and interaction design techniques, there's a free new 2½-hour course you'll find worthwhile…
It's the third installment in the excellent Classroom series, which features free expert training in well-designed sessions with high-quality production values. Previous classes have been an in-depth Dreamweaver CS5 tutorial and a terrific After Effects CS5 tutorial.
This latest presentation details how to design your interfaces in the most effective way with the behavior of the user in mind. Some of the topics include crafting effective navigational systems, creating a liquid layout, how to best deliver images and media, designing forms and dialogs to smoothly guide users through a positive user experience, and more. The best practices covered here will help you make better design decisions in your work going forward.

[UPDATE (February 2013) – The commercial version of Project ROME will remain free for public download! (Windows and Mac OS)]
In all the excitement last week with the hundreds of free online sessions from the Adobe MAX conference, there was a brand new product debut that should get just as much press. Adobe launched a free preview of their new Project ROME content creation and publishing applica­tion for print, photo, presentations, animation, and web. And this is a pretty cool tool if you haven't checked it out yet. The streamlined interface with plenty of templates helps you get started quickly, and the "all-in-one" nature allows you to easily borrow and repurpose content across projects or from the cloud.
The best way to get a sense of it is a quick one-minute demo:
Adobe this week launched a new initiative to bring some of their best and most favorite font faces to wide use for textual content on virtually any website. The new Adobe Web Fonts offering is designed to work seamlessly with the browser and computer of any site visitor, and thus allows website developers to move past the limitations of the narrow set of web-safe fonts we have been using since the web began. Some of the over 120 200 typefaces being made available are Myriad, Minion, Trajan, Chaparral, Text Pro, Cooper Black, News Gothic, Adobe Garamond, and Bickham Script.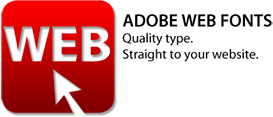 Previously, the only consistently certain way to display these font faces in portable fashion on websites was via static images. For standard textual content, website developers needed to stick to a small set of browser-safe fonts guar­anteed to be available on all platforms (both Windows and Mac systems) – like Arial, Times, and Verdana. But now you can display your website text in your choice of many fonts and have it look great while being usable, flexible, searchable, editable, and indexable. This really is going to change web design.
Yesterday in a remote corner of Adobe's website emerged a surprise article written by the lead designer for their Desktop Brand team, which confirms our earlier story that Adobe CS5 is coming soon (shipping estimates) and even revealed some of its visual design and icons:
Reinventing the System: The New Adobe Desktop Brand

A New Season

Winter is fading, Spring is just around the corner, and we are rapidly approaching that magical time that comes but once every eighteen months: Adobe is releasing a new suite of products, which means Adobe's Desktop Brand team has been hard at work for the last year creating a new branding system.
The author, Shawn Cheris, then goes into more of what his team does and its long branding history with products like Illustrator, with the style eventually culminating in the two-letter mnemonic system that came with the merger of Adobe and Macromedia… Then, a closer look at what's coming next:
When we began thinking about what we wanted to do for CS5, the one thing we all agreed on was that we wanted to bring back a sense of joy to the brand work. Our goal was to move beyond the monolithic expression of of the CS3 and CS4 systems and create a more dynamic language. We wanted to bring back inspirational and aspirational artistic qualities to the identity system while leveraging the successful patterns we've established with CS3 and CS4. Everyone missed the more whimsical imagery that was such a big part of Adobe's heritage and wanted to surprise and inspire our users and give them something new.