Yesterday in a remote corner of Adobe's website emerged a surprise article written by the lead designer for their Desktop Brand team, which confirms our earlier story that Adobe CS5 is coming soon (shipping estimates) and even revealed some of its visual design and icons:
Reinventing the System: The New Adobe Desktop Brand

A New Season

Winter is fading, Spring is just around the corner, and we are rapidly approaching that magical time that comes but once every eighteen months: Adobe is releasing a new suite of products, which means Adobe's Desktop Brand team has been hard at work for the last year creating a new branding system.
The author, Shawn Cheris, then goes into more of what his team does and its long branding history with products like Illustrator, with the style eventually culminating in the two-letter mnemonic system that came with the merger of Adobe and Macromedia… Then, a closer look at what's coming next:
When we began thinking about what we wanted to do for CS5, the one thing we all agreed on was that we wanted to bring back a sense of joy to the brand work. Our goal was to move beyond the monolithic expression of of the CS3 and CS4 systems and create a more dynamic language. We wanted to bring back inspirational and aspirational artistic qualities to the identity system while leveraging the successful patterns we've established with CS3 and CS4. Everyone missed the more whimsical imagery that was such a big part of Adobe's heritage and wanted to surprise and inspire our users and give them something new.
Cheris continues by hinting some defining aspects of the new Creative Suite 5 design, including icons. Drawing upon such diverse sources as Olympic pictograms, isometric grids, Swiss design, and turn-of-the-century lithographic posters, he unveils some components that we'll be seeing more of.

The Birth of CS5

An isometric grid similar to [Otl] Aicher's became the foundation of our new visual system. If nothing else, it guaranteed that we weren't going to be working with rectilinear elements anymore. Using the grid, we started to form shapes could be used as a template for creating more complex forms. These shapes became the basis for our new system – our kit of parts.

Color has the single biggest element in Adobe's visual brand system since the CS3 release. For CS5, we've opened up the system a bit by using a 2-color approach to product identity. This has substantially increased the visual differentiation between product icons, making it far more usable for customers who have a multitude of Adobe applications installed on their systems.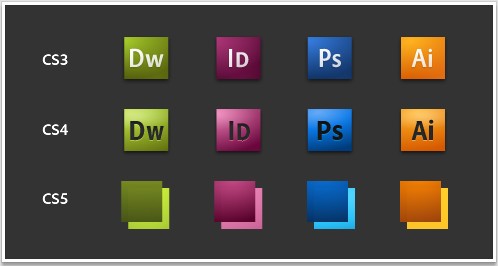 Next Time

After the CS5 launch, I'll be back to show you more about the process and the results. I'll also talk a bit about Adobe's new proprietary typeface, Clean, and our work with the Adobe type team, along with more of our inspiration and early sketches. We're really excited about the work we've done for CS5 and look forward to seeing the reaction from the design community. See you next time.