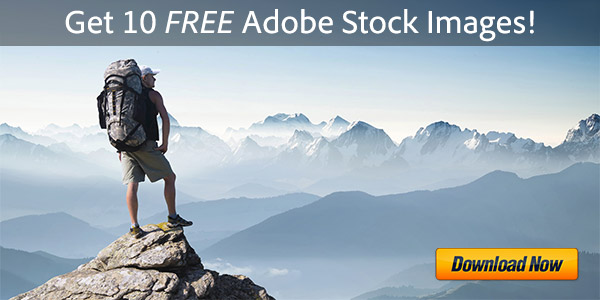 [UPDATE (January 11th, 2012) – Adobe has listened to customers and just reversed this change! CS3, CS4, & CS5 are all good for upgrade to CS6 now.]
HUGE breaking news out from Adobe, regarding substantial changes in upgrade pricing and policies for their very popular Creative Suite software…

For several years, the company has offered a "three-versions-back" upgrade policy – meaning anyone who owned a prior CS product up to three major versions back would be eligible for discounted upgrade pricing when moving up to the latest release.
Meaning, if you've got CS2, CS3, or CS4 – either a full suite or an individual point product like Photoshop – you can receive price reductions of up to 80% when upgrading to CS5.5.
Adobe now says that will be ending – the policy is going to shift dramatically, worldwide.
Starting in 2012 when CS6 comes out, this will be changing to a "one-version-back" plan – meaning to receive a price break when upgrading to CS6, you need to already be on some flavor of Creative Suite 5 – either CS5 or CS5.5.
So, what does this mean for anybody still running CS2, CS3, or CS4 at that time? Basically, if you want to upgrade later or have been waiting for CS6 to do so, it would cost you full price… To receive a discount from older versions, you'd need to upgrade to CS5 before CS6 ships.
Here it is straight from Adobe's "Conversations" Blog: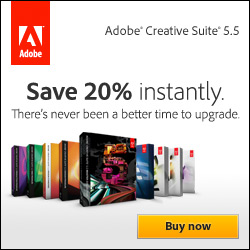 [UPDATE – See all of Adobe's current deals & discounts!]
Are you thinking about moving up to to Creative Suite 5? Well then here's a special new offer – a nice bonus – that will help…
Right now you can save a further 20% off the normally-discounted upgrade price when you upgrade to CS5.5 (to either a suite or an individual product) from any earlier qualifying Adobe tool listed below.
This new offer is now available worldwide, with no coupon or promotion code necessary. It's valid for upgrading to all the latest CS5.5 versions, but also includes Photoshop CS5.1 and Illustrator CS5 as well.
North American Store: Offer period is October 3, 2011 – December 31, 2011 March 15, 2012.
European Stores: Offer period is 3 October, 2011 – 31 December, 2011 15 March 2012.
Australia/NZ + Asia: Offer period is 9 November, 2011 – 31 December, 2011 15 March 2012.
So if you currently have one of these Adobe products with a valid license (either commercial or for education/student), then you qualify:
[UPDATE – See all of Adobe's current deals & discounts!]
Adobe has launched a true barnburner of a deal, a "first" for owners of competitive software and also for owners of many versions of Adobe products who can now buy the latest CS5.5 release of Premiere Pro or the full Production Premium suite (Windows or Mac) for half-off their normal prices with coupon code, and the offer is available all over the world…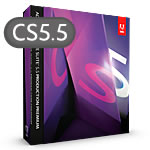 It's officially targeted at video users and producers, but because the suite contains products like Photoshop Extended, Illustrator, Flash Professional, Audition, and Flash Catalyst in addition to Premiere Pro* and After Effects* (see the full list of applications included), many could take advantage at these prices. For example, the normal price of Photoshop CS5 Extended is US$999, but with this special you get that plus an entire suite of 10 other products for US$849 total!
Apple Final Cut Pro and Avid Media Composer customers can receive the 50% savings off the full versions of Premiere Pro CS5.5 or CS5.5 Production Premium – but you must use the promotion code linked here: SWITCH. If you need more convincing, see the Top 10 Reasons to Switch to Premiere Pro CS5.5 (now just $399), or learn why Adobe is offering this sale.
Owners of any of the Adobe tools listed below are also eligible to receive the same price (50% off the full version) on the Production Premium suite, under a parallel offer…
[UPDATE – See all of Adobe's current deals & discounts!]
NEWS FLASH – This just out: a new link into Adobe.com that will score you big savings off the regular price of Adobe Photoshop CS5…
It is no joke, it is the real deal – genuine, authentic, and you're getting it direct from Adobe.

And it's not an upgrade – it's the full commercial version… You can get it via instant download or shrinkwrapped box delivered by FedEx, for either Windows or Mac, in any language.
For even more savings, it appears this sale is stackable with another current Adobe offer where you can save 30% off Lightroom when purchased at the same time…
This really is a stunning offer, the lowest price we've ever seen on any version of Photoshop. And Photoshop CS5 is a fantastic release:
[UPDATE – See all of Adobe's current deals & discounts!]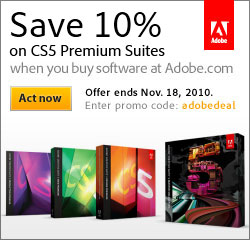 Adobe is revving up for the holiday season with another "one-week-only" special, this time to save 10% on any CS5 Premium Suite, exclusively with the promotion code adobedeal. Since this offer includes the greatest suite of all – CS5 Master Collection – the potential savings are up to $260, a "sweet" discount. Other eligible products include Design Premium, Web Premium, and Production Premium. Note that the voucher must be entered into your shopping cart prior to purchase.
Adobe has other offers coming up for Black Friday and Cyber Monday 2010, but none that will be as good as this one is for buying the suites – we guarantee it. So take advantage while you can, as this deal will expire in seven days…
[UPDATE – See all of Adobe's current deals & discounts!]
Adobe has just announced a pre-holiday "kick-off" promo to give an instant US$40 off orders placed at the Adobe Store – for seven days only…

You'll receive a one-time savings of $40 off orders of $400 or more containing full or upgrade versions of any Adobe software. In order to redeem the $40 discount, you must enter the special promotion code Nov2010SW40 in the Adobe.com shopping cart.
Orders must be placed from November 1, 2010, at 5pm PT through November 8, 2010, at 11:59pm PT. This offer is available only to customers with shipping addresses in the USA, Mexico, and Canada. This offer may not be used in conjunction with any other offers, and is not valid for Adobe Volume Licensing, OEM bundle, or education purchases.
These type of unrestricted coupons don't come along very often for Adobe, so if there's a purchase you've been thinking of, now could be a good time… Some ideas to consider could be the brand new version of Adobe Acrobat X, Photoshop/Premiere Elements 9, Lightroom 3, or of course Creative Suite 5.
[UPDATE – See all of Adobe's current deals & discounts!]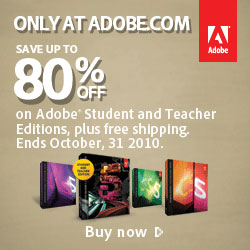 Adobe's Back-to-School promotion is live: Save up to 80% on Adobe Student and Teacher Editions, plus get free FedEx shipping… This offer is valid on all Education software products until October 31st in North America, and until November 23rd inter­nationally. Check out the details for this deal below.
Adobe's Education editions are available for almost all products (CS5, Photoshop, Lightroom, Acrobat, Elements, Captivate, etc), and are just like their standard versions, with only a few differences.
This special is available only on orders made via the Adobe Education Stores to customers in the United States, Canada, Austria, Belgium, Denmark, Finland, France, Germany, Ireland, Italy, Luxembourg, Netherlands, Norway, Portugal, Spain, Sweden, Switzerland, and the United Kingdom. OEM and volume licensing customers are not eligible for this promotion. This free shipping offer is stackable and may be used in conjunction with any other discounts.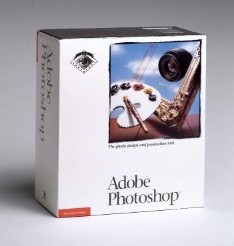 Hard to believe, but on Friday Adobe Photoshop officially celebrated its 20th anniversary (or birthday, depending on how you look at it)… The New York Times writes:
"It's remarkable when a product stays on top of its game for 20 years, and Adobe Photoshop had done just that. The first version of Photoshop shipped on Feb. 19, 1990, at a price of $895. Today it's the go-to tool for professional photographers and graphic designers, and it is used by 10 million people around the world, according to Adobe."
Indeed, the software has traveled a long way. When it first came out, Adobe predicted it would sell just 500 copies per month. Yet now, over 90 percent of creative professionals worldwide have Photoshop on their desktops. The original authors say they knew they had a groundbreaking technology on their hands, but never anticipated how much it would impact the images we see all around us.
The current CS4 version of Photoshop is actually release 11.0 – so there have been ten major versions of the tool over the past two decades. And the flagship product is less expensive now than when it originally came out, even more so (less than half the price) when adjusting to 1990 dollars. Photoshop together with Acrobat and Dreamweaver remain Adobe's top three selling individual desktop products.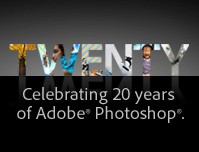 In honor of the celebration, Adobe is offering a couple new specials for the week… The first is free shipping on all Photoshop-family products in the North American commercial store. The second is free shipping on all Adobe products for the Europe and Australia commercial stores, with the promotion code adobeeu. All shipping offers are valid through Sunday, February 28th, and might be stackable with the 10%-off coupon code posted last week.

[UPDATE – See all of Adobe's current deals & discounts!]
Limited-time offer: Receive a savings of 10% on your Adobe Store order of a full or upgrade version of Creative Suite 4 suites, or individual CS4 point products – with coupon code 10offAdobe101.
New creative features. Enhanced workflows. Incredible results. You've seen what Adobe Creative Suite 4 can do. Now see what you can do with the industry-standard software used by top creative professionals worldwide.
With 10% off on Adobe Creative Suite 4 suite and individual CS4 product purchases (either full or upgrade versions), this is the time to make the move. Don't wait too long, though — this special offer ends Friday, February 26, 2010.
Note: In order to redeem the 10% savings, you must enter promotion code 10offAdobe101 (or 10offAdobe102) when checking out your shopping cart at the online store, and have a shipping address in the U.S. or Canada.
[UPDATE – See all of Adobe's current deals & discounts!]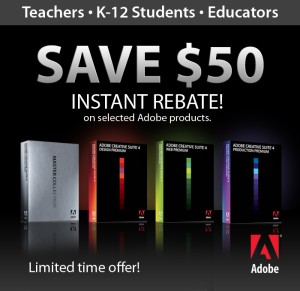 Adobe is offering free Fedex shipping on all Education products at select Adobe Education Stores. Offer valid until February 22, 2010. Plus, students, teachers, and faculty can still save up to 80% off regular prices at the Adobe Education Store.
Offer good for the following Adobe Education Stores:
North America
United Kingdom
France
Germany
Other European Countries (Austria, Belgium, Denmark, Finland, Ireland, Italy, Luxembourg, Netherlands, Norway, Portugal, Spain, Sweden and Switzerland)
Also there's another promotion where if you're a teacher or K-12 student in North America, you can save $50 instantly on the already-reduced price of a "Premium" version of CS4… This one is valid through February 28, 2010.