Here's the new and updated edition of a very handy resource from James Wamser – a complete reference to all versions of Adobe InDesign ever released… It's called the Adobe InDesign New Features Guide, 1.0 to CC (2017), and this 111-page ebook is available for free download now: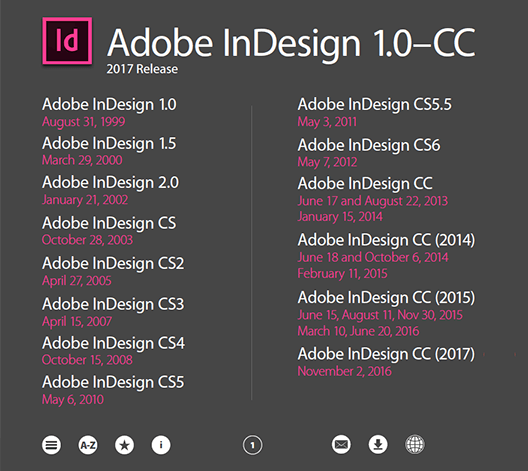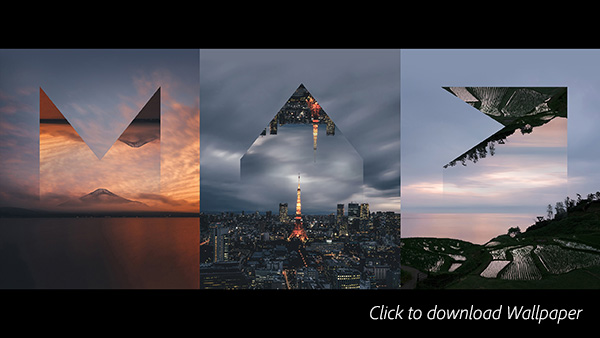 Did you make it to MAX this year? Adobe's Creativity Conference smashed all records with 10,000 attendees coming together in San Diego earlier this month, double from 5,000 just a few years ago… And that was despite the recent rise in the cost of a full conference pass to US$1,595.
For the price of that ticket, participants enjoyed major new product launches, inspirational key­notes from creative luminaries, hundreds of enriching training sessions, plentiful opportunities for networking with colleagues, access to the latest cool technology on the pavilion floor, meeting the Adobe product teams in person, the highly-anticipated "Sneak Peek" demos of jaw-dropping new features under development, and of course the famous MAX Bash party.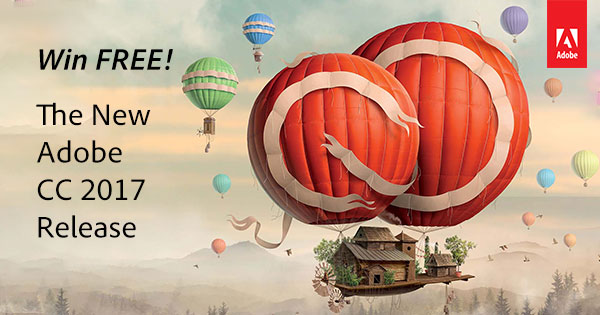 [UPDATE – Also see our new MAX 2017 Ticket Giveaway!]
Two weeks ago, Adobe shipped the all-new CC 2017 set of tools and services – a milestone marking the fifth major release of the CC product line, which replaced CS6 from 2012. This latest CC version contains thousands of new features and advancements compared to CS6 (across all creative applica­tions), and it is available only via Creative Cloud membership – a community which now surpasses 9 million paid subscribers.
Adobe CC 2017 is also known as the Creative Cloud 2017 Release… And that is exactly what we're giving away for free below, and this offer is open to everyone world­wide.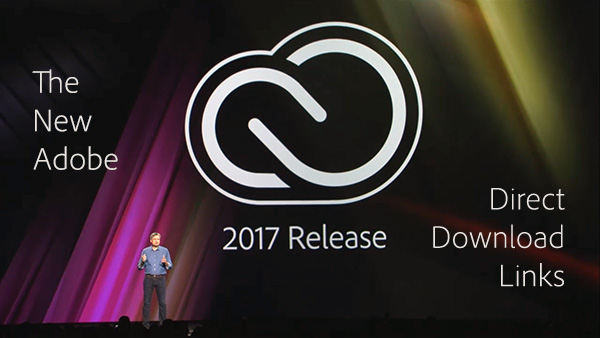 The new Adobe CC 2017 release was announced last week, including 15 upgraded desktop applications with new features across the board plus other major advancements… And there's no wait: the Creative Cloud 2017 software is available immediately for worldwide download via the CC Desktop App… This means everyone gets either a free upgrade or a free trial – but some folks want or need to access the new tools directly without using Adobe's download/app manager.
Adobe has just published an initial set of direct download links for the CC 2017 release, for instant access (plus the ability to use your own download manager) if you have any difficulty with what Adobe normally employs and want to get the tools or trials without it… These can also come in handy if you want offline CC 2017 installers to use, store, or back up with (i.e., copy to USB flash drive, burn to DVD media, etc).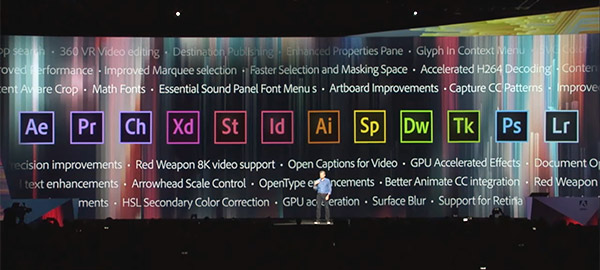 One of the most common upgrade questions we see out there is asking what's new, what's different, what's better, what's changed between Adobe's just-launched CC 2017 release and the previous CC 2015.5, CC 2015, CC 2014, CC 2013, or 2012's Creative Suite 6 – or even the older CS5, CS4, CS3? Or more fundamentally, what are the key new features and advancements in CC 2017 versus prior versions?
Now that the new CC 2017 mile­stone release is shipping world­wide, everyone is entitled to either a free upgrade or a new free trial for 7 days. Ongoing access to these tools requires a Creative Cloud mem­ber­ship (either for one app or for all of them), with discounts available for education custom­ers. Adobe says that if you look at all of the changes since CS6 to the current CC 2017 release, there have been thousands of significant updates – meaning new and enhanced features, added capabil­ities, and perfor­mance boosts – to the key creative applications.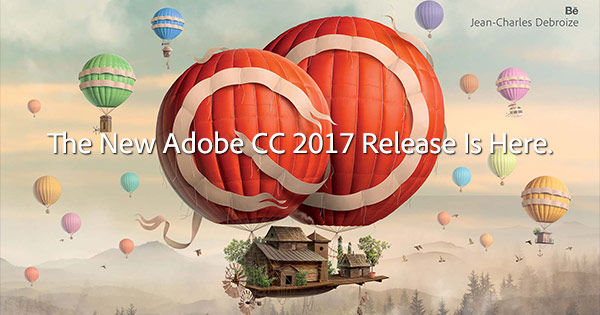 Adobe just announced the immediate availability of the all-new CC 2017 release, with hundreds of new features and enhancements across their creative product line focusing on innovative new tools, improved performance, smoother workflow & connectivity, and some of that Adobe magic… Creative Cloud 2017 is the next major release following the CC 2015, CC 2014, and CC 2013 versions, which in turn replaced CS6 from 2012.
The 15 upgraded desktop applications are Photoshop, Illustrator, InDesign, InCopy, Animate (formerly Flash Pro), Muse, Dreamweaver, Premiere Pro, After Effects, Character Animator, Audition, Prelude, Media Encoder, Bridge, and Experience Design (XD). All current Creative Cloud members receive an automatic upgrade to the 2017 Release, and all of the new free trial downloads are also now live online. As before, the new tools and services are available via budget-friendly annual or monthly memberships. Creative Cloud membership continues to expand at an acceler­ating pace around the world, with now over 9 million paid customers having signed up.
Adobe is having a worldwide sale with money-saving deals lined up through Black Friday and Cyber Monday 2016 (and beyond), and we've got the complete guide below… There are some nice offers on tap for major products in this "season of savings" – with discounts as much as 68% off the regular prices!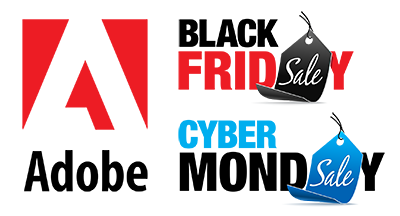 The company is running two major promo­tions for the all-new Creative Cloud (CC) 2017. Both are the lowest prices ever offered on these popular products. The holiday deals begin today and will run continuously until Friday, Decem­ber 2nd at 11:59pm Pacific Time. (Extended!)
The two big offers are:
— Creative Cloud 20% Off: Normally $49.99/month for new customers signing up for an annual plan – now the complete Adobe CC member­ship will be available at a special discounted rate of $39.99/month (or £36.59/€47.59/A$45.99 including VAT) for one year. To go one better, you can save $10/month on the best package available, Creative Cloud 'All Apps' together with Adobe Stock. No previous software owner­ship or other qualifications are necessary to receive these reductions.

Having originally launched five years ago, by this time you've heard about Adobe's fast-growing Creative Cloud, you've dispelled the all-too-common myths out there surrounding it, and perhaps are considering subscribing to CC now that over 9 million of your colleagues already have…
You may also know that Adobe stopped development of the older "CS" releases back in 2012, and that there have been thousands of new product features, enhancements, and performance improvements added to CC since then, as well as integral new services.
But did you know that no matter what you do, you can sign up right now for a zero-cost class of membership that never expires and provides free benefits for life? Anyone can have this free level currently in 84 countries worldwide, even if you still use the older tools instead, or even if you use no other Adobe products or services at all.
Here is all of what you get completely free, permanently: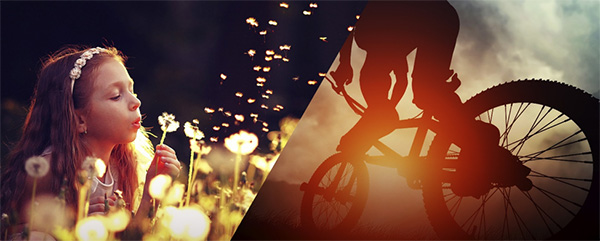 In keeping with our tradition of publishing the direct download links for major Adobe products such as Creative Cloud, CS6, Lightroom 6/CC, and Acrobat DC, below you'll find the direct links from Adobe's servers for the free trials and full offline installers for the new releases of Photoshop Elements 15 and Premiere Elements 15, for both Windows and Mac OS.
Four years ago, Adobe acquired Behance – the leading online community and social media plat­form for creative professionals, which is often referred to as "The LinkedIn for Creatives." Back then, Behance had about 1 million members. Since that time, with Behance's inclusion into Creative Cloud (even with the free version), growth and participation have exploded – and the Behance community now boasts over 8 million members receiving 66+ million project views per month.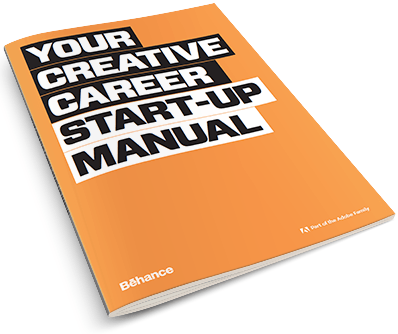 With Behance, you can easily upload your photo­graphs, projects, or portfolios and gain a fantastic way to showcase, share, and get exposure for your work as well as receive feedback from your creative peers, and get inspired for future work. You can publish many types of media such as images, text, illustrations, video and audio, and follow statistics on how many views your projects are getting, and potentially make money. There's even a helpful job list for creatives and freelancers, with hundreds of employment opportunities.