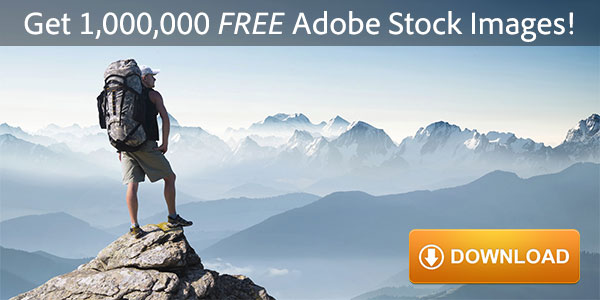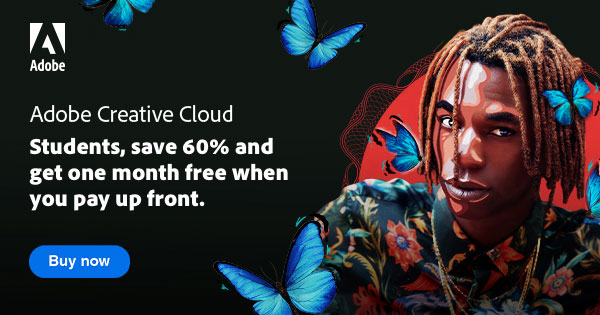 [UPDATE – See all of Adobe's current deals & discounts!]
Here we are at that time of year again – it's back to school, and the sales that often come with it… So for a limited time, Adobe is offering a special deal for students and teachers. In addition to the regular education discount of 60+% off of the standard price for an annual Creative Cloud membership, you can now also get one month free when you prepay for your first year.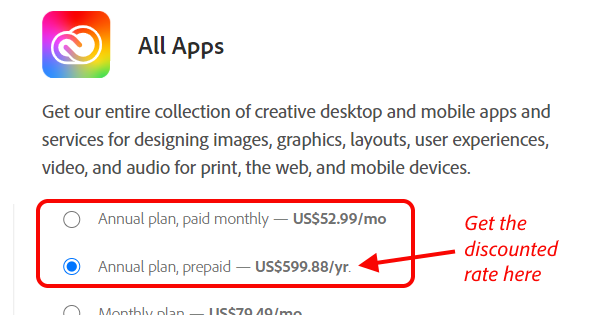 Here's an insider tip on how to save 5-6% on most Creative Cloud subscriptions… This includes the top "All Apps" membership, as well as almost all Single-App subscriptions – and it always works in most countries, with no coupon or promo code needed and no expiration date.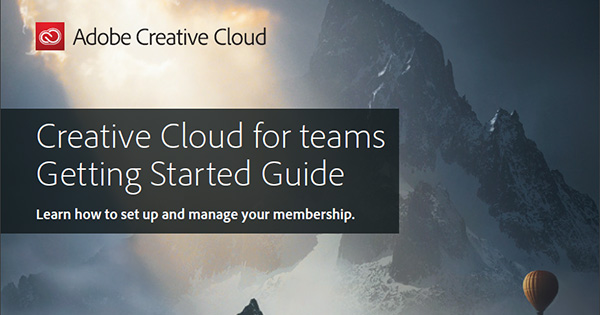 If you've already purchased or are considering buying Adobe's Creative Cloud for Teams, then the free downloadable PDF guide (plus videos) below will help you learn how to best use the group and licensing management tools that come with this plan.
Here's a very helpful resource out from James Wamser – a complete reference to all versions and features of Adobe Illustrator from CS6 to CC 2020… Similar to his InDesign and Photoshop handbooks, it's called the Adobe Illustrator New Features Guide: From CS6 to CC – and this 43-page ebook is available for free download now: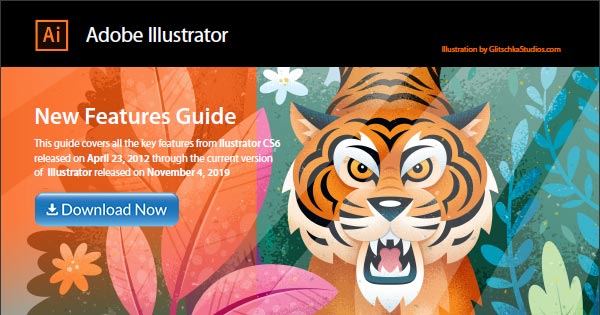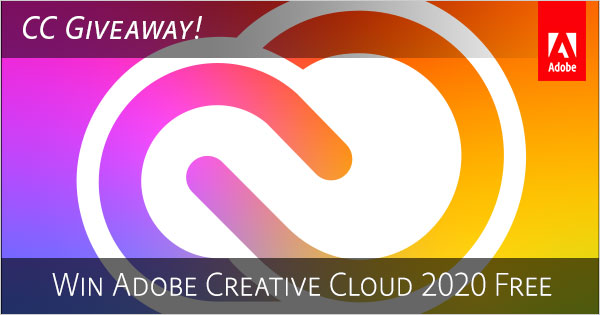 Last fall, Adobe shipped the new 2020 collection of tools and services – a milestone marking the eighth major release of the Creative Cloud product line which launched in 2012. This latest CC version contains thousands of new features and advancements compared to CS6 (across all creative applica­tions), and it is available only via Creative Cloud membership – a community which now surpasses 18 million paid subscribers.
Sometimes even despite using Adobe's free trial downloads to try out the software before buying, customers may wish to return an Adobe product or exchange for something different instead – say swapping the CC Photography bundle or returning an individual CC tool and getting the 2020 "All Apps" plan instead (which includes 22 applications instead of one).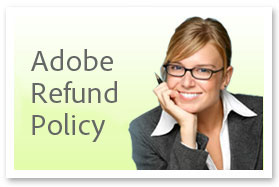 In which case, did you know that Adobe offers a full money-back guarantee on almost all current products? This includes Creative Cloud (CC), Acrobat, Captivate, Photoshop Elements, and so on. This offer applies even after you've already downloaded and installed the product on your computer(s). However, only software bought directly from Adobe.com worldwide can take advantage of this refund policy (not purchases from resellers or retailers, and never auction sites).
Yes, it's true – simply contact Adobe within 30 days of your order for non-subscription products – via live online chat is usually fast and convenient. Then, just follow the correct procedure and they will take it back (after being uninstalled and deactivated from your computers, if applicable) and issue you a complete refund.
For subscription plans, it's even easier – in most cases, you can simply change or cancel your plan online yourself (for any reason) within 14 days of your initial order, without needing to contact Adobe. Refunds are typically processed within about a week.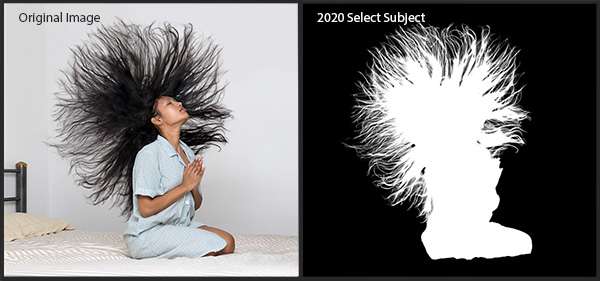 Knowing how to make a good selection is one of the most important things you can learn to do in Photoshop. With accurate selections and masks, you can completely control the placement and movement of all the elements of your image, or copy an object from one photo to another.
But making good selections and masks can also be one of the most time-consuming processes in Photoshop. And we take for granted what our eyes can easily see, yet a program usually cannot recognize without our involvement. But in 2018, Adobe introduced a new one-click feature in Photoshop (see original video below) that gives you a big head start in this regard: Select Subject.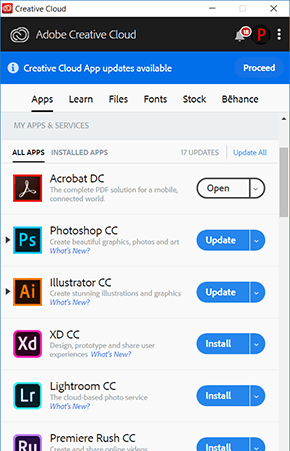 We're on the Adobe Help Forums every day and regularly see users posting queries like "Can't install Photoshop from the Creative Cloud" or "CC 2020 won't download," or "my product updates aren't working"… It could be for the free trials or for the full paid versions.
Often the issue is related to one or the other download managers (DLM) that Adobe uses to deliver its software install­ers. Over the years and for various tools, they have used the Akamai Down­load Manager, the Adobe Down­load Assistant (ADA), the Adobe Applica­tion Manager (AAM), and now the Creative Cloud's Desktop App.
Adobe employs these helper utilities because their downloads are usually large – multiple gigabytes – and download managers can help correct for unreliable Internet connections, and resume a download after it has been paused or unexpectedly broken.
But it turns out there can be interactions between the DLM and configurations of your computer, web browser, anti-virus software, Internet connection, Read more…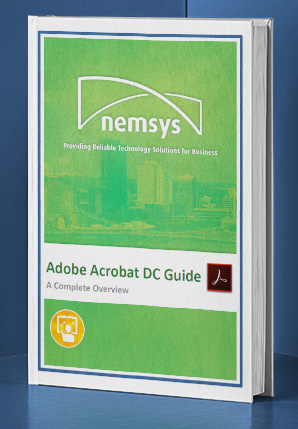 Next to Photoshop, Acrobat Pro & Standard is Adobe's top-selling product line of all time: it's offered standalone plus included in "All Apps" subscriptions of the Creative Cloud – so there are a lot of people using it worldwide. The three free books below will help you learn how to use it better and more effectively…
The first book is all about the most recent Acrobat DC release, which debuted in 2015. The second ebook covers the previous Acrobat XI release from 2012, and the third one is for the older Acrobat X. All together, these guides encompass 206 pages and contain dozens of helpful tutorials that will help you discover the advantages of using Acrobat and how to get the most out of it… Following the easy walkthroughs will quickly introduce you to new ways to save time and simplify complex projects.
Each chapter includes step-by-step instructions for performing common tasks efficiently. Keep a copy access­ible as an easy–to–use resource for learning new techniques.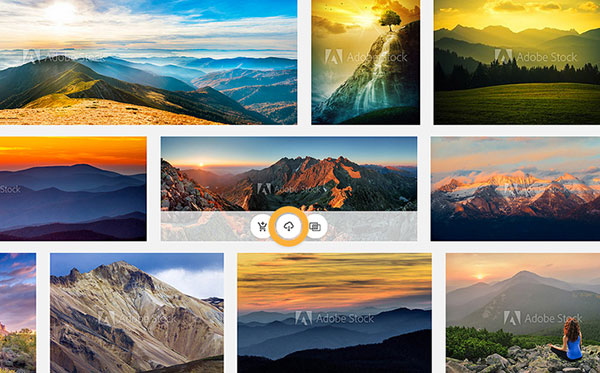 HUGE NEWS! – Adobe has just launched a brand new curated collection of over 75,000 completely free photos, vectors, illustrations, templates, and videos from talented Stock providers… This new Adobe Stock Free collection is available for everyone to download at all times – plus these high-quality assets meet the same standards as the paid collection, so all of them come with a royalty-free commercial license forever. Check out the free Stock here, and download away!