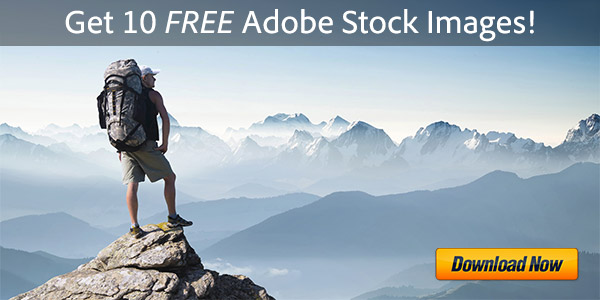 Now that the Adobe CC release has become ubiquitous with over 12 million paid customers, more folks are asking us whether the new versions of the tools in the Creative Cloud can read or save older data/document/project file formats like CS6, CS5.5, CS5, CS4 & CS3…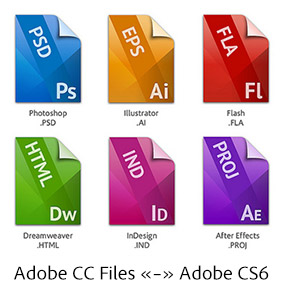 In fact, since Adobe's flagship creative toolset CC 2018 is now six major releases past CS6 from 2012 (which they no longer sell), file version compatibility can some­times be an important decision point in moving forward.
In the past, new Adobe product versions have often brought different or expanded file formats to support significant new features – and customers want to know if their existing projects will easily carry forward with them when they upgrade, or if they will be able to save back to older formats for coworkers or clients who may still be running an earlier revision of the programs…
OK then, here's how it works. Generally, your new CC tools will be able to open and use any and all earlier CS project and data files – including CS3, CS4, CS5, CS5.5, and CS6 files – with no problem or loss of information. In other words, all Adobe software is able to read or import file formats from previous versions of the same program – and it should happen seam­lessly and automatically. The only exception to this is Premiere Pro, where it's best to open/edit projects in the same versions that created them.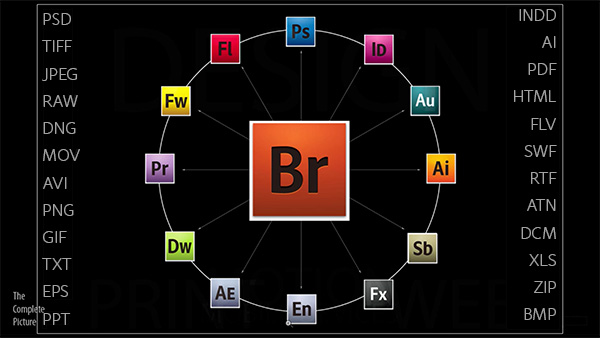 In response to our How to Join Adobe's Creative Cloud for Free post, we received this question from a reader:
Hi – is it really true that Adobe Bridge (the full version) is totally free to download and use forever, and I don't have to pay for it or have a subscription?
The answer is yes, it's absolutely true – although not that many people know about it because Adobe hasn't really publicized it widely…
Over the years, we've put together a large collection of free Adobe books that we share with our readers here… This extensive set of helpful, no-cost books has now grown to over 30 different titles that you can legally download and use royalty-free, forever.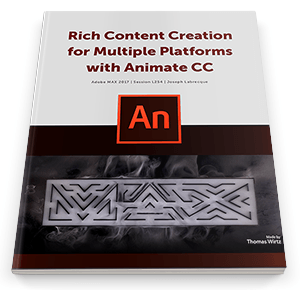 These digital books cover Creative Cloud, Creative Suite, Photoshop, Illustrator, InDesign, Dreamweaver, Muse, Lightroom and more – but up till now, we haven't had a good and recent offering for Adobe Animate CC (formerly Flash Professional).
Fortunately, this has just changed with the publication of the new "Rich Content Creation for Multiple Platforms with Animate CC" guidebook, which comes from award-winning Adobe Education Leader and longtime Animate guru Joseph Labrecque.
Mr. Labrecque conducted a paid Animate CC workshop at the last Adobe MAX conference, and is now making the class's training materials available to the general public completely free of charge. This special offer includes the main 104-page course workbook together with 17 MB of sample working assets, all of which you can download for free here.
Here is the overview description of this course: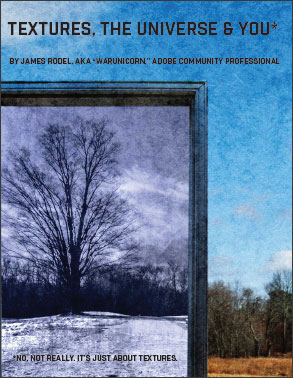 We've got another great resource for you – a freely-available collection of custom Photoshop textures to help set your work apart… This exclusive set of 29 different handcrafted textures has been released by War Unicorn Media at no cost and is 100% royalty-free. This collection comes complete with an 18-page guide (available online or as a download­able PDF), filled with tips and tricks on how to best use textures in your Photoshop workflow, as well as how to create your own!
Textures are super-easy to apply and use in Photoshop. Just load the texture into a new layer above your composition, and then set its Blending Mode and Opacity for how you want it to impact the photograph or image underneath. More details and ideas are given in the short tutorial video included below.
Here is James Rodel's introduction from the accompanying guide, which is packed with examples and entitled, "Textures, the Universe, and You":
Here's the new and updated edition of a very handy resource from James Wamser – a complete reference to all versions of Adobe InDesign ever released… Similar to his Photoshop handbook, it's called called the Adobe InDesign New Features Guide, 1.0 to CC (2018), and this 111-page ebook is available for free download now: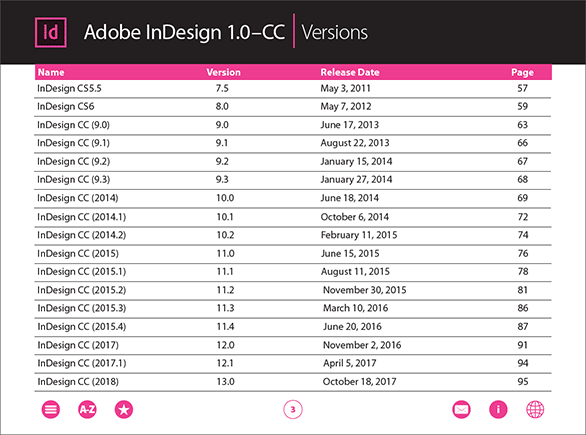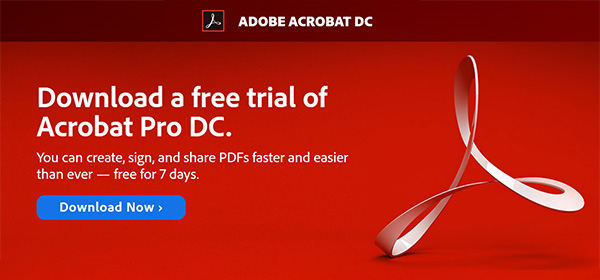 Adobe Acrobat DC 2018 is now shipping! If you hadn't already known, "DC" stands for Document Cloud, which is Adobe's set of integrated online services to help people and businesses better manage critical documents. At the heart of Document Cloud is Acrobat DC – the industry standard for creating, sharing and editing PDFs – which was completely redesigned for the initial DC 2015 milestone release three years ago. For more information, see: What Is the Document Cloud?
Acrobat continues as a desktop product in both Pro or Standard editions, and is available either via subscription or with a perpetual (one-off) license. Read more…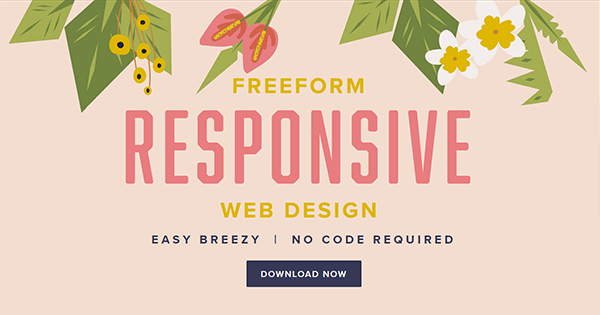 Adobe Muse is a modern website builder that enables you to create gorgeous HTML5 sites that dynamically scale to any device – and Muse allows you to do this without writing any code. Muse is included for all Complete Creative Cloud ("All Apps") members, as well as available via a Single-App Subscription. So with many millions of people already receiving Muse with their CC purchases, there's a broad audience for training materials on how to get going with this helpful program…

We've previously covered here how to transfer Adobe software products (like Creative Cloud, CS6, Photoshop, Lightroom, Elements, or Acrobat) between two computers, including from PC to Mac or vice versa. In this article we're going to focus on transferring the actual legal license from one person or company to another, like transferring the title to a car or home between two people.
Moving the software physically is mostly a technical task, but doesn't cover what happens if the recipient has problems, needs customer support or updates, wants to be registered with Adobe, and be recognized as the new rightful owner and user of the tools. To address those needs, you can follow the transfer process described below to "unregister" the program from the old owner and re-register for the new one.
Longtime readers know that we offer a series of free books for Adobe software with over 30 different titles that anyone can download on how to best use the different major products… These books have been extremely popular and well-received.
But since Adobe software is all about creating, for a long time there was a missing part: a collection of free books simply about building your creativity – something that everyone in the world can use and benefit from… So here is that set! You can legally download and use the five PDF e-books below to inspire your own creative process and help improve your work, no matter what you do in life. They are (in our view) all easy, enjoyable, and enriching reads.
Book #1: The Creative Aid Handbook (142 Pages)
Co-creators Richard Tapp and Nicole Smith of Kooroo Kooroo rightly describe The Creative Aid Handbook as a outside-of-the-box resource to get your creative juices flowing: "We wrote, designed, and illustrated a book featuring unusual tips to nurture your creative well-being, boost your creative intellect and foster internal inspiration. Meant to serve as a mini-resource for your creative projects and food for your creative thoughts. Read more…
Knowing how to make a good selection is one of the most important things you can learn to do in Photoshop. With accurate selections and masks, you can completely control the placement and movement of all the elements of your image, or copy an object from one photo to another.
But making good selections and masks can also be one of the most time-consuming processes in Photoshop. And we take for granted what our eyes can easily see, yet a program cannot recognize without our involvement. But check out this sneak peek video of a new feature in Photoshop CC that will give you a head start in this regard: