NEWS FLASH – Adobe has just announced a free public beta release of the eagerly-anticipated Photoshop Lightroom 5, with new tools and advancements to develop, enhance and share your digital photographs… Lightroom 5 provides photographers with an elegant and efficient way to work with their growing digital image collections, bring out the best in their images, and make an impact from raw capture to creative output, all while maintaining the highest possible quality each step of the way.
"The Lightroom team is proud to introduce the fifth major version of the product designed for and by photographers. We've been hard at work improving an application that's intended to be as easy to use as it is powerful. This release builds on the image quality improvements in Lightroom 4 to provide a truly complete workflow and imaging solution. We encour­age you to try the beta release and provide your feedback to the product team."
Available as a free public download for Windows and Mac, the Lightroom 5 beta is a limited-time preview of new features and capabilities that will be offered in the final release of LR5, expected in mid-2013 and available separately as well as part of the Creative Cloud.
[UPDATE (April 15th) – The Lightroom 5 public beta release is now available! Adobe says it will be fully free until June 30, 2013 - which could tip off the final/official LR5 ship date...]
Last week Adobe Lightroom 4 celebrated its first birthday – yes, it was released one year ago this month – and so this is usually around the time when people start asking: when will Photoshop Lightroom 5 be released, and what new features will be included in it?
Adobe hasn't said, and has not given advance notice in the past. But as shown in the chart below, Lightroom has run an average of about 20 months between releases (ranging from 17 to 23 months). So if history is any measure, then moving forward twenty months from when version 4.0 came out could put Lightroom 5 shipping in the fall of 2013…
But there's more to the story. Every previous release of Lightroom has had at least one public beta period – and even all the dot-releases have had betas as well – so a beta release would generally be expected for Lightroom 5 too. These beta periods have lasted 2-3 months each. Adobe has not yet announced a Lightroom 5 beta, so it's reasonable to assume that we should be seeing one on Adobe Labs well before the official release of the product. In other words, don't expect (the final) Lightroom 5 for at least several months from now – or from the time the beta comes out.
Yes – Adobe Photoshop Lightroom 4 is just out and now shipping! Pretty much on the time­frame we forecast, you can download a free trial today… And the new product will work side-by-side with any previous releases of Lightroom you may own. If you have an earlier version installed, Lightroom 4 will ask if you'd like to upgrade your catalog and copy everything over.
And the big news is – HUGE price drop! The price is now only US$149 for the full version (half the previous price), and just $79 to upgrade from any previous version (LR1, LR2, or LR3 of any kind)… Students and teachers can grab the full education edition also now for $79.
International versions are priced lower across the board as well. Languages available today include English, French, German, Japanese, Italian, Dutch, Swedish, Spanish, Portuguese, Korean, and Chinese.
Adobe Evangelist Terry White has a terrific new training session out showing you how to get started achieving immediate and impactful results using new Lightroom 4… This 37-minute class covers all the basics and walks through how to accomplish the top 10 things that beginners always want to know how to do.
Here's the overview:
In this episode we're going to take a look at how to get started with Lightroom 4 – the ten things beginners want to know how to do. It's kind of keeping up with a primer series I've been doing: I started with Photoshop and then I did InDesign, and now it's time to do Lightroom. So let's jump right in and talk about the 10 things beginners want to know how to do right off the bat.
Following onto a successful public beta period, the long-awaited Adobe Lightroom 4 final release began shipping earlier this week, and has some folks pretty excited about the new features and capabilities. There's a complete list further below, but some of the biggies include much better video support, soft proofing, integrated maps and photo books, enhanced sharing & exporting, and some amazing improvements to the Develop module.
We've got a new video set from the popular Julianne Kost giving a thorough review of what's new and improved… (2 hours of coverage; see Table of Contents)   If you want to try out the software for yourself, the 30-day free trials are also now available for download.
New Features in Lightroom 4 (Video Collection)
Adobe recognizes that many people use both Lightroom and Photoshop in their workflows, and so is offering a special deal where you can save 30% off the full version of Lightroom 4 if you purchase it together with the new Photoshop CS6 in any form. This means if you buy Photoshop CS6, Photoshop CS6 Extended, or any CS6 suite edition (which all contain PS), you'll get 30% off Lightroom when you buy them at the same time.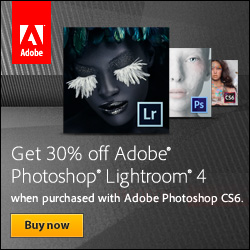 And it works for either buying the full version or upgrading from an older version of Photoshop or the CS suite… So if you are buying Lightroom for the first time, you'll get 30% off the price of the full version (normally $149/€109/£87) – and in the U.S. they round this down to just $99. No promotion code is required to activate the discount, which will be reflected in your shopping cart just prior to checkout. This offer is valid worldwide until Decem­ber 31st, 2012, but pricing is available only through the online Adobe Commercial Store (in other words, Volume and Education customers are not eligible, perhaps because the LR4 student edition is already US$79).
"What's the difference between the different Photoshops?"
We've seen this question sooo many times, we just had to write a complete article about it.  With four different members of the Adobe Photoshop family, it can be confusing what is what and which to get…  And now that Elements 11 is out, it's a good time to look at this.
If you ask Adobe, they'll tell you:
Q:  How do Adobe Photoshop, Photoshop Extended, Photoshop Elements, and Photoshop Lightroom software differ?

A:  Photoshop Elements 11 (US$99) is designed for people who are just getting started with digital photo editing, and delivers powerful yet easy-to-use options that help you organize, edit, create, share, and help protect your personal photos.

Photoshop CS6 (US$699) is the professional standard for creating and manipulating powerful images, and Photoshop CS6 Extended (US$999) delivers every­thing in Photoshop plus tools for creating and editing 3D images and objects.

Photoshop Lightroom 4 (US$149) addresses the workflow needs of professional and serious amateur photographers, enabling them to import, process, organize, and showcase large volumes of digital photographs quickly, or develop a single image.
Adobe Lightroom 4 is only days old, yet it's quickly getting rave reviews across the net…
PC Magazine gives it 4½ stars and their Editors' Choice Award for photo workflow software, writing: "For anyone who's serious about digital photography, Adobe Photoshop Lightroom 4 is now a more essential tool than ever – this is the app you need."
Digital Photography Review also has great things to say: "Lightroom 4 is a substantial upgrade … offers an impressive list of features … on image quality, the Lightroom team has kept its eye on the prize … consistently getting pleasing results in fewer steps … works impres­sively well on a range of images … you can get superior results compared to previous versions … video users will also be pleased … welcome surprise price drop … compel­ling reasons to upgrade."
And there is already a wealth of free learning resources available… Here are some good ones:
With one year wrapped up and a new one just beginning, it seemed a good time to put together a review of the best and most popular posts here since our site launched in 2009.
These are the top articles that consistently have the highest readership on our site, month after month, covering all major Adobe software products… They're broken out by topic below in case you've missed any, or are new here – so bookmark, share, and enjoy!
Adobe Photoshop
Creative Suite

[UPDATE (March 6th) – The Lightroom 4 final release is now shipping!]
NEWS FLASH – Adobe has just announced a free public beta release of the eagerly-anticipated Photoshop Lightroom 4, with new tools and advancements to enhance and share your digital photograph library:
"Available as a free public download from Adobe Labs for Windows and Mac, the Lightroom 4 beta is a preview of new features and capabilities that will be offered in the final release of LR4, expected in early 2012.
The beta features refined technology for superior shadow and highlight processing, expanded management capabilities including enhanced DSLR video support and the ability to create beautiful photo books from within Lightroom. Adobe encourages photographers to try the beta release and provide feedback to the product team."
The news comes six years to the day from the very first beta release of Lightroom 1 on January 9, 2006, where it all started… Lightroom is Adobe's digital photography workflow solution helping amateur and professional photographers quickly import, manage, enhance and showcase their images.
And great news – some long-requested new features are here now in LR4…