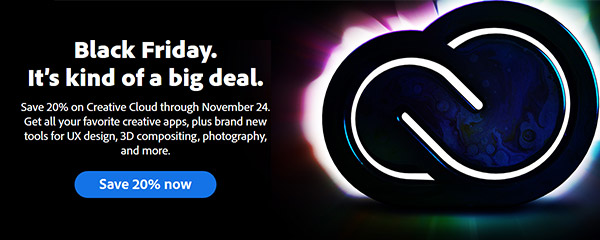 Yes, CS5 is out! It looks like a phenomenal release, and we have full coverage – including new products, pricing, configurations, system reqs, videos, "what's new" feature lists, and more:
ALL CS5 products are immediately available for purchase and instant download, with free shipping on all Adobe orders over €500/£350 in Europe and the U.K. (no coupon or promo code is required)…
On Adobe's site: If you're considering upgrading from your current software, here's a helpful upgrade guide. Also new is an excellent FAQ covering purchasing policies and key product changes… The online documentation for all CS5 products also just went up.
Lastly and importantly, the CS5 free trial downloads and Student and Teacher Editions
(up to 80% off) are also now available!
[UPDATE (May 13th) – Adobe CS5 is now shipping and downloadable in 16 languages: English, French, German, Japanese, Spanish, Portuguese, Italian, Dutch, Danish, Swedish, Norwegian, Finnish, Czech, Polish, Russian, and Korean.]
Categories:
Tools
Adobe, after effects, CS5, dreamweaver, flash, illustrator, indesign, photoshop, premiere, suites, upgrade, videos
[UPDATE – Also see our new Adobe CC 2018 Giveaway!]
Less than a week to go now until the big Global Online Launch of Creative Suite 5, if you haven't signed up yet … We've talked a lot here about Photoshop CS5, so here's your chance to win it for free! All you have to do is enter your email address in the "Adobe Special Offers" box in the sidebar to the right for our free occasional e-newsletter. That's it.
It's open worldwide with one subscription per person and submissions end at 11:59pm EDT on Friday, April 30th, 2010. Then on May 1st (right before we think CS5 is released) we'll choose one new subscriber at random, and if it's you we'll ship you a shiny new shrinkwrap­ped box of Photoshop CS5 for free! (up to $699 value) We'll contact you via email just to get your address for shipping, and then follow up back here announcing your first name and home­town. It's that simple, no kidding!
If you like, you can find out more about the newsletter you'll be receiving – it typically contains select Adobe-related news items plus the latest discounts and great coupon codes. And of course you can easily unsubscribe from the bottom of any issue. Naturally we'll never spam you or share your email address with anyone else, ever. So enter your email today and tell your friends – someone has to win the giveaway and there's nothing to lose!
Just out: a very cool Adobe Photoshop CS5* preview demo on a new feature called Puppet Warp that lets you distort and warp images with extreme accuracy… Just set a few control points and then it becomes a breeze to precisely reposition or warp any image element – like swing a raised arm to a person's side in a photo, wrap a rope any way you want, manipulate a puppet, stretch or wind text to create new effects, or structurally realign images with a click or drag of the mouse… What else can you think of?
Incredible convergence happening with these tools and what they can do.
* Creative Suite 5 inclusion is subject to the same disclaimers confirmed! as for our earlier previews on Photoshop CS5 and Dreamweaver CS5.
Since our popular post Thursday with the latest "sneak peek" preview of the stunning new Content-Aware Fill (aka PatchMatch) technology in Photoshop CS5, another "insane" video has surfaced… This one comes from last week's Photoshop World in Orlando, and shows something we still find impossible to believe.
But before we get to that, first Photoshop CS5 gets unveiled by JohnnyL!
---
"Any sufficiently advanced technology is indistinguishable from magic." [Arthur C. Clarke] — that's what comes to mind when watching this latest preview demo from the Adobe Photoshop team… There have been several videos out on this amazing new Photoshop CS5* Content-Aware Fill (aka PatchMatch) technology, but this new one is the best. Move/remove/repair entire objects with the back­ground automatically filling like the object was never there – jaw-dropping, really. Incredible how easy this makes it and what the possibilities could be – and thinking already of the hours it's going to save.
The best part is about halfway the video when he makes trees and roads disappear and then creates desert and mountains and clouds and sky from seemingly out of nowhere, all with single clicks of the mouse. And just like when watching magic on TV, we found ourselves wondering if there was something going on "behind the scenes" to make it work… But let's hope not – what do you think?
By the way, the breakthrough new technology shown here is a joint development effort between the Adobe Photoshop team and the Graphics Group at Princeton University.
* Creative Suite 5 inclusion is subject to the same disclaimers confirmed! as for our earlier previews on Photoshop CS5 and Dreamweaver CS5.
In recent days and weeks Adobe has been slipping out little preview videos of some of the features that could be coming in Photoshop CS5 (well OK not necessarily "CS5" but rather "a future version of Photoshop," is the official word… 😉
They cover new technologies for painting, coloring, selection, alignment, edge detection and masking, among others, to help save time and effort.
Here we've put together the entire collection thus far, in case you've missed any or haven't seen them yet… Each one is bite-sized at about two minutes apiece, and for best viewing, click the expand icon after pressing play on each thumbnail for full-screen HD:
[UPDATE (April 29th) – Creative Suite 5 is now shipping!]
[UPDATE (April 16th) – We've put together new estimates on likely CS5 shipping timeframes, plus information on Adobe's "free upgrade" grace period for CS4.]
When will Adobe Creative Suite 5 be released? That seems to be a big question of the season… Now that it's March, let's take another look. If you search the Adobe site for CS5, you'll find some good tidbits, particularly about Flash Pro CS5 and Photoshop CS5, but little that's concrete on timing.
But if you look to coverage of a financial conference the CEO spoke at last week, the Wall Street Journal writes: "CS5 is slated for release in April, though Narayen wouldn't comment on a release time frame at the conference. Narayen said Adobe will ship its new version of Flash around the same time as CS5, in the first half of this year. 'Data points and reviews point to a really solid release' of CS5, he said."
So it sounds like at this point there is still no official date from the company, but the financial community (whose jobs depend on researching this type of info) is expecting it to be available in the mid-spring. And if it were to come three years after the CS3 release, and eighteen months after CS4, then it would be in the second half of April – so with any luck, not too much longer to wait…
Hard to believe, but on Friday Adobe Photoshop officially celebrated its 20th anniversary (or birthday, depending on how you look at it)… The New York Times writes:
"It's remarkable when a product stays on top of its game for 20 years, and Adobe Photoshop had done just that. The first version of Photoshop shipped on Feb. 19, 1990, at a price of $895. Today it's the go-to tool for professional photographers and graphic designers, and it is used by 10 million people around the world, according to Adobe."
Indeed, the software has traveled a long way. When it first came out, Adobe predicted it would sell just 500 copies per month. Yet now, over 90 percent of creative professionals worldwide have Photoshop on their desktops. The original authors say they knew they had a groundbreaking technology on their hands, but never anticipated how much it would impact the images we see all around us.
The current CS4 version of Photoshop is actually release 11.0 – so there have been ten major versions of the tool over the past two decades. And the flagship product is less expensive now than when it originally came out, even more so (less than half the price) when adjusting to 1990 dollars. Photoshop together with Acrobat and Dreamweaver remain Adobe's top three selling individual desktop products.
In honor of the celebration, Adobe is offering a couple new specials for the week… The first is free shipping on all Photoshop-family products in the North American commercial store. The second is free shipping on all Adobe products for the Europe and Australia commercial stores, with the promotion code adobeeu. All shipping offers are valid through Sunday, February 28th, and might be stackable with the 10%-off coupon code posted last week.