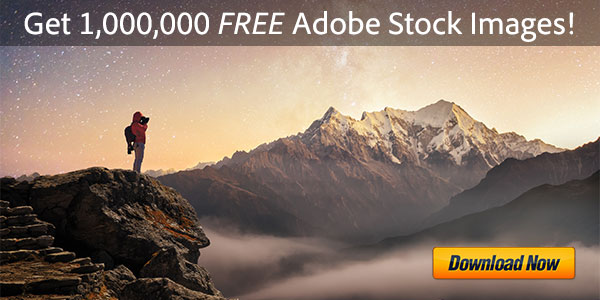 Archive for September, 2010
[UPDATE (October 18th) — Right on time, Adobe Acrobat X is out! Download a free trial.]
We first wrote about the next version of Acrobat three months ago, when the current Acrobat 9 celebrated its second birthday. At the time, we highlighted the window for the likely availa­bility of Acrobat 10. Last week on a financial conference call, Adobe's CEO confirmed it is on target for that window when he said, "We are on track to deliver a new version of Acrobat late this quarter." Adobe's current fiscal quarter ends in late November, so we continue to expect the launch date anywhere from mid-October to the end of November.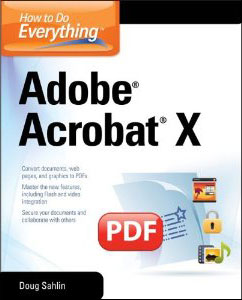 The Prerelease Program for Adobe Reader and Acrobat Pro recently opened as well, which is free and open to the public. So one interesting question remaining is, what will the new product be called, and with which configurations and features? We had previously speculated it might be called "Acrobat X" because of the Roman numeral aspect of 10. Now we may have confirmation of that as well…
A new book entitled, "How to Do Everything with Adobe Acrobat X," was just made available for pre-order at the Amazon websites in the U.K., USA and Canada. This is a continuation of the popular McGraw-Hill series by Doug Sahlin, who has written the same comprehensive book for many earlier versions of Acrobat (9, 8, 7, 6, and 5). So this lends further credence that the "Adobe Acrobat X" name is real.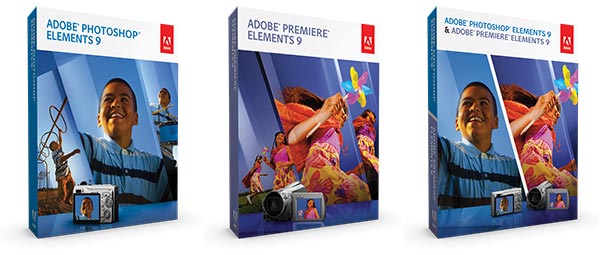 [UPDATE (October 2019) – These still work to download the old Elements 9 trials. We also now have the new Elements 2020 Direct Download Links!]
Continuing our history of providing the direct download links for major Adobe products such as Creative Cloud, CS6, Lightroom 6/CC, and Acrobat DC, below you'll find the direct links for the brand new releases of Photoshop Elements 9 and Premiere Elements 9. And for the first time ever, Adobe is offering both products for both Windows and the Mac.
The links given below go to the authentic and secure files residing on Adobe's servers, are guaranteed genuine and will not change. They are especially useful when you are unable to download Adobe's free trials via other means – often due to difficulties with the Akamai Download Manager (the Adobe DLM). With the links provided below, you can use your browser's down­load capability, or another download manager of your choice.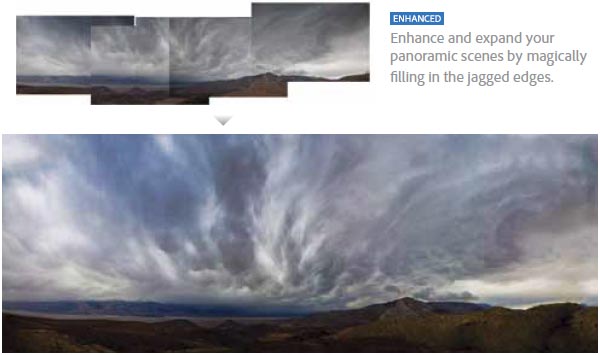 One of the most common upgrade questions you're likely to see is what's new, what's different, what's improved, what's changed between the new Adobe Photoshop Elements 9 and version 8? Or more fundamentally, what are the key new features in PSE 9, versus PSE 8, 7, or even version 6? We put together a short list here and a longer list (with details) at our product page here, but how about a feature-by-feature, version-by-version table? You'll find this down below, but first let's take a look at some of the biggest new additions.
[UPDATE (9/20/2011) — Photoshop Elements 10 has been released!]
Yes – Adobe Photoshop Elements 9 and Premiere Elements 9 are just out and now shipping! Pretty much on the timeframe we forecast, you can instantly download the free trials today – with both products available on both Windows and Mac with the same features… And the new software will work side-by-side with any previous release(s) of Elements you own. If you have an earlier version installed, you can automatically import and convert your work.*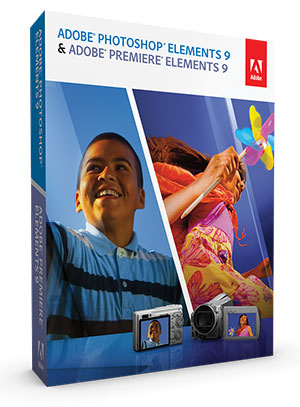 And right off the bat, some big news: "The Content Aware Fill technology introduced with Photoshop CS5 is one of our most exciting innovations ever, so we're thrilled to be able to make it accessible to photo and video enthusiasts in this latest Elements release…"
The prices remain US$99 for the full version of either PSE 9 or PRE 9, and $149 for the bundle package containing both. To add Adobe's Plus Benefits runs $30 more. Students and teach­ers can grab the full education versions for $69 each (31% off), or $119 for both – with free shipping (the Back-to-School Special) until October 31st. The product languages available today include English, French, Dutch, German, Japanese, Swedish, Italian, Spanish, Portuguese, Polish, Russian, and more.

There's a fantastic new resource available for After Effects users – a free three-hour in-depth tutorial on After Effects CS5. This introductory course covers a broad range of topics: learning the basics of compositing and animation, how to use keyframes as well as spatial and temporal interpolation, using parenting to group animated elements together, how to use masks and layers, introduction to effects, importing Photoshop documents into AE, syncing transitions to music, creating a master composition, how to render out your finished video to a standalone file, and more. The program is hands-on and includes downloadable sample files to follow along with for creating a motion graphic title sequence.

We've previously written about how you can save $400 on Adobe MAX 2010, the big annual conference for all things Adobe, that's happening this year from October 23-27 in Los Angeles, California… Now, there's a short time left to save $200 with another promotion code EBX100:
Nicely complementing the new HTML5 and CSS3 capabilities recently added to Dreamweaver CS5, Adobe today announced the availability of the Illustrator CS5 HTML5 Pack. This free add-on provides initial support for HTML5 and CSS3, extends Scalable Vector Graphics (SVG) capability in Illustrator CS5, and helps you easily design web and device content to take advantage of the latest advancements in these technologies.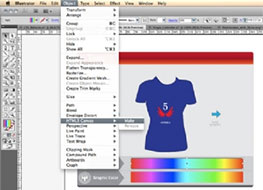 Back about six months ago (before CS5 was released), there was a lot of buzz surrounding sneak-peek videos about multiscreen authoring with HTML5 and CSS3, plus a new "Smart Paste" capability between Illustrator and Dreamweaver. These features are now becoming realized with some pretty cool tools to create and place inter­active vector-based content in live web pages across multiple devices and screen sizes, without the use of Flash or Silverlight. All that's needed is HTML5 canvas support along with JavaScript.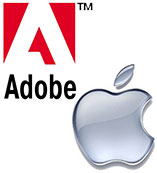 With the surprise news out from Apple that removes all previous restrictions on the development tools that can be used to create iOS apps, the doors open for standalone Flash-built apps to finally be migrated to the iPad, iPhone and iPod touch. Adobe at first released a simple statement, "We are encouraged to see Apple lifting its restrictions on its licensing terms, giving developers the freedom to choose what tools they use to develop applications for Apple devices."
Later, Adobe issued a more complete response that confirms these apps are already being accepted into the App Store:
Big news this morning from Apple, pertaining to the acceptability of Adobe Flash-built applica­tions on the iPhone and iPad. Perhaps in response to the zooming popularity of the Android mobile platform, Apple has eased its previous restriction against certain development tools (including Adobe's Flash Professional CS5) that can be used to create standalone apps for its iOS operating system.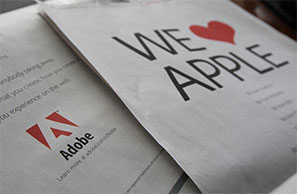 Up until now, iPhone/iPad apps built with a new technology in Adobe CS5 known as the Packager for iPhone were not accepted in Apple's App Store – meaning existing multi­platform Flash applications could technically be recompiled run as native iOS apps, but could not easily be made available to the broader public. But this is all changed now – and suggests that a wealth of new apps will be coming soon to Apple's smartphones, benefiting both users and developers alike…

We've been following the story closely on the upcoming next version of Adobe Acrobat (which could be called Acrobat 10, or possibly Acrobat X), including timing on possible release dates. A few weeks ago we wrote about the new Adobe Reader and Acrobat Prerelease Program that is open for public participation. This morning we received our invitation to join: