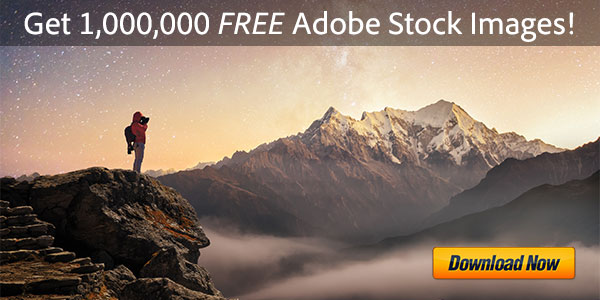 Archive for August, 2012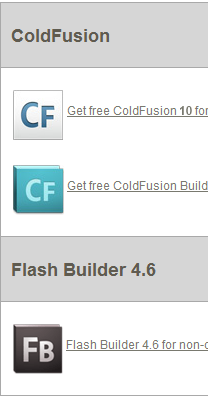 You may have heard of the recent releases of Flash Builder 4.6 (formerly Flex Builder, and part of CS6), plus ColdFusion 10 and ColdFusion Builder 2…
And we've written about this particular offer before, but it bears repeating now that we have these major product refreshes for both Flex and ColdFusion.
Adobe will give you full versions of these premium devel­opment tools (US$249 – $1,499 values) absolutely free world­wide if you qualify! And if you don't, you might know someone who does and could benefit…
Free copies of Adobe Flash Builder 4.6 Standard are given for non-commercial use to: (a) students, faculty and staff of eligible educational institutions, or (b) software devel­opers who are affected by the current economic conditions and currently unemployed.
The ColdFusion products are also available for free to educational customers, to use for learning purposes only and not for production purposes. Complimentary installation support is available, and if you are a teacher and would like ColdFusion 10 for multiple systems in your lab, you can request up to 30 education serial numbers.
[UPDATE – See all of Adobe's current deals & discounts!]
Just out for the end of summer season, quite a rare occurrence – a new promotion code to save 10% storewide on Adobe products (full or upgrade) when your total purchase is US$375 and up. However, this new coupon isn't just for the USA – it's for all of North America plus most any­where in Europe as well, including the many countries listed below… The savings also extend to all orders for the recently released new Creative Suite 6.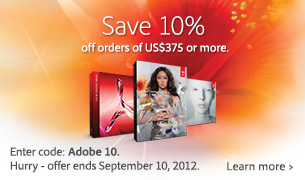 This Labor Day and Back-to-School Sale runs through Monday, September 10th in North America, and until Friday, August 31st everywhere else. It can be used for any products in the Commercial or Educa­tion Adobe Stores (Commercial-only intern­ationally), although it's not valid for sub­scription or volume licensing purchases. It's limited to one discount per customer and you must use the offer code linked here: Adobe10.
Here are the minimum purchase amounts (order size to qualify) by country:
[UPDATE – See all of Adobe's current deals & discounts!]
If you've been thinking of buying or upgrading to the latest version of Adobe Photoshop Lightroom, we have an exclusive coupon code that will save you 15% off the already low price of this industry award-winning product…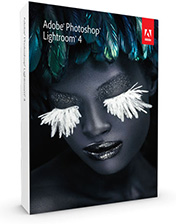 Lightroom used to sell for US$299 as recently as last winter, and then with the release of version 4 in March, Adobe dropped the price by 50% to US$149…
Now, using our new coupon code, you can get an additional 15% off that price, bringing the full version to just $127 – and the upgrade version (from LR 1, 2 or 3) to only $67! These are the lowest Adobe prices ever available for this software.
Grab this unique promotion now before it expires at the end of the month. If you're a student or teacher, you can get an even better deal with $20 off the education version of Lightroom.
Here are the details for this special clickable coupon – and note there is a different coupon code internationally: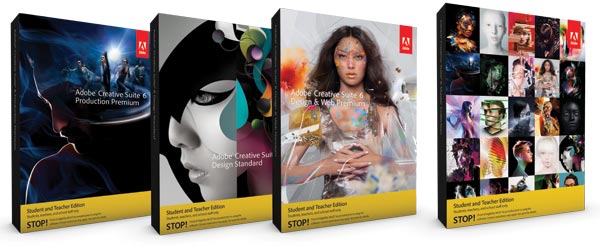 [UPDATE – See all of Adobe's current deals & discounts!]
Back to school, already? Wow, either time flies or the summers are getting shorter…
Anyway, it's that time again – at least for the sales to start. Adobe is now offering up to $100 off the already-discounted prices of the new Creative Suite 6 Student and Teacher Editions with our special promotion code below in the North America Education Store. Meanwhile, customers in UK/Europe can save €75/£65 on CS6 Premium suites plus get free shipping!
This extra bonus means that the savings for most of these products approaches 80% off the regular prices… To get the discount applied to your online order, you just need to use our exclusive promotion code "BTS12PRODESIGN" at checkout. Internationally, no offer code is needed to get the savings – just visit the online Adobe Education Store in your region.
[UPDATE – Also see our all-new Creative Cloud 2021 Giveaway!]

Creative Suite 6 has been out since May, for instant download and direct shipping – with many important differences in this release compared to Creative Suite 5, including hundreds of new features added to the individual applications…
And after giving away CS6 Master Collection and CS6 Design & Web Premium this spring, we're now offering a free annual member­ship for the Adobe Creative Cloud – and this giveaway is open worldwide.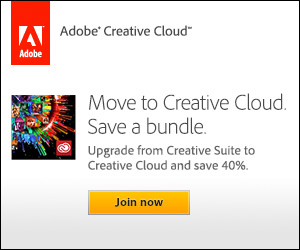 The Creative Cloud includes access to all CS6 applications, as well as Lightroom 4, Adobe Muse, Adobe Edge Preview, plus a collec­tion of great publishing services tied together in a digital hub with 20GB of online space for storing, sharing, and syncing your files. If you're our lucky winner you will receive a one-year membership for the full commercial Creative Cloud for Windows and Mac, in any available language.
This product sells for US$49.99 per month for the annual plan, so the total value of the prize for this drawing is as much as US$600. If you are an existing Creative Suite cus­tomer then the price could be 40% less at $29.99/month for the first year for those who sign up now using Adobe's introductory offer.