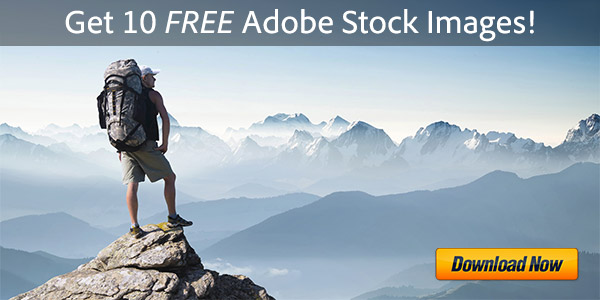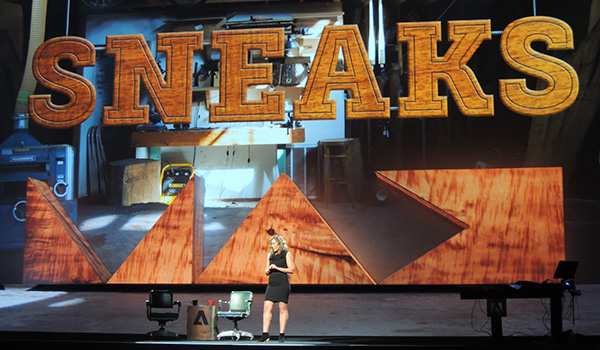 SAN JOSE, Calif.—October 13, 2015—At the record-breaking MAX conference last week, Adobe revealed 11 sneak peeks of technol­ogies they are working on but haven't released yet. Some of these new features are absolutely mind-blowing and defy belief, yet the company did not web­cast the sneak peeks. But good news, you will find complete videos of each of them captured below!
Naturally, the Adobe says there aren't any guarantees for what will appear in a production release, or when: "See the coolest demos of what we're cooking up in the Adobe development labs, and be the first to get a peek at technologies that may (or may not) make it into future products and services." But never­the­less, major new product features very often appear in these previews before they make it into the real tools (cases in point: Content-Aware Fill, Perspective Warp, Image Deblurring, and Defog/Dehaze).
[UPDATE (Oct. 2017) – The table below now includes the differences between Elements 2018 vs. versions 15, 14 and 13.]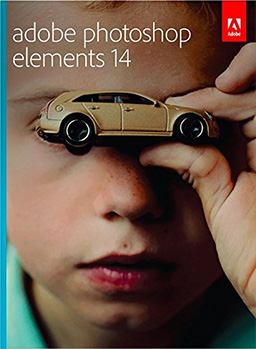 It's that time of year. Early each autumn, Adobe launches a new version of Photoshop Elements, and this year is no exception… Last week the company introduced Photoshop Elements 14 (with brand new free trials to download), and one of the common upgrade questions we see is what's new, what's different, and what's improved in version 14 compared to the previous Elements 13? Or more essentially, what are the key new features in PSE 14, versus PSE 13 or 12 or 11?
The bottom line is you probably want to know what's changed since the last release (or longer) – but how about a version-by-version, feature-by-feature table? You'll find this down below (or take a shortcut here), but first let's take a quick look at some of the major additions.
First off, some things many folks often ask about: As began with PSE 13 last year, Photoshop Elements 14 continues to be available in both 32-bit and native 64-bit versions for Windows systems, and 64-bit-only for Mac. There is support for 16 bits-per-pixel images but it is limited to some extent – meaning you can open 16-bit files, convert to 16-bit color depth in ACR, and do basic edits, but there is still no 16-bit support for layers, many artistic filters, and so on.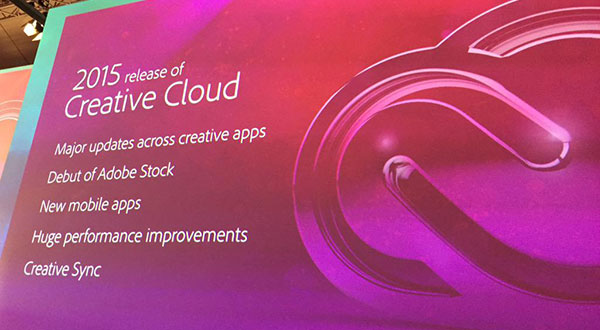 [UPDATE (Oct. 2018) – The all-new Adobe CC 2019 release has launched and is now available! See what's new in features and all the differences compared to older versions and CS6.]
One of the most common upgrade questions we see out there is asking what's new, what's different, what's better, what's changed between Adobe's just-launched CC 2015 release and the previous CC 2014, CC 2013, or 2012's Creative Suite 6 – or even the older CS5, CS4, CS3? Or more fundamentally, what are the key new features in CC 2015 versus prior versions?
Now that the new CC 2015 mile­stone release is out world­wide, everyone is entitled to either a free upgrade or a free 30-day trial (possibly up to 60 days). Ongoing access to these tools requires a Creative Cloud mem­ber­ship (either for one app or for all of them), with discounts available for education custom­ers. Adobe says that if you look at all of the changes since CS6 to the current CC 2015 release, there have been well over 1,000 significant updates – meaning new and improved features, added capabil­ities, and perfor­mance improve­ments – to the key creative applications.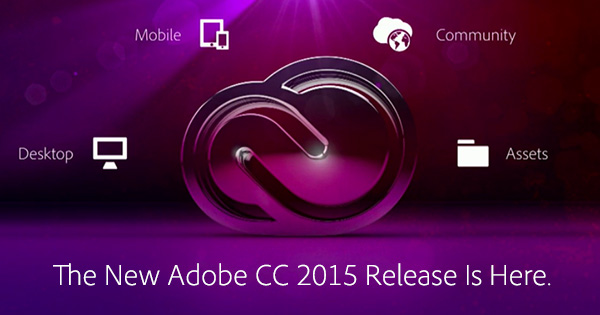 [UPDATE (Oct. 2018) – The all-new Adobe CC 2019 release has launched and is now available! See what's new in features and all the differences compared to older versions and CS6.]
Adobe has just announced the immediate availability of the all-new CC 2015 release, with hundreds of new features and enhancements across their creative product line focusing on workflow, performance, connectivity, and some of that Adobe magic… Creative Cloud 2015 is the next major release following the CC 2014 and CC 2013 versions, which in turn replaced CS6 from 2012. So thinking in the old terms, this would roughly be equivalent to CS9 (and more).
The 15 desktop tools updated today are Photoshop, Lightroom, Illustrator, InDesign, InCopy, Dreamweaver, Flash Pro, Premiere Pro, After Effects (including the highly-anticipated Character Animator), Audition, Prelude, Speedgrade, Media Encoder, Muse, and Edge Animate. All current Creative Cloud members will receive an automatic upgrade to the 2015 Release, and all of the new free trial downloads are also now live online. As before, the new tools and services are available via afford­able annual or monthly memberships. Adobe continues to grow Creative Cloud in a big way, now with over 15 million paid customers already having signed up.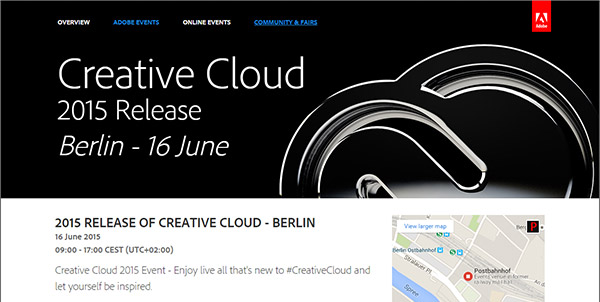 [UPDATE (June 16th) – Adobe CC 2015 is now shipping! You can instantly download it here.]
Thanks to some confirmed information from Europe, now know when Adobe will be launching the new CC 2015 release of creative tools:
We originally ran the story below in October after a new Dehaze/Defog capability was sneak-peeked at Adobe MAX… It was our favorite of the show! Now, we have some great news: Adobe worldwide evangelist Terry White just confirmed this will actually be a real feature coming soon in the new CC 2015 release of creative tools. Here's his video demo:
Dehaze will in fact be included in both Lightroom CC 2015 and Photoshop CC 2015 as part of Adobe Camera Raw. All complete Creative Cloud members as well as Photography Plan subscribers will automatically receive this update at no extra cost as soon as the new version is available. Note that Dehaze is not included in Lightroom 6.
And it's now confirmed! The official release date for CC 2015 is on June 16th.
The new version of Adobe Lightroom 6/CC was released for direct download recently, and we keep getting questions from readers like this one:
Are Lightroom 6 and Lightroom CC the same?
If not, then what are all the differences between Lightroom 6 vs. Lightroom CC?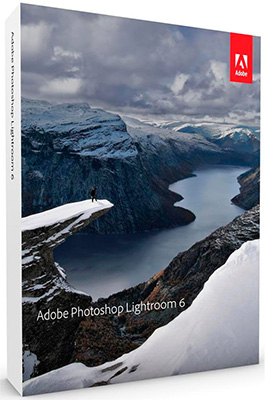 …so we thought it was time to write a new article about this topic.
Here's the answer, with the differences put simply:
Lightroom 6 is the core program running on your desktop – the new version that follows Lightroom 5, with significant features and improvements added since LR5. Adobe is offering two options to customers, and the Lightroom 6 route is a perpetual license – basically standalone static software. The updates that Lightroom 6 users receive going forward will be for bug fixes and new camera and lens profiles only, but not new feature upgrades that Lightroom CC customers will receive on an ongoing basis.
Lightroom CC 2015 takes Lightroom 6 and offers it via subscription together with access to integrated mobile apps (like Lightroom Mobile) and online services (like Lightroom Web with unlimited online photo storage). Lightroom CC also gives you ongoing new feature updates as soon as they are available – including the popular Dehaze and Boundary Warp functions, as well as the new Guided Upright feature and Local B&W Adjustment Sliders – none of which are in LR6.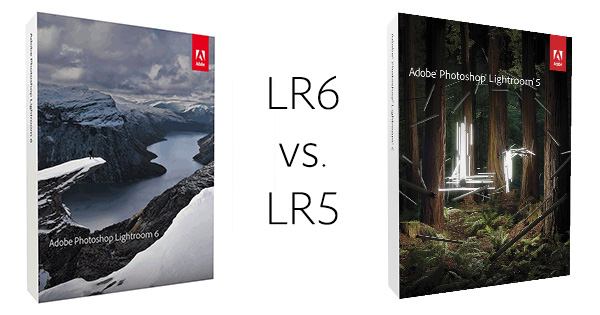 The long-awaited Adobe Lightroom 6/CC began shipping this week, and has got some folks pretty excited about the new features and capabilities… There's a long list of them given further below, but some of the highlights include much improved performance, facial recognition, photo merge for both HDR and panorama, advanced video slideshows, improved web galleries, new Pet Eye tool, touch-enabled PC support, plus GPU acceleration and native 64-bit architecture on Windows and Mac.
One big change is the naming difference and what you get with the two options (Lightroom 6 vs. Lightroom CC). You can still buy a standalone perpetual version as before (either full or upgrade from an older release) – the product is then called Lightroom 6 and it will still receive bug fixes and new camera/lens additions, but will not get ongoing new feature updates and does not have access to online LR features and apps such as Lightroom Mobile and Lightroom web.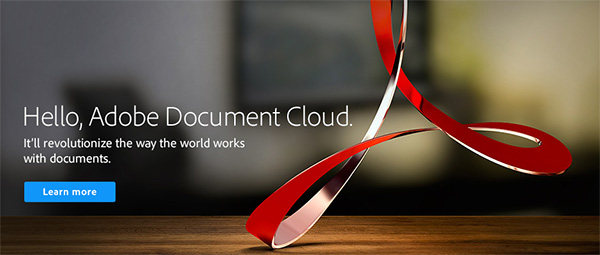 It's been quite some time since the last release of Adobe Acrobat – it's Acrobat XI, which shipped in October 2012 – so we've been eagerly awaiting to see what the next major version of this core product line would bring…
And now, we finally have some answers, announced by Adobe not as "Acrobat XII" or "Acrobat 12" – but as Acrobat DC, where "DC" stands for Document Cloud.
The Adobe "Document Cloud"? What does that mean? Is this the same brand of Acrobat toolset that we know and love, and use daily? Are there still Pro and Standard desktop tools, and perpetual licenses? Or is this a new type of web-based application or service that we can only use online, or via subscription?
Not to worry. Everything is as you want, only better. It looks like this long wait for Acrobat DC was actually worth it… This is Acrobat XII or 12, only raised to the next level.

Hard to believe, but today Adobe Photoshop officially celebrates its 25th anniversary (or birthday, depending on how you look at it)… The first version of Photoshop shipped on February 19th, 1990, at a price of US$895.00. Adjusted for inflation, in today's dollars that would cost almost $1,700! Now, of course, there are tens of millions of users of Photoshop who can pay less than $10 a month for the latest-and-greatest release of this iconic, industry-leading tool.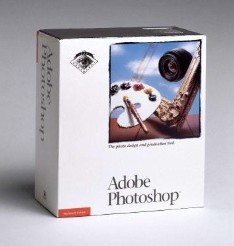 Indeed, the software has traveled a long way. When it first came out, Adobe predicted it would sell just 500 copies per month. Yet today, over 90 percent of creative professionals worldwide have Photoshop on their desktops. The original authors say they knew they had a groundbreaking technology on their hands, but never anticipated how much it would impact the images we see all around us. Adobe Fellow and Photoshop co-creator Thomas Knoll says, "Not in my wildest dreams did we think creatives would embrace the product in the numbers and ways they have. It's inspiring to see the beautiful images our customers create, the careers Photoshop has launched and the new uses people all over the world find for Photoshop every day."