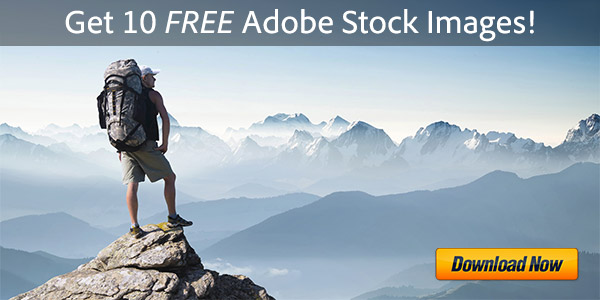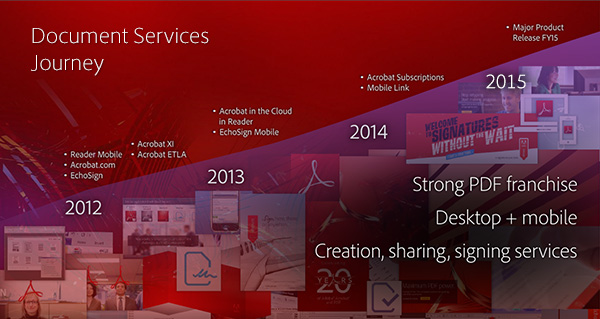 [UPDATE (April 2015) – The next major release of Adobe Acrobat – the new Acrobat DC – is now shipping… Download a free trial!]
It's been a while now since Acrobat XI was released, and considering Adobe usually runs on two-year release schedules for this product, give or take, what does this imply for when Acrobat XII (Pro/Standard/Reader version 12) will be coming out?
Ordinarily, our best estimate would be simply to go with the release dates for the past few major revisions of Acrobat and then extrapolate.
It's that time of year. Early each fall, Adobe launches a new version of Photoshop Elements, and this year is no exception… Last week the company introduced Photoshop Elements 13 (with brand new free trials to download), and one of the common upgrade questions we see is what's new, what's different, and what's improved in version 13 compared to the previous Elements 12? Or more essentially, what are the key new features in PSE 13, versus PSE 12 or 11?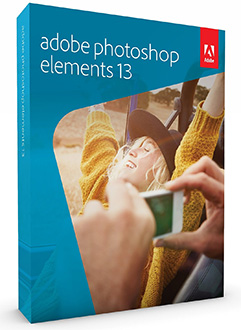 The bottom line is you probably want to know what's changed since the last release (or two) – but how about a version-by-version, feature-by-feature table? You'll find this down below (or take a shortcut here), but first let's take a quick look at some of the major additions.
First off, on two things folks often ask about: Is Photoshop Elements 13 available a native 64-bit application on Windows (as Photoshop CC 2014 is), and does it offer improved 16-bit imaging function­ality compared to earlier versions? The answers are: PSE 13 is now available for the first time in both 32-bit and 64-bit versions for Windows systems (and continues as 64-bit-only for Mac), and 16 bits-per-pixel image support is only slightly better than in PSE 12 – meaning you can open 16-bit files, convert to 16-bit color depth in ACR, do basic edits, but there is still no 16-bit support for layers, many artistic filters, and so on.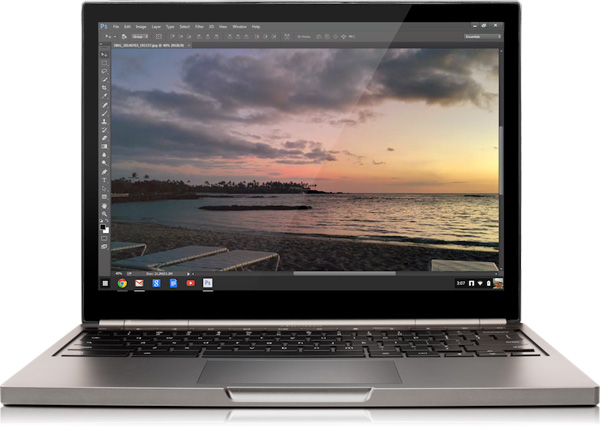 The Creative Cloud has been Adobe's flagship product line since the launch of the CC release in the spring of last year – but ever since the Cloud was first announced in 2011, there has been persistent confusion over what the name actually means…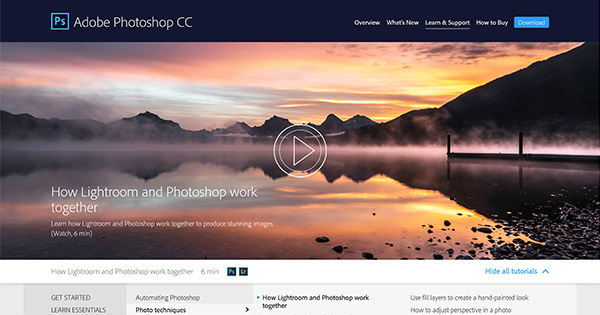 [UPDATE (Oct. 2018) – The all-new Adobe CC 2019 release has launched and is now available! See what's new in features and all the differences compared to older versions and CS6.]
When readers ask us, "What's new in the Adobe CC 2014 release?" – they usually mean what's been added in terms of product features and improvements compared to previous versions such as CC 2013 or CS6.
And for the most part, we've answered that question in our prior article here:
» What Are the Differences Between Adobe CC 2014 vs. CS6, CS5, CS4, CS3?
But there's a larger picture as well – in terms of what's going on with pricing and what's included with the different Creative Cloud plans, and whether/how Adobe is keeping its promise to evolve and bring new innovation to CC subscribers. So we're going to try to tackle that here.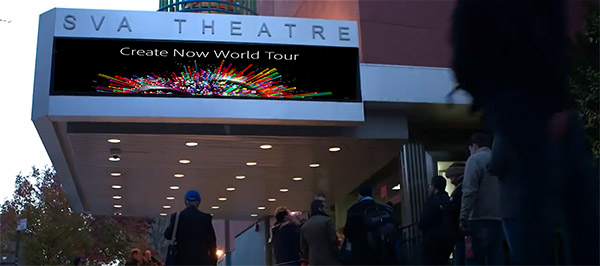 Did you miss Adobe's big 2014 Create Now Tour? Would you like to see it now, online and on-demand?
The Create Now session we attended was packed – a large theater with standing-room only – and got terrific audience reviews and feedback… All together, over 100,000 people went to the tour around the globe.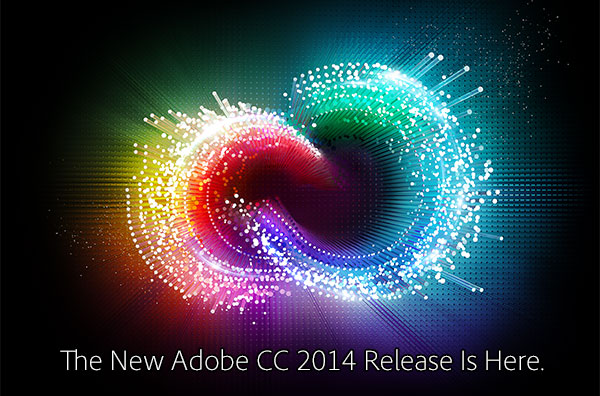 [UPDATE (Oct. 2018) – The all-new Adobe CC 2019 release has launched and is now available! See what's new in features and all the differences compared to older versions and CS6.]
BREAKING NEWS (New York) — Adobe has just announced the immediate availability of the all-new CC 2014 release, with hundreds of new features and enhancements across their creative product line (all tools) focusing on workflow, performance, and connectivity. In this fast-paced and rapidly evolving world of technology and platforms, CC 2014 succeeds the CC 2013 version which launched last June, which in turn replaced CS6 from 2012. So thinking in the old terms, this would roughly be equivalent to CS8 (and more).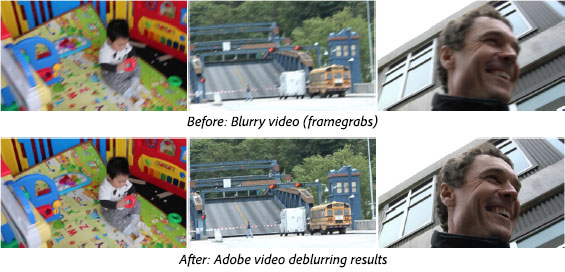 Last week we covered a wonderful story about a terrific new feature in the latest Photoshop CC release: the Camera Shake Reduction Tool, which was previously known as Photoshop Image Deblurring. This new capability has received a lot of press and attention – and, as shown in our previous article, it can really make a difference.
But accomplishing this feat for still images isn't the only cool deblurring application Adobe has been working on lately… Adobe researcher Jue Wang has published a paper on an innova­tive new technique to deblur videos as well – which could be huge consid­ering how much handheld video footage is out there now, and growing every day. The devel­opment of this technology could be a big addition to flagship video editing tools like Adobe's Premiere Pro.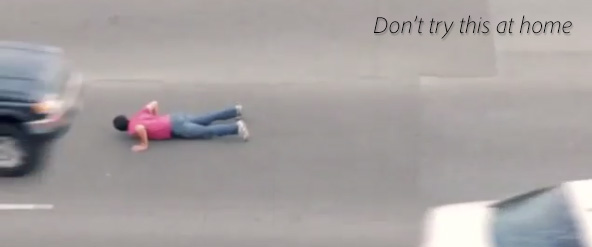 Check out the video below – 11 seconds of heart-stopping footage posted on Instagram by daring Adobe artist Shaun Saperstein: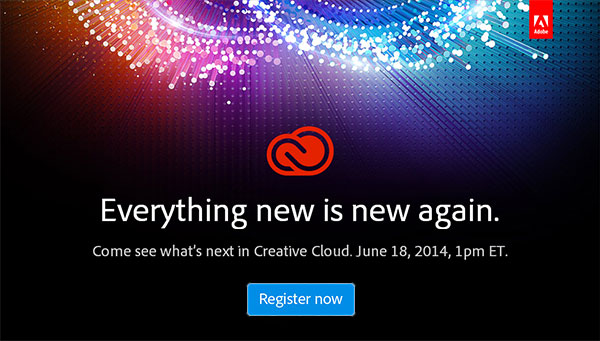 BREAKING NEWS — This just out from Adobe:
The 2014 release of Creative Cloud is coming: Watch the keynote live online.

On June 18th at 1pm ET, see the next evolution of Creative Cloud. All-new desktop and mobile apps, new creative hardware, hundreds of new features and other surprises – all designed to accelerate your creativity and make everything you do every day easier and faster.

Watch the free keynote live on June 18th: Catch the replay.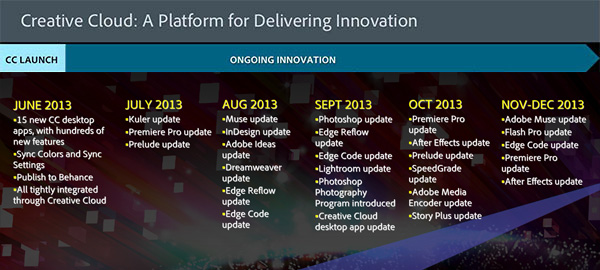 When comparing Creative Cloud to the older Creative Suite model, one of the promises of CC is an ongoing stream of product updates that comes included with every membership. Paying extra for upgrades is a thing of the past because your tools are always up-to-date with the latest-and-greatest versions – instantly as soon as the download is available, or whenever you want it to happen…
So, after a long history of monolithic 18-24 month product cycles, how is the company now adapt­ing and delivering on this new rapid refresh model in this time of fast-paced techno­logical changes?