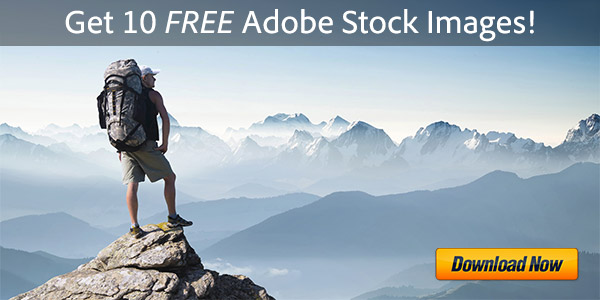 NEWS! (9/25/2012) — Adobe introduces all-new Photoshop Elements 11 and Premiere Elements 11, both products are now available for direct download!
We've had a few reader questions about this recently, so it's time for a post – when will Photoshop Elements 11 and Premiere Elements 11 be available?
Adobe historically ships a new version of Elements every year, in the fall – but when exactly? Let's do some digging and find the release schedules for recent versions:
Version
Announce Date
Ship Date
Based On
Platforms

*

Our estimate
Elements 6
Mon., Sept. 24, 2007
Sept. 24
CS3
Windows, Mac
Elements 7
Tues., Aug. 26, 2008
Oct. 6
CS3, CS4
Windows
Elements 8
Weds., Sept. 23, 2009
Sept. 23
CS4
Windows, Mac
Elements 9
Tues., Sept. 21, 2010
Sept. 21
CS4, CS5
Windows, Mac
Elements 10
Tues., Sept. 20, 2011
Sept. 20
CS4, CS5.1
Windows, Mac
Elements 11
Mon., Sept. 24, 2012

*

Sept. 24

*

CS5

*

Windows, Mac

*
[UPDATE – Also see our new Holiday CC 2018 Giveaway!]
Creative Suite 6 is now available for instant download and direct shipping, and there are many important differences in this release compared to Creative Suite 5, including hundreds of new features added to the individual applications.
And after giving away CS6 Master Collection earlier this month, we now would like to focus especially on Adobe's popular lineup of Digital Imaging Products. In particular, we want to give brand new copies of Photoshop CS6, Lightroom 4, and Photoshop Elements 10 to three of you, our amazing readers!
There will be one winner for each of these products, which are the commercial English versions for either Windows or Mac OS. The three winners will receive them in prize packages also containing Adobe/CS6 tee-shirts, pens, and other goodies. 1st prize is Photoshop, 2nd prize is Lightroom, and 3rd prize is PSE – with a total estimated retail value for all prizes of US$1000.
Sound good? These are all brand new releases, so it may help to know what's new in Photoshop CS6, what's new in Lightroom 4, and what's new in Photoshop Elements 10.
How to enter? It's easy to gain up to four chances to win… The contest is open to residents of North America, U.K., Europe, Australia, New Zealand, and South Africa – and to enter just do one (or more) of the following:
[UPDATE – See all of Adobe's current deals & discounts!]
Adobe is continuing its special "Deal of the Day" program and the next big deal is a huge 50% off their bestselling consumer product, Photoshop/Premiere Elements 10 with coupon code – just in time to use your 2011 tax refund and save today…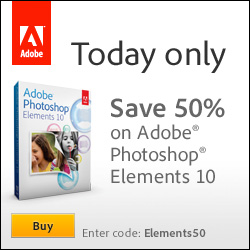 This means – for one day only – for either product Photoshop Elements 10 or Premiere Elements 10 you can pay just $50 instead of $99… and for the complete bundle containing both Elements products you can pay just $25 more: $75 instead of $149!
[ See: What's new in PSE 10? Check the reviews. ]
This isn't an upgrade – it's the full retail version, available for instant download on either Windows or Mac OS, in any available language (the boxed ship­ment is not offered at this low price).
But note, to take advantage of this deep discount you must activate the deal with this promotion code linked: ELEMENTS50.
The 50% off is available in North America – but in Europe and the UK, the offer is still nice: Save up to 30% on the Elements family of products, with free delivery included.
It's been a few months now since Adobe Photoshop Elements 10 was officially released, so let's take a look at what the reviews out there are saying…
First, for a quick overview of the new version, check out our Elements 10 Release Guide, as well as What's New in PSE 10 vs. 9, 8, 7, or 6?
And if you're wondering which edition of Photoshop is right for you, see: What's the Difference between Photoshop CS5 vs. Elements 10 vs. Lightroom 3?
OK, so now on to the reviews for Photoshop Elements 10:
PC Magazine writes, "If you're mostly concerned about doing interesting and creative things with your images, but don't want to invest the time and money in learning Photoshop, Photoshop Elements 10 is an excellent option… Competitors don't come close to matching Photoshop Elements' array of dazzling photo effects, organizational tools like face tagging, and sharing and output options. Photoshop Elements 10's tools for perfecting your digital images are unrivaled, making it our Editors' Choice for prosumer photo editing."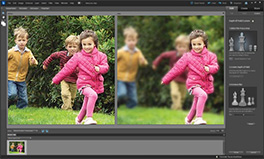 About.com says, "Each new update to Photoshop Elements has always brought strong new features to the program. Photoshop Elements 10 is no exception… Elements remains an extremely powerful and useful photo editing program for anyone who doesn't need the graphic editing feature of CS or its high price tag. Whether you are a beginner or 'old hand' at photo editing, Photoshop Elements 10 offers strong tools for a very reasonable price."
Judging by the amount of attention that Adobe's recent upgrade policy changes have been receiving, as well as our subsequent visitor poll on the company's model shift to the new "Creative Cloud," this is a big and important issue…
And while this cloud model is optional, two of the persistent questions so far have been: How are the Acrobat and Lightroom products affected by all of this?
Both of these tools have historically different release schedules from Creative Suite – and while Acrobat is included in the suites, Lightroom is not. Looking back, CS5.5 launched in May 2011, Acrobat X in November 2010, and Lightroom 3 in June 2010.
[See: When will Adobe CS6 be released? When is Lightroom 4 coming out?]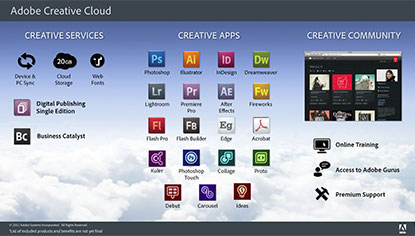 So first off, we can clarify: both Acrobat and Light­room are currently slated to be included in Adobe's Creative Cloud, at least according to this slide from a recent analyst presentation – although there is a disclaimer at the bottom which states, "list of included products [is] not yet final."
[UPDATE (January 25th) — Adobe now says that Lightroom will not be included initially, but is "planned for a future release."]
The next question then is, will either of these two popular standalone products be affected by Adobe's new upgrade policy?

[UPDATE – Elements 11 is out! Get free tutorials for the new version.]
We've previously covered 17+ hours of free video tutorials for Creative Suite 5, plus three hours for Lightroom 3 – so here are some brand new training resources for the just-released Adobe Photoshop Elements 10… Most of these tutorials also apply to Photoshop Elements 9, which shares the same interface but just doesn't have as many features.
In these three courses the experts share how to get started, the basics of the software, new features, how to use key tools and functions, plus their favorite tips and techniques. In sum, there is over four hours of free content, with 46 separate chapters.
[ Bonus! Here also are 70 minutes of free tutorials for Premiere Elements 10 for taking care of your video. ]
If you need a copy of Photoshop or Premiere Elements 10 to get going right away, just download the free trial and it will work fully for 30 calendar days, which should be plenty of time to get through the classes.
If you prefer learning in written form, we've got the Adobe Photoshop Elements Guide – a free 95-page e-book you can download as well.
[UPDATE – Also see our new Holiday CC 2018 Giveaway!]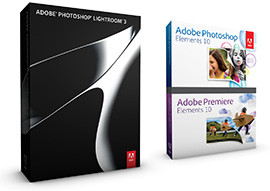 We've given away a lot of products over the past couple years, but haven't yet offered Adobe Lightroom… So here, now, we're giving away Adobe Lightroom 3 (value US$300) with a new camera bag! Second prize is the Photoshop & Premiere Elements 10 Bundle (US$150), and for third place we have an Adobe-branded prize pack with T-shirt, pen, lanyard, and other surprises.
Actually, all three winners will receive one of those prize packs, so much the better. The free copy of Lightroom is graciously sponsored by Adobe, and should do nicely until Lightroom 4 is released. Photoshop and Premiere Elements 10 are brand new, out five weeks ago.
The goal of the contest is to learn from our readers worldwide:
What would you like to see in the next release of your favorite Adobe product?
It could be any one – CS6 (any application), Lightroom 4, Acrobat 11, Photoshop Elements 11, and the rest. What do you hope for, want Adobe to add/do/change, what's on your wishlist?
Just share it in a comment below and/or on Facebook, and you're entered. Please be sure to include the name of the future product you're talking about (for example, "In CS6 I'd like …").
To double your power and effectiveness, then copy and paste the same comment into Adobe's Official Feature Request form to let them know directly. Here's your chance to make your voice heard, and win some nice products doing it.

One of the most common upgrade questions you're likely to see is what's new, what's different, what's improved between the new Adobe Photoshop Elements 10 and version 9? Or more fundamentally, what are the key new features in PSE 10, versus PSE 9, 8, 7, or even version 6? We put together a quick list here of what's changed since 9, but how about a version-by-version, feature-by-feature table? You'll find this down below (or shortcut here), but first let's take a close look at some of the biggest additions.
The before-and-after images pictured above are a demonstration of the new "depth of field" effect, where in just seconds you can produce the feeling of shallow focus (low f-stop) for the subject in any existing photograph you have.
From Adobe's official press release:
[UPDATE (October 2017) – These still work to download the old Elements 10 trials. We also now have the new Elements 2018 Direct Download Links!]
Continuing our history of providing the direct download links for major Adobe products such as Creative Cloud, CS6, Lightroom 6/CC, and Acrobat DC, below you'll find the direct links from Adobe's servers for free trials of the brand new releases of Photoshop Elements 10 and Premiere Elements 10, for both Windows and the Mac OS.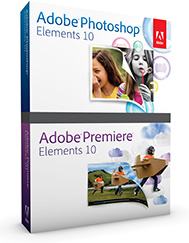 The links given below go to the authentic and secure files residing on Adobe's servers, are guaranteed genuine and will not change. They are especially useful when you are unable to download Adobe's free trials via other means – often due to difficulties with the Akamai Download Manager (the Adobe DLM). With the links provided below, you can use your own browser's download capability, or another download manager of your choice.
For setting up Elements on Windows (both PSE 10 and PRE 10), each program consists of two downloaded files: an .exe and a 7-Zip file (.7z). The .exe file will only work (and install) once the .7z file is fully downloaded and resides in the same location. For the Mac, it's just a single .dmg file for each program.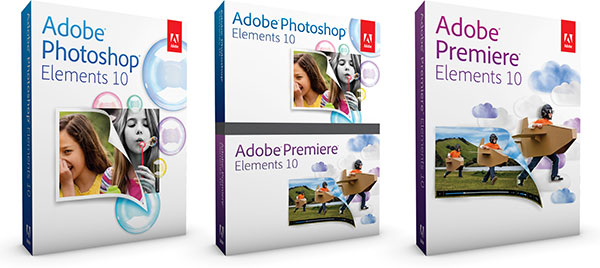 Yes – Adobe Photoshop Elements 10 and Premiere Elements 10 are just out and now shipping! Pretty much on the timeframe we forecast, both products are available on both Windows and Mac with the same features… You can instantly download the free trials now as well (yes, they are available!), and the new software will work side-by-side with any previous release(s) of Elements you may own. If do you have an earlier version installed, you can automatically import and convert your work.*
And thus far the reviews for Photoshop Elements 10 have been pretty positive.
The prices remain US$99 for the full version of either PSE 10 or PRE 10, and $149 for the bundle package containing both complete products. To add Adobe's Plus Benefits runs $30 more. Education customers can grab the Student and Teacher Edition for $119 for both applications (note that academic pricing is no longer offered for each one individually). The languages available today include English, French, German, Dutch, Spanish, Portuguese, Italian, Swedish, and Japanese.